Sunday, October 19, 2014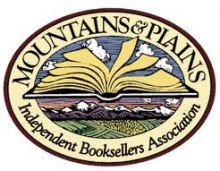 If you don't work in the book trade, it's hard to explain what happens at an event like the Mountains & Plains Independent Booksellers Association Fall Discovery Show, which took place last week in Denver. Call it a family reunion. No, better than that--a family gathering, albeit one with more fun (think Literary Trivia night or Books & Brews afternoon) than squabbles, more friendships than rivalries; and, most importantly, a shared mission.


Here's a great example: at the start of Thursday's exhibit hall opening reception, a crowd gathered near the entrance, where a plot was being hatched, drinks poured and anticipation rising. A celebrity appearance, perhaps? When newly retired Penguin Random House sales rep Eric Boss appeared in the doorway, applause echoed throughout the Colorado Ballroom. Anne Holman of the King's English Bookshop, Salt Lake City, Utah, stepped up to the podium and lauded Boss's passion for, and deep knowledge of, books. She described him as "one of the kindest, funniest men I've ever met.... He cares about all of us so much." It was a family celebration; this just happens to be a really big family.

Boss and I chatted later about our years in the book trade. We'd never met before, but we spoke a common language as we discussed the book community and how difficult it is to adequately explain that concept to people who do not live and work in our world.

MPIBA executive director Laura Ayrey later recalled: "If I had to pick my favorite moment from the show it would be a tie between when Eric Boss walked into the exhibit hall and received such a heartfelt standing ovation from his colleagues and/or when South Dakota won the Literary Trivia Contest and Valerie Koehler [of Blue Willow Bookshop, Houston, Tex.) stormed the stage in protest."

This is a business, of course, and plenty of business was being conducted at the Fall Discovery Show--in the exhibit hall, at "Pick of the Lists" sessions, during educational programming (which I'll explore in an upcoming column) and elsewhere.

At the general meeting luncheon, Ayrey noted that in the past year a record-breaking 13 new stores had joined the association. "This year's show attendance was higher than ever in all categories, from booksellers to publishers to authors," she told me this week. "All of our meal events were sold out. In fact, we had a waiting list for the Author Banquet and a number of exhibitors who had purchased tickets for the event graciously gave them up so booksellers could attend. That speaks volumes about the camaraderie we have in the Mountains & Plains region." She also praised "my extraordinary staff and board of directors."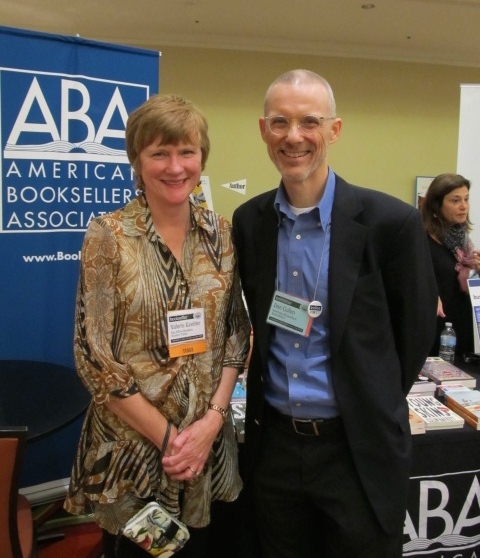 Valerie Koehler and Dan Cullen
Dan Cullen, American Booksellers Association senior strategy officer, reported during the general meeting that booksellers at all of the regionals he'd attended this year "have been incredibly upbeat, incredibly energized.... There is a real resurgence of indie bookstores in America.... We are finally seeing the media decouple the word 'beleaguered' from indie bookstore." The MPIBA show certainly reflected that trend, if my numerous conversations with booksellers in Denver were any indication.

One of my favorite moments occurred during the Reading the West Book Awards presentation, when Kevin Fedarko, nonfiction winner for The Emerald Mile: The Epic Story of the Fastest Ride in History Through the Heart of the Grand Canyon (Scribner), chronicled the challenges his book had faced last year, having been published in the midst of a dispute between Barnes & Noble and Simon & Schuster.

"I spent a good portion of the year living like a river guide, driving all over the Intermountain West," he said, noting that his bookstore "compass points" were BookPeople of Moscow, Idaho; Changing Hands Bookstore, Tempe & Phoenix, Ariz.; the King's English Bookshop in Salt Lake City; and Full Circle Books, Oklahoma City, Okla. During his indie bookstore expedition, Fedarko said he discovered two things: that a book is a "passport and doorway to meeting, and engaging with, a whole community of people; and that there is another side of this business that does not treat a book like dog food or carpet cleaner.... For someone who is in the business of writing, words fail me when I try to express my gratitude for what I owe you."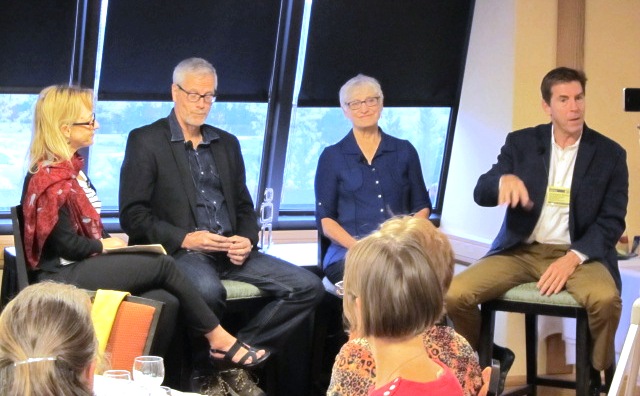 Author Buzz: (l.-r.) Catherine Weller with Lin Enger, Molly Gloss and Christopher Scotton.
At the Authors of Buzz Books Breakfast Friday, Catherine Weller of Weller Book Works, Salt Lake City, moderated a fine conversation among authors Lin Enger (The High Divide, Algonquin), Molly Gloss (Falling from Horses, HMH) and Christopher Scotton (The Secret Wisdom of the Earth, Grand Central). Gloss's novel is about a 19-year-old ranch hand who moves to Hollywood in 1938 to seek work as a stunt rider in Westerns. "Even kids who grew up on a ranch were influenced by cowboy movies," she said. "Bud wanted to be like the cowboy heroes he saw growing up in the movies."

The book world can play that magic trick, too. At some point early in our reading lives, most of us imagined ourselves as "book people," and our fantasy somehow came true, even if the requisite ballast includes financial sacrifice, long hours and hard work.

As Fedarko put it, "You're thriving because you are part of the glue that holds your communities together. I think you will continue to survive and excel because you offer something that no one else does and it's incredibly important." How do you explain that to an outsider? You just can't. You have to be here.
--Published by Shelf Awareness, issue #2366.
Robert Gray
|
Comments Off
|