Sunday, April 12, 2015
When Newton saw an apple fall, he found...
A mode of proving that the earth turn'd round
In a most natural whirl, call'd gravitation;
And thus is the sole mortal who could grapple
Since Adam, with a fall or with an apple. --Byron

A poem is a funny thing. You can make one out of the simplest ingredients. Take one apple tree in an orchard, add Newton's Law of Gravity, Adam & Eve's biblical quartet (temptation, sin, knowledge and exile), Mother Nature, nourishment, decay, iPhones and New York City. Blend with all five senses and you'll find a poem in there somewhere. It might even be a funny poem.

Or think of the apple tree itself as poetry. Perfect apples are great poems, but there are also apples that are ordinary or unripe or bruised or misshapen or worm-eaten. Apples that fall from the tree are called "drops." As a little kid, I was paid 25 cents a bushel to harvest this often damaged fruit from the ground. Drops weren't great apples, but they were still apples, and I suspect a poem titled "Drops" would have more potential than a poem titled "Apples."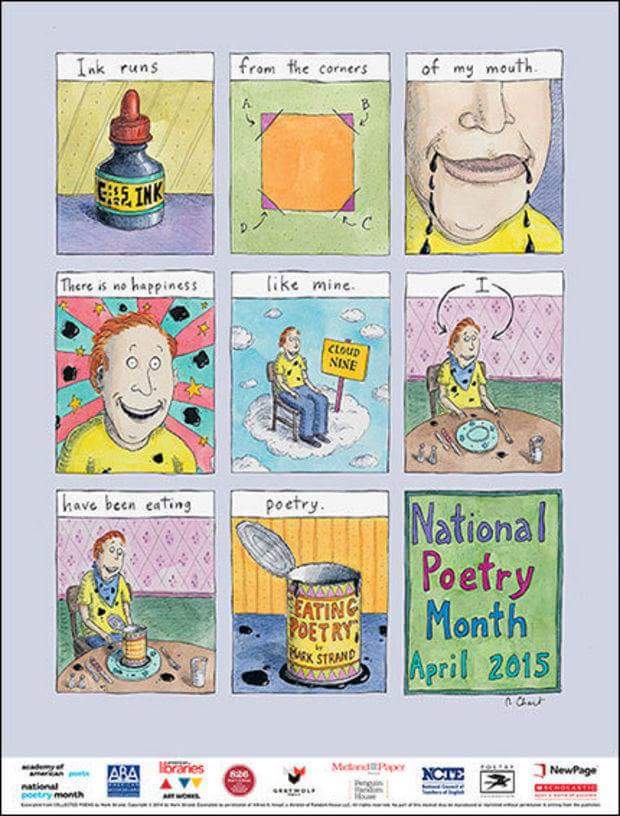 In April, poetry is everywhere and some of it is funny. Even though I'm a near lifelong reader of poetry (beginning circa 1953 with Robert Louis Stevenson's A Child's Garden of Verses), there are moments I like the form best when it makes me smile, as I did when spotting this "Flash Poetry Zaniness" announcement for an April 30 event at RiverRun Bookstore, Portsmouth, N.H.:

"Okay, so let's finish National Poetry Month with some fun. Introducing the Flash Typewriter Poetry Contest. Each contestant will be given a manual typewriter, three sheets of paper, and a pencil. Then we will draw a random topic. Contestants have 30 minutes to write a poem on the topic, TYPE IT OUT, and turn it in. The completed poems will be shuffled and handed back out to the poets random. The poets will then read the poem they were given. After the reading, each poet will vote for their favorite poem (exluding their own).... This is going to be tons of fun."

Or this, from the O, Miami Poetry Festival: "Murinals are poetry murals installed on Miami-Dade urinals by artist Ian Thomas. Using classic gold leaf paint on porcelain, Thomas creates a series of site specific installations that require viewer participation to complete its concept. The exclusively male audience is invited to urinate on a passage of poetry consecrated via traditional illumination methods. By participating in this way, the viewer exhibits an animalistic dominance by defiling something hallowed, while ultimately exposing himself to the poets' words. This tension of male dominance and vulnerability is what the series seeks to explore."

Kids seem to have a natural talent for writing at once great and bad funny poems. All over the U.S. this month, bookstores, libraries and schools are hosting poetry writing contests for children and every single participant becomes a poet, if only for one day and a single poem.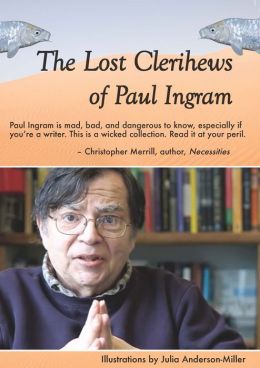 There are so many places to look for poetry smiles. For example, The Lost Clerihews of Paul Ingram features mischievous musings by the resident bookseller extraordinaire at Iowa City's Prairie Lights Books, including:

Jeff Bezos
Believed he was Jesos,
He left out no detail
In dismantling retail.

Author Elinor Lipman, whose sharp and entertaining Twitter rhymes during the last presidential election cycle rescued my sanity, and were later collected in Tweet Land of Liberty: Irreverent Rhymes from the Political Circus, is back in form as new campaigns launch:

Kentucky's Paul is in the race!
Unorthodox or basket case?
Polling isn't showing love
The GOP thinks he's a dove.

Poetry is serious business, except when it isn't. Consider David Budbill's "Dilemma":

I want to be
famous
so I can be
humble
about being
famous....

or Billy Collins's "Introduction to Poetry":

I ask them to take a poem
and hold it up to the light
like a color slide...

But all they want to do
is tie the poem to a chair with rope
and torture a confession out of it.

In 1980, I sold a short story to Cimarron Review that had a final paragraph I was, perhaps delusionally, pleased with. So pleased that 15 years later, on a whim, I reworked that paragraph into a "poem" that was published by a literary journal in the Midwest. It wasn't a good poem, but it was still poetry, just as a "drop" is still an apple.

Poems are funny that way. Happy Poetry Month. I mean it. --Published by Shelf Awareness, issue #2483
Robert Gray
|
Comments Off
|