Sunday, November 16, 2014
I blame Joe Queenan for sending me down the robot bookselling rabbit hole this week. "Are We Really Ready for Robot Salespeople?" was his column's headline in the Wall Street Journal recently. "Are there areas where robotic personnel would be a welcome addition to the U.S. economy?" he wrote. "Sure. Robots could easily replace bookstore clerks, dental hygienists, bouncers and college-admissions officers."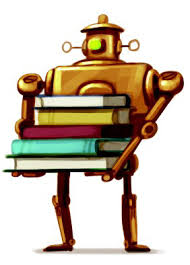 "Bookstore clerks" might be robot-replaceable, but not great indie booksellers, whose unpredictable book/author obsessions, evangelistic prime directive ("You must read this!") and emotional ties to their local communities do not necessarily lend themselves to seamless robotic replication.

On the other hand, I'd have to concede that managing robot "bookstore clerks" might be less complicated (until the inevitable robot uprising) than managing indie booksellers, which can seem more like herding bookstore cats. For example, bookstore clerk/robots could easily be programmed to wear a store uniform, while anyone who's ever been in a staff meeting debating the potential introduction of name badges knows all about fierce, if relatively quiet, bookseller uprisings.

That said, our robotic retail future appears to be at hand. Lowe's has unleashed OSHbots, which will "be able to communicate with customers in multiple languages and remotely connect with expert employees... to answer specific project questions." And "food giant" Nestle is deploying "1,000 'emotional' humanoids as sales clerks across its Japanese stores. We are sure that our customers will enjoy shopping and being entertained by robots."

Then there are Amazon's robots and Echos and drones, oh my! From Tuesday's New York Times: "In a promotional video, Echo had aspects of both Mary Poppins and HAL, the computer in 2001: A Space Odyssey, with perhaps a touch of The Matrix."

Earlier this year, a designer envisioned the bookstore of the future as "niche, retro, social, inky, bibulous, but with only a few books to buy off the shelf. The idea is that you make your own, with the help of floating robots--choosing the paper, ink, font, leather, even gold leaf--on antique presses and binders."

John Forsyth, chair of the Australian bookstore chain Dymocks, told the Financial Review "the potential for robotics is massive, but that will take us some time to identify." He wasn't referring specifically to booksellers, but still.

As is often the case with future worlds, the warning signs have been around for years. From the digital/robotic archives of the New York Times:

1983: At the New York Is Book Country Fair, "McGraw-Hill Bookstore will have a computer activated by touching its screen. Omni magazine will welcome guests with a robot." And at the American Booksellers Convention in Dallas, booksellers lined up to hug "a red robot who not only walks but also talks a blue streak.... a visible reminder that computers are now an important part of American book publishing and bookselling."

1980: At the ABA meeting in Chicago, a "specter is haunting publishing.... What will bidding goodbye to Gutenberg lead to? The 'paperless' book, say the futurists. And what will the old-fashioned publishers, editors and authors be creating for their new hardware? Answer: not books but 'software' to feed the electronic robots."

1977: The ABA show in San Francisco featured "a five-foot-tall robot selling The Encyclopedia of How It Works... The robot's electric voice asked, 'Would you like to know how I work?' And gave back the answer: 'Get mommy to buy my book.' "

1930: "A grotesque figure" spoke during the ABA's dinner. "Two glassy eyes, one green and one red, stared from its flat face.... A row of little bulbs where the collarbone should have been were illuminated a grid-glow tube in the thorax flashed. Then this mechanical man began to speak.... Televox asked, almost coyly, 'I wonder if there are any questions.' 'What is your favorite book,' asked J.P. McEvoy, the toastmaster. 'My favorite book," responded Televox. "is Is Sex Necessary?"

Where will robotic handselling ultimately lead us as a civilization? You've seen that movie. As film trailer voice-overs like to say, "In a world where..."

Imagine robots working for a few years as bookstore clerks until they finish their novels and become robot authors. Far-fetched? Last month, organizers of Japan's Hoshi Prize for science fiction "decided to open up entries to aliens and computers," hoping that next year's competition "will see stories created by artificial intelligences going up against those written by humans, with judges to be unaware of who--or what--wrote an entry until the winner is chosen."

Are they already among us? Just ask yourself this: Would a human mind consciously link these four professions: "bookstore clerks, dental hygienists, bouncers and college-admissions officers"? Or did a robot "easily replace" Joe Queenan? --Published by Shelf Awareness, issue #2386.
Robert Gray
|
Comments Off
|