Monday, February 18, 2013
Shop local meets broadcast local. In the still center of that spinning wheel of digital retail chaos--e-mails, Tweets, Facebook updates, blog posts, Instagram pics--that is the contemporary bookseller's daily round of local outreach tasks, there's a certain comfort to be drawn from noting the success of an old-fashioned radio variety program created and hosted by Chuck and Dee Robinson, owners of Village Books, Bellingham, Wash.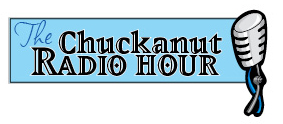 January marked the sixth anniversary of the Chuckanut Radio Hour. Taped before a live audience, the show generally features a guest author; what I've seen described as "some groaner jokes" by Chuck, Dee and announcer Rich Donelly; and an episode of "The Bellingham Bean" serial radio comedy. There is also live music, a new essay by Cascadia Weekly columnist Alan Rhodes, poetry by house poet Kevin Murphy and other bookish treats.

"The show is now broadcast on three low-power community radio stations," said Chuck. "KMRE is the one here in Bellingham and reaches the largest audience. The station can be streamed at any time, but we don't do the show live. CRH plays on the station every Saturday evening at 6 p.m. and every Sunday at 9 p.m. The shows play in rotation. We don't even know which show will play." With two other small stations in the area now featuring the program as well, "I guess that means we're syndicated," he quipped.

When Chuck was approached in 2007 about doing some sort of radio program, he drew inspiration and format ideas from Thacker Mountain Radio (Square Books, Oxford, Miss.) and Garrison Keillor's Prairie Home Companion.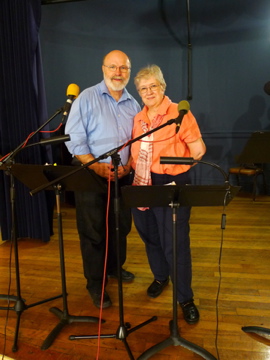 "I think part of the appeal is the reflection of a time we remember as simpler--whether it actually was or not (memory does strange things)," he observed. "Though folks my age--I just became a Medicare baby in November--were on the tail end of old-time radio, early television (Ed Sullivan, the Tonight Show, etc.) was really old-time radio on TV. So I think for a lot of us there's a bit of nostalgia involved. Some of us really do like corny jokes."

Since Village Books is also committed to outreach through social networking, Chuck considers CRH to be both a complement and a counterpoint to those efforts: "Our audience for the show, depending of course on what author is featured, trends slightly older than our general audience. To the extent that most of these folks don't likely spend much time on Twitter, the show is likely a counterpoint to what they see others doing. And, to those who do Tweet and Facebook, this might be providing a respite. We do use social media to promote the show and we often have comments, especially on Facebook, about particular shows."

Division of labor while maintaining consistency in a bookstore's "voice" is the eternal challenge for booksellers everywhere, but Chuck noted that Village Books has managed to bridge the outreach gaps well: "We have one person who manages our social media. Lindsey McGuirk is pretty attuned to the philosophy of the store and also seems to have a great understanding of the 'conversational' nature of social media and how it can be used to build relationships. She does a great job of balancing marketing, with providing interesting general information, to having conversations with folks and asking questions. Other staff members have their own blogs and often guest blog on our site."

Who attends CRH performances? While the live audience tends to be in the 45-50 age range, Chuck said that can change depending upon the guest author for a particular show: "T.C. Boyle drew a bit younger audience, as did Cheryl Strayed, but I think for the most part that the radio hour format appeals more to an older audience. We are, however, about to test that notion as we move the show to an auditorium at Whatcom Community College in March. We'll be integrating some faculty, staff and students into the programming, and in our partnership agreement, they'll be able to attend for free."

He noted that one of the more surprising revelations about the show's audience occurs whenever he asks how many are seeing CRH for the first time and a considerable number of hands go up. "We thought after 60-plus shows we would have tapped the local audience, but apparently not."

Happy anniversary, CRH. As Chuck summed it up so well in a recent blog post, "Whoda thunk it? Six years and the Chuckanut Radio Hour is still going strong."--Published by Shelf Awareness, issue #1929.
Robert Gray
|
Comments Off
|