Sunday, January 13, 2013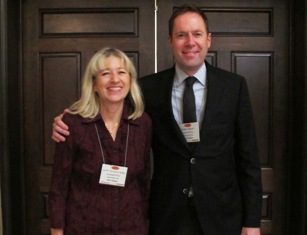 Leslie Adrienne Miller and Dobby Gibson
There's a story behind my unilateral decision to name January 8 the first day of Winter Poetry Month. It all began at the Moveable Feast Luncheon during Heartland Fall Forum in Minneapolis last October. I was fortunate enough to be at a table with Graywolf Press poets Dobby Gibson (for his upcoming book It Becomes You) and Leslie Adrienne Miller (for her much-praised and excellent collection Y). Two poets at one table happened to be a pleasant--and unprecedented--moment in my life as a poetry reader and longtime participant in variations-on-a-moveable-feast at trade shows.

But why focus on Gibson now, as Winter Poetry Month begins? For one thing, It Becomes You was released January 8 and I've read it three times. For another, he writes that "a poem is no more meant for this world than you are, dear reader." Call it a kindred souls moment. Reason enough, but there have been several other catalysts, including:
The Friends of William Stafford are once again sponsoring more than 60 events nationwide during January Birthday Celebrations honoring Stafford's spirit, life and work. I wrote about this last year.
Richard Blanco is the inaugural poet.
The Boa Editions blog showcased a video adaptation of Lucille Clifton's poem "what the mirror said" by underprivileged girls at Prerna School in India and noted: "This is why BOA is here."
Sharon Olds told the Observer that a poem "doesn't intensify experience, it adds to it. And it is not about a different person, is it? It is the same person who has made a song."
Several times during an NFL playoff game last week, it was mentioned that Houston Texans running back Arian Foster is also a poet.
Most of the books I've been reading since the holidays are poetry collections, including Lawrence Ferlinghetti's Time of Useful Consciousness (New Directions), Natasha Trethewey's Thrall (Houghton Mifflin Harcourt), David Ferry's Bewilderment (University of Chicago Press) and Dispatch from the Future by Leigh Stein (Melville House).
Poetry in our world. Poetry in the winter. Words and white space are seasonally appropriate.

Gibson recently told me that while he was writing It Becomes You, he "awakened to the realization that my motivation for writing a poem was inseparable from my motivation for reading a poem: I ultimately aspire to become a poem. My new book is an extended meditation on this idea.

"The transitive experiences of writing poems, reading books of poems, and constructing an authentic self (if that is the right verb), are all so wonderfully intertwined for me. To such a degree, in fact, that the launch of It Becomes You at readings this month--and out into bookstores and whatever digital distribution channels I barely understand--doesn't feel like a finish line. It's only the beginning of a much longer process of completion, of becoming, one for which I'm grateful to share with a reader, whoever he or she may be."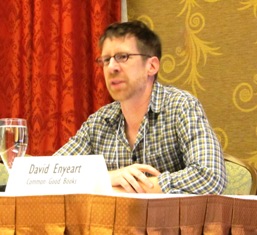 Reaching out to those readers of poetry is part of the job description for David Enyeart, event coordinator at Common Good Books in St. Paul. On January 23, the bookstore will host a reading by Gibson and Sarah Fox (The First Flag, Coffee House Press, April).

Enyeart called the upcoming event "a good example of how we put together compelling readings. First off, it's two great poets. Both of them are well-regarded and active in our local writing community. Additionally, we're able to give readers a sneak preview of Sarah Fox's book, so that's something they can't get elsewhere. And of course a conversation between two authors can always go in unexpected directions. With all that, I'm confident we'll have a solid turnout and a lively evening."

He also noted that Common Good Books "is committed to poetry. From the proprietor on down, we value poetry as much as fiction, biography or any of our other areas. It's at the front of our store and in the front of our minds when people are looking for books. We're also fortunate to have a good base of customers who feel the same way about poems. They come to readings at about the same rates as discussions on any other topic, and I really don't treat our poetry events any differently from our other author readings."
Garrison Keillor, the proprietor of Common Good Books, is reading Kenneth Rexroth's poem "Snow" on the Writers Almanac today. How many reasons do we need to celebrate Winter Poetry Month?--Published by Shelf Awareness, issue #1904.
Robert Gray
|
Comments Off
|