Friday, November 23, 2012

Thanks. That's all I've got to say. Stick to the basics. This is Thanksgiving week and I'm thankful to work in the book industry, even during a time when the terrain seems to shift with every step. Maybe because of the instability, which has sharpened our focus.

Before we all launch headlong into the holiday thrill ride that is Thanksgiving and Black Friday and Small Business Saturday and Cyber Monday, I just want to share a few personal reasons for gratitude. Call them the Three Rs: reading, 'riting and 'rithmetic, which I'll consider in reverse order, business first.

'Rithmetic
I'm thankful for the amazing opportunity I've had to witness an evolution in the bookselling world during the past 20 years, beginning with the moment I stepped onto a sales floor in 1992 and continuing well after I left that bookshop in 2006 to join Shelf Awareness, where I've had a ringside seat ever since.

I learned early that booksellers face "the numbers" on a daily basis, and the profound, ongoing and sometimes hazardous industry changes (you know the list) have required an adaptive New Math. All the more reason to enjoy the measure of hard-won, tentative optimism I noticed this year. If you did a word search of headlines for articles covering BookExpo or the autumn regional bookseller trade shows, the terms "mood" and "upbeat" would probably be high on the list.

The numbers are always a little scary, even when they show promise. I think that's the job description for numbers. But so many of the longtime indie booksellers who are still in business (who have "survived and thrived," as a recent profile of Fran Keilty's Hickory Stick Bookshop, Washington Depot, Conn., so aptly put it) as well as those who courageously opened new bookstores in recent years, are finding ways to make the numbers work for them by sticking to the basics, weaving irresistible magic spells out of the Three Rs.

'Riting
"Everyone has to scratch on walls somewhere or they go crazy."--Michael Ondaatje, In the Skin of a Lion

I'm unexpectedly thankful--well, it might be more correct to say I'm not unthankful--that everybody seems to be writing now. For no logical reason, I've begun to lose my concern about the dire warnings of a word dystopia where we're all scratching on walls (virtual and otherwise); where "published" and "printed" books cascade around us in a madcap frenzy only Lewis Carroll might conjure ("Now here, you see, it takes all the reading you can do, to keep in the same place.").

There is, if you focus, still a method to sorting out the madness. Every day I observe writers and readers finding each other through means traditional (indie bookstores, print reviews when you can find them, Indie Next Picks) and evolving (focused Web communities, Facebook, Twitter, Goodreads, etc.). It's like conversation in any crowded room. You listen more closely to the people who interest you. Certainly it is a challenging time for good writers to make a living and to find their audience, but readers are searching for them everywhere.

Reading
I'm thankful for unexpectedly noting a connection between two men who died last week. Shelf Awareness ran, as we often do, brief obituary notes for Isaiah Sheffer and Jack Gilbert, but something haunted me about their passing. Eventually I realized the link was personal, a reflection of one of the things I love most about being a reader.

Last April, I picked up a copy of Gilbert's Collected Poems (Knopf) as part of my annual Poetry Month shopping ritual. I've read and re-read his poems since then, and now mourn him only a brief time after having discovered him.

Everyone forgets that Icarus also flew.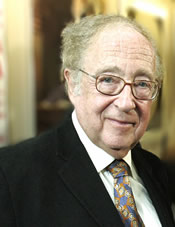 Sheffer, on the other hand, affected my reading life long before I really knew much about him or the extraordinary work he'd done at Symphony Space in New York City. Back in the 1980s, when I lived in a small Vermont city with little or no access to author events, those eloquent reading voices that wafted from my radio during Selected Shorts broadcasts were one of my rare links to a literary community.

I believe Icarus was not failing as he fell,
but just coming to the end of his triumph.
Anyway... Thanks.--Published by Shelf Awareness, issue #1876.
Robert Gray
|
Comments Off
|