Sunday, April 24, 2011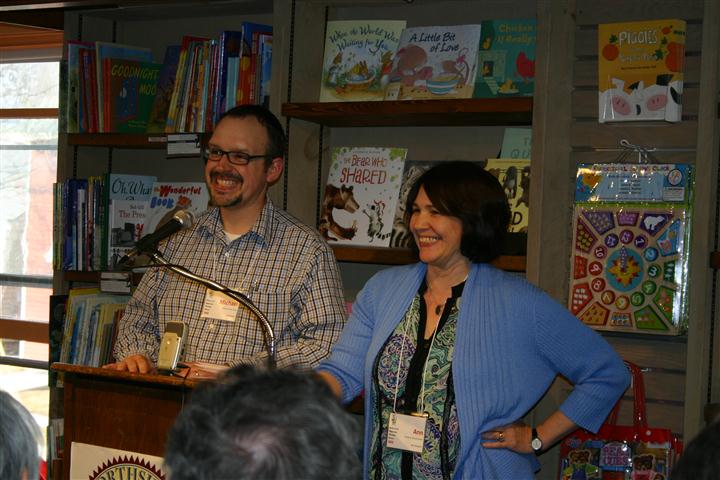 Sometimes an event that seems fresh and innovative when you are in the middle of it gradually loses luster afterward. Not this time. It has been almost two weeks since I attended the Books on the Nightstand Readers' Retreat in Manchester, Vt., and left energized by the atmosphere Ann Kingman and Michael Kindness fostered there (Shelf Awareness, April 15, 2011). My enthusiasm has not waned.

I've asked myself why. The answer seems too simple and yet inevitable: If you spend a considerable amount of time obsessed with the past, present and future of the book, you occasionally forget about readers as individuals. The BOTNS retreat was an excellent refresher course.

For example, Linda Johnson and a friend drove from Ohio to participate. In the Springfield News-Sun, she wrote, "The attendees are still communicating online about how wonderful the weekend--christened 'booktopia'--was. All are eager to do it again. Others who could not attend want to next time."

She also told me about something she'd overheard at the retreat: "Someone commented that most of us were probably introverts (true in my case), but how outgoing we were. My realization was that I don't often know how to get involved in 'small talk,' but books I can talk about. So, if outside the retreat I talk to someone who doesn't read much, we don't have anything in common to generate the talk. At the retreat, we were like-minded and could discuss our passion."

Those casual conversations among readers played a central role in creating booktopia, and the author sessions offered participants a chance to peek behind the book industry's curtain--or between its pages, perhaps.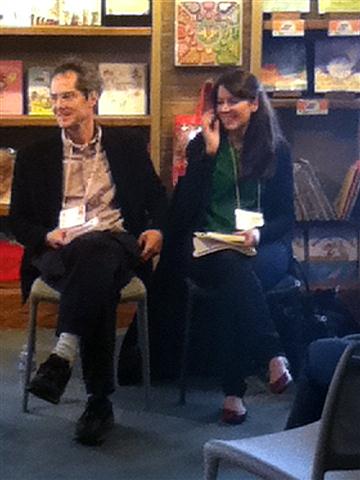 At one session, Katie Henderson, an editor at Other Press, and author John Milliken Thompson discussed their work together on his novel The Reservoir, which will be published this June.

"Pretend that we're 20 people at a dinner party with a great author and a great editor," Ann said in her introduction. "I thought it would be really fun to talk with an author who is in this process right now."

And it was. Readers don't meet editors every day. On receiving an ARC of John's novel, one audience member said, "I've never read an ARC before. Can you tell me the difference between that and a final copy?"

It was a good question, which they answered. There were many other great questions, particularly for Katie: Do you still read for pleasure? Do you ever read something and wish you could steal that author? How can we follow an editor like you and learn about your next books? Could you name a book you've edited that was successful, and one that didn't reach the pinnacle you wished for it?

"Two things really stood out to me," said Katie. "First, the feeling of camaraderie among the attendees and authors was almost immediate. If there was ice to be broken, it was long gone by the time I got to the welcome reception on Friday night. Ann and Michael have built a community using their podcast and website that already understands how to interact. We all just take our cue from our hosts, who are--effortlessly, tirelessly--friendly, intelligent, and enthusiastic. If you respect and appreciate Ann and Michael enough to come to Vermont with a bunch of strangers and talk books, you're already okay with me.

"Second, I felt incredibly lucky, as an editor, to be able to mingle with so many wonderful readers. As a group, editors tend to spend the majority of their book chat on each other, talking to other publishing folk and of course reading reviews. The occasional cases when we get to witness a book club meeting over one of our books or spy on a particularly meaty Goodreads discussion are invaluable, but all too rare. I loved talking to the readers at the retreat, and it made me want to work twice as hard to find books they'll love and get them into the best possible shape."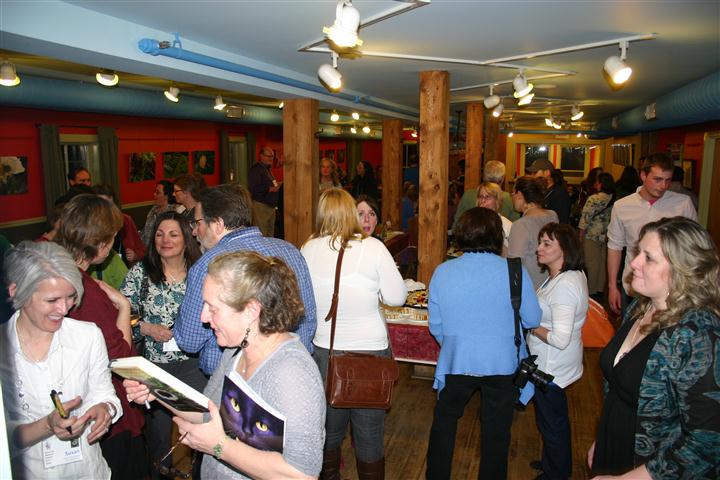 Although John has written several nonfiction books, he said that, as a debut novelist, he had "never been to anything remotely like the BOTNS retreat, so the bar has now been set unrealistically high. My book comes out in two months, and I can't imagine a better, more congenial, more stress-free setting for launching a book promotion."

He added that one of the things that made the retreat "especially appealing was its spontaneous feel: Katie and I were drinking wine at the Manchester Inn on opening night, mingling with book lovers and other authors, and then we found ourselves heading out in a caravan with Ann Kingman, her Australian friend and two young teachers to a boisterous tavern called the Perfect Wife, where we stood around talking, then sat down to platters of meatloaf and barbecue (yes, in Vermont), while talking about Dickens and J.K. Rowling and e-books vs. real books. And Matt Dicks and his lovely wife entertained us with hilarious stories about their book group. "
As I mentioned in last week's column, telling the BOTNS retreat story requires time and space. Next week, we'll conclude with a few thoughts from some of the other writers, including Matthew Dicks's intriguing last-second decision at the Saturday night Authors Celebration "to forgo speaking about my work in favor of encouraging the audience to write."--Published in Shelf Awareness, issue#1446.
Robert Gray
|
Comments Off
|