Monday, April 23, 2012
Sometimes you just find yourself thinking out loud, even if the "voice" manifests as words on a screen. Here's a question that has been rattling around my brain recently: What if BookExpo had an official poet-in-residence next year?

That notion was sparked by an e-mail I received a couple of weeks ago from Leslie Reiner, co-owner of Inkwood Books, Tampa, Fla., regarding a column about poetry readers. "I really wish ABA and BookExpo could get the poet laureate each year to do the bookseller equivalent of a benediction at a breakfast," she noted. "Wouldn't that be wonderful? Appropriate? Even essential? Let's start a movement."

I was intrigued by the idea and asked her to elaborate. "I love poetry, and for years we have tried to celebrate Poetry Month by giving a discount if a customer can recite a published poem, no songs or nursery rhymes or limericks allowed, to our sales staff at checkout," she said. "It is almost always delightful (won't go into the exception), and sparks conversation that otherwise would never have happened."

Although bookstore poetry sections tend to be diminutive, Reiner suggested that trade show and conference organizers might still "try to feature it more (who am I kidding... feature it at all!) at our gatherings. Booksellers are so often delighted and inspired by the writers who speak at breakfasts or keynotes, and I feel having a poet read a poem or two at BookExpo or the ABA Winter Institute would be a great way to bring new readers to poetry and educate us all as well."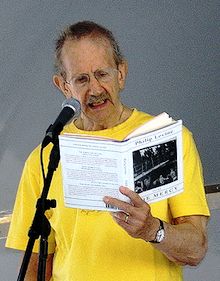 She also recommended extending an invitation to the U.S. poet laureate (currently Philip Levine), who "would be a natural choice, and the recent ones (Billy Collins, Ted Kooser, Kay Ryan come immediately to mind) have done so much to encourage wider readerships with annotated anthologies and other programs. It would be great to have our nation's top poet say hello to us all in verse, and I am sure publishers would be behind this. In particular I fantasize the audience to be one of the large gatherings, where the topic may not be poetry, but the poet can start the event... like an invocation of sorts."

Reiner added that she loves what DIESEL bookstore "is doing on their website, and I am sure others would have great suggestions. But most importantly I would love to have all booksellers, especially those who may not read poetry, hear the poet. Separate panels of poetry related interests would be fine, but my dream is to have the poet laureate address us all."

Whenever I think about the magical combination of poetry, bookseller and publisher, San Francisco's legendary City Lights is the first place that comes to mind, so I asked Paul Yamazaki for his thoughts on the idea. "Poetry is notably absent from BookExpo," he agreed. "I recall that Jack Shoemaker hosted a breakfast at 7:30 a.m. for Gary Snyder in Chicago that must have been interesting, but there is very little that I can recollect. A greater awareness/celebration of poetry is an idea that I would warmly support. A 'benediction' at breakfast is something I would be a little leery of. First it is breakfast and secondly I always think of a 'benediction' that requires distilled spirits. Being in New York, with the resources of St. Marks Poetry Project, Nuyorican Poets Cafe, Poets House, etc., there are a wealth of poets and organizations to collaborate with."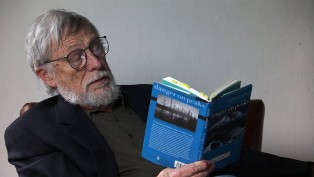 If New York is the city where poetry never sleeps, an official BEA poet-in-residence might just lend an air of, well, poetic justice to the show after all these years.

I have seen poetry as the center of conference attention--and even business conversation--before and it can be a beautiful thing. During a "Shameless Book Promotion" panel at the 2010 AWP Conference & Bookfair in Denver, I heard poet Todd Boss say, "I want my poetry to reach a popular audience. I find it troublesome that I should be forced to admit such a thing as if it were shameful." At the Bookfair, people were eagerly buying poetry collections from Tattered Cover's display table. Later, I watched Gary Snyder mesmerize 600-plus people in the Colorado Convention Center, telling us: "Fortunately, my poetry is not that complicated. You don't need to be an architect to walk into a building." And speaking of buildings, he also joked, "This is one big hall. I came by earlier to see the room and couldn't see the end of it."

Imagine a poet center stage at the Javits Center's "big hall." I do like it, but I'm really just thinking out loud.--Published by Shelf Awareness, issue #1721.
Robert Gray
|
Comments Off
|