Monday, May 23, 2011
When some of us gather in New York next week for BookExpo America, we'll once again discuss the future of reading and its potential effects on books (print and digital), bookstores (chain and indie; online and bricks & mortar), publishers, writers, readers and anyone or anything else connected to our wordy world. We will, for the most part, be anxiously, if politely, asking each other: What's going to happen to us?

It's a natural question, since we live in the future most of the time. Even when we talk about the current nature of things, it's hard not to frame these discussions around what might be coming next and next and next, as we glance warily in all directions like a nervous flock of birds, ready to fly at the least provocation.

And while I enjoy this flight toward the future most of the time, it was the past that caught me by surprise earlier this week as I worked on my BEA schedule and finalized travel arrangements.

Quite by chance, I came across a Boston Globe article about author and naturalist Will Curtis, who "died in his sleep April 18 at his home in Woodstock, Vt., where he had moved with Jane Curtis, his wife and writing partner, in the late 1990s after selling their farm in neighboring Hartland. He was 93, and his health had declined in the past few years."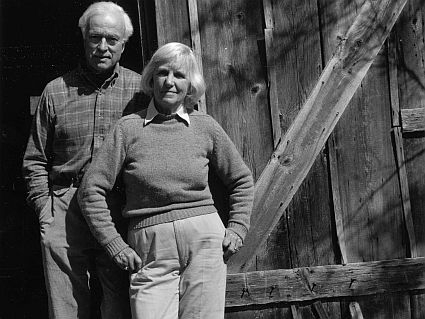 Who was Will Curtis? If the name seems familiar at all, it's probably because you listened to "The Nature of Things," a daily series about his experiences in and observations of the natural world that aired on Vermont Public Radio and was nationally syndicated during the 1980s and 1990s. Curtis had an on-air voice that informed as well as comforted; he sounded like a man in no particular hurry, attuned to the seasons and his surroundings.

Curtis was also an author. In addition to books co-written with Jane, he collected some of his essays in Will Curtis, and this is the Nature of Things (Countryman Press, 1984) and The Second Nature of Things (Ecco Press, 1992). And he was a bookseller, running Woodstock's Yankee Bookshop during the 1960s. In his preface to The Second Nature of Things, he wrote about the genesis of his radio career:


It was on our dairy farm where my real interest in nature began. Much of my time was spent in the fields plowing, planting, haying, and, in the early spring, in the sugarbush gathering sap buckets. Now and then, I would stop, look, and listen. An amazing series of natural events evolved around me. My evenings were often spent reading magazines and books on nature, trying to learn about what I had seen in the fields and woods during the day.

After our herd of Jersey cattle had been sold, Jane and I found ourselves the owners of a bookstore. The object of a bookstore is, of course, to sell books. To help in this we went on the air with reviews on local radio stations.


I met Will and Jane Curtis in 1992, shortly after The Second Nature of Things was published. That was also my first year as a bookseller at the Northshire Bookstore, and the event marked my shaky debut hosting and introducing an author at a reading.

Will and Jane arrived early and we grabbed a bite to eat at the Quality Restaurant. For some reason, I still remember that he ordered fried chicken. More importantly, I recall how easy it was to work with him; how much less scary the evening turned out to be because of this quiet, intelligent and humble man. I have a copy of the book, which he signed: "To Bob. With deep appreciation. Will"

A writer died last month and I didn't even know it happened. I feel bad about that.

"Persons to whom the woods are unfamiliar suppose that they see a dying year in the autumn woods. But the woods do not share their secrets with just everyone," Curtis once wrote. "They seem particularly to have deceived poets. For autumn in the woods is not a death stage but a change in life-style. It is a change less profound than the sleep which we mammals accept familiarly and therefore without alarm. The emerging naked limbs may be stark to those not in the know. But they are just a yearly exercise in woodland draftsmanship, a sort of black, geometric architecture puncturing the often deep blue sky."

Next week at BEA, we will talk about the future of our industry, but I suspect that occasionally I'll also heed a nature-of-books version of Will Curtis's wise counsel. Surrounded by visions of the future, I will "stop, look and listen" to a valuable past that is represented there as well... if we're paying attention.--Published in Shelf Awareness, issue #1468.
Robert Gray
|
Comments Off
|