Friday, November 2, 2018
Four years ago, I wrote that if you don't work in the book trade, it's hard to explain what happens at an event like the MPIBA Fall Discovery Show: "Call it a family reunion. No, better than that--a family gathering, albeit one with more fun (think Literary Trivia night or Books & Brews afternoon) than squabbles, more friendships than rivalries; and, most importantly, a shared mission."
I was reminded of the sentiment again at this year's MPIBA show, during a heartfelt celebration to honor retiring project manager Kathy Keel. In the exhibit hall, colleagues and friends expressed love and respect for her. It was a genuine book family moment.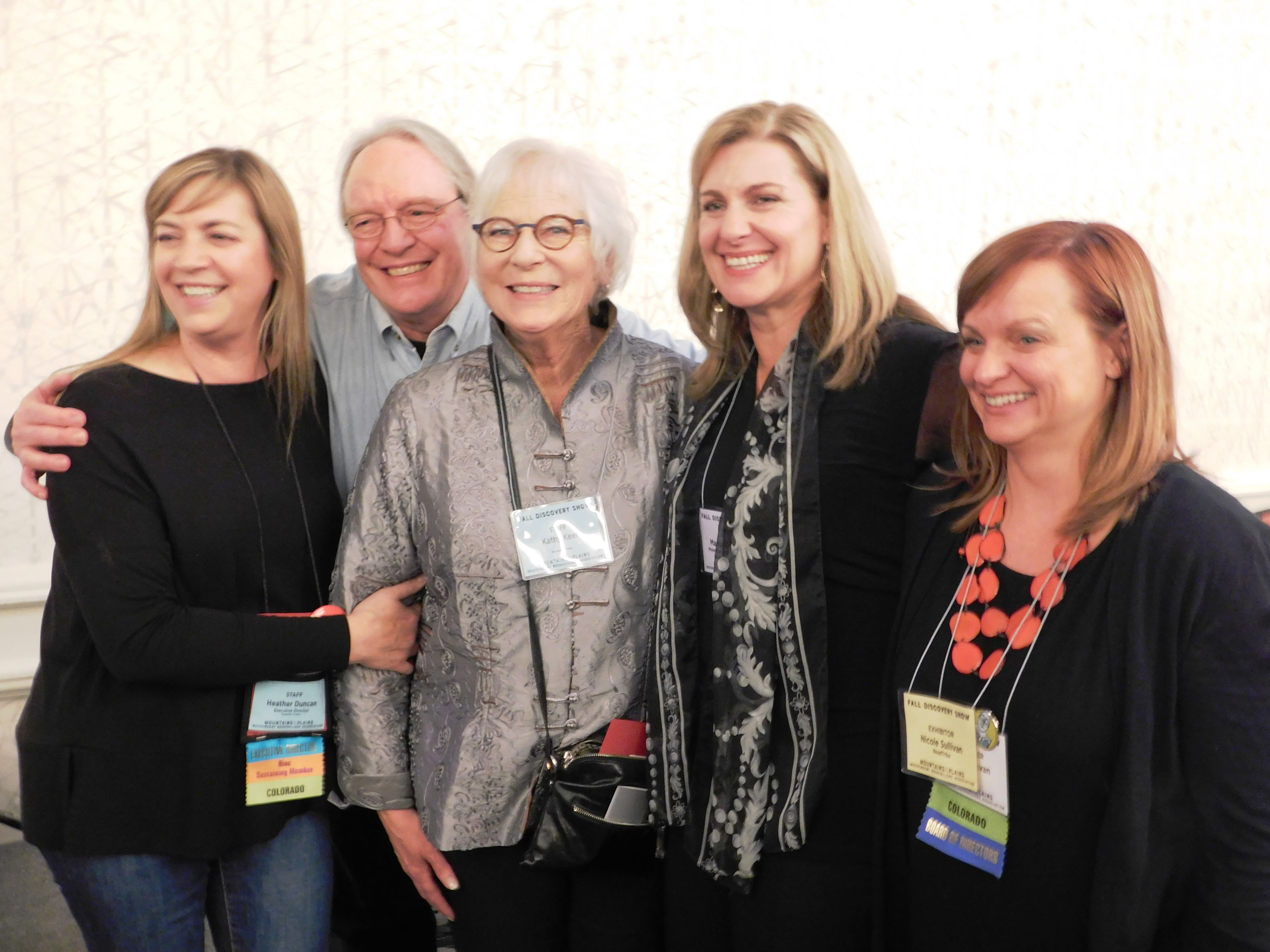 Heather Duncan, Eric Boss, Kathy Keel, Marnie O'Connor, Nicole Sullivan
"On behalf of the board, we don't have words--even as booksellers, as book people, there are no words--to express the appreciation and the love and the thankfulness that we have for Kathy and her more than 30 years of service to Mountains & Plains," said Nicole Sullivan, owner of Denver's BookBar and MPIBA's current board president. "I know personally when I came here just five years ago as a new bookseller, she put me at ease like that, immediately, with a big wide smile and open arms and a huge personality. We just want to thank you so much for everything that you've done."
Marnie O'Connor, former associate project manager, recalled how her work as a show volunteer evolved into a five-year temporary position with the association: "I loved every minute of it because Kathy was absolutely the best boss that I've ever had in my entire life. She's nothing but uplifting and she praises you and she makes you believe in yourself more than you could ever imagine.... We had long hours, we quarreled, we bickered, we had a few choice words with each other on occasion, but I love her with all my heart. And I have to speak on behalf of the volunteers who work side by side with Kathy to make the show an amazing event that we love and look forward to every single year. We're going to miss her very much, and I wish her only the best."
MPIBA executive director Heather Duncan's connection to Keel moved to another level this year after Duncan assumed her new role: "I kind of unexpectedly had this position available and I applied for it and had never intended to leave the Tattered Cover. When I did, I was all by myself at my house and then I had Kathy. We have worked together since January and I would never have been able to learn everything that I've learned--the institutional knowledge she shared with me, the fun that we have had working together. I've known her for 30 years, but I really fell in love with her in the last year. It has been a ball. And I was very sad when she said she was going to leave, but the timing was good, it worked, and I think she feels like she's left the association that she's worked so hard for in good hands, and we're going to make her proud."
After presenting Keel with a custom-made set of bookends, Duncan introduced Eric Boss, a retired sales rep and "one of our most dedicated volunteers, whom we also adore."
Noting that he has known Keel for many years, Boss observed: "She is a force of nature. She is a motivator. She's been the engine of MPIBA, and without her most of what we know as this trade show would not have happened, and it certainly wouldn't have happened in the form that we are familiar with and that we all like. This is a great show and everybody loves it. Kathy and I have always found a way to have fun and to find the humor in the difficulties, the struggles, the problems that arise. And she's always stepped up, whenever there was trouble or a problem, she took it head on, straight up."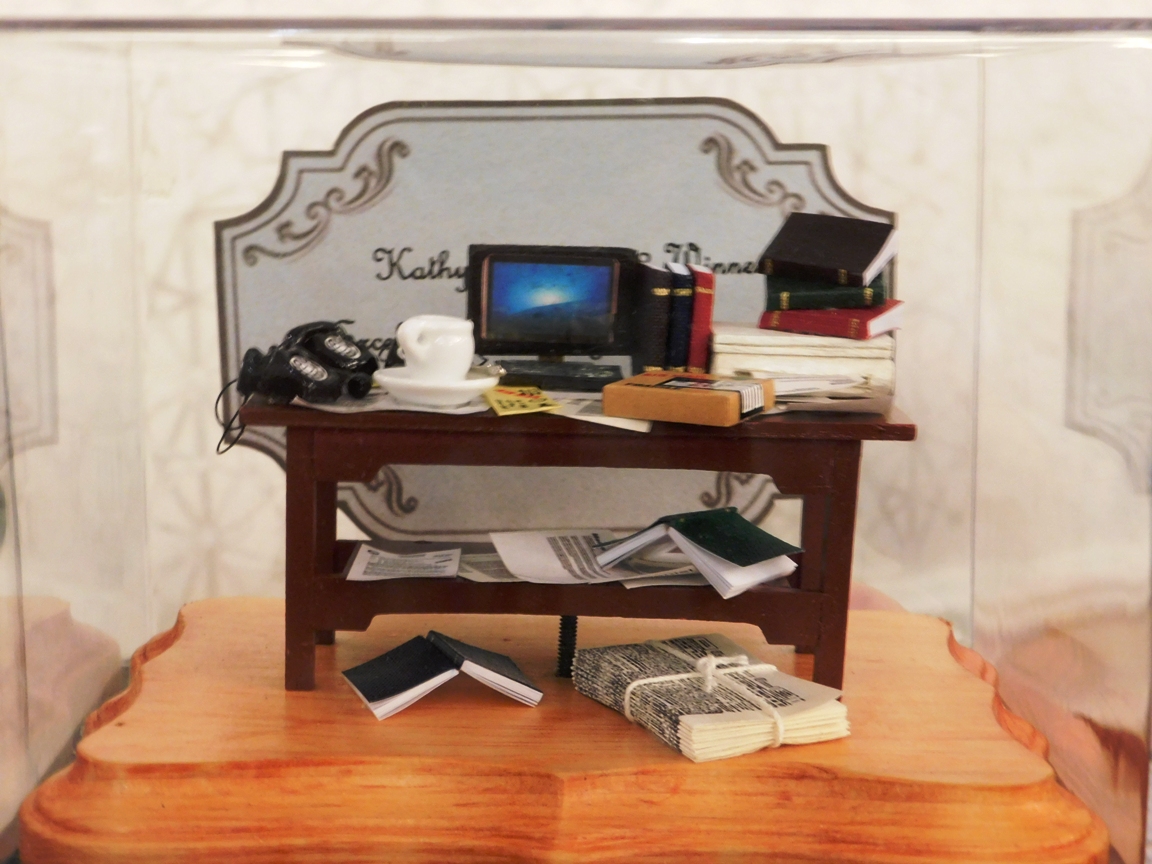 Boss then presented her with a handmade "Excellence in Ability to Respond to Multiple Stimuli" trophy, featuring a little desk, upon on which are scattered telephones, a computer, a fax machine, books, newspapers, packages, memos and a cup of coffee. "So, with love and respect, this is for Kathy," he added.
"I just called to say, I love you," Keel sang as she took the stage. Then she said: "I love you all. You know me, I cry at the drop of a hat, and then I laugh, and then I get aggressive, and then I laugh some more.... But I do want to say, I'm going to miss all of you so much. I have loved working with you and being with you and sharing your births, and your marriages, and your deaths, and all the moments that make up your lives."
She expressed her gratitude to all the volunteers "for standing by me and making me look better than I really was, putting up with my big mouth. As my mother said, 'Sit down, Kathy, everyone's seen you already.' And I appreciate all of you putting up with my singing at the podium and my yelling and my behavior. I love you all. I'll miss you so much. Thank you for 30 wonderful years."
A book family moment like this one is about much more than a professional transition. It's about legacy... and love, reminding us once again why we chose this world of books, or allowed it to choose us, or some magical combination of the two. Maybe it's just book genetics.
More from the MPIBA show next week.
--Published by Shelf Awareness, issue #3368
Robert Gray
|
Comments Off
|