Friday, November 16, 2018
In a week when the National Book Awards are dominating book prize attention in the U.S.--and deservedly so--my thoughts also turned to the Booksellers Association in the U.K. & Ireland, which held its annual Books Are My Bag Readers Awards Tuesday night at the "beautiful and iconic" Foyles Charing Cross Road store in London. The #BAMBReadersAwards are sponsored by National Book Tokens and "are part of Books Are My Bag, the annual campaign celebrating the vital importance of bookshops."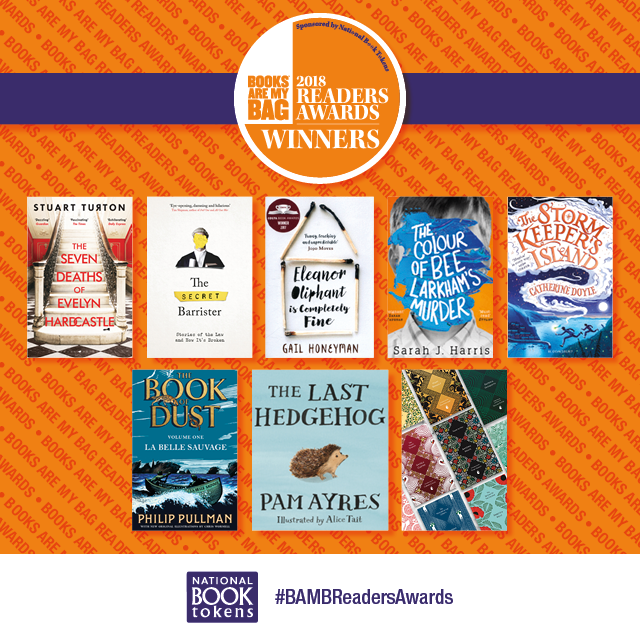 There were a couple of reasons why my attention was drawn to the celebration, including the news last week that the BA would abandon its backing of Civilised Saturday/Saturday Sanctuary to focus on promoting these award winners during the holiday season, as well as the inclusion of prize categories for "Outstanding Contribution to Bookselling" and "Beautiful Book."
"The book awards, now in their third year, are curated by bookshops, with booksellers selecting the shortlists in each category," the BA noted. "The public is invited to vote for a winning title from each shortlist, apart from the Beautiful Book category which is decided purely by a bookshop vote. The Readers' Choice category is decided by an open public vote with no shortlist."
And now, the envelope please. This year's BAMB Readers Awards winners are:
Novel: The Seven Deaths of Evelyn Hardcastle by Stuart Turton
Nonfiction: The Secret Barrister: Stories of the Law and How It's Broken by The Secret Barrister
Poetry: The Last Hedgehogby Pam Ayres, illustrated by Alice Tait
Breakthrough author: Sarah J. Harris for The Colour of Bee Larkham's Murder
Young readers/middle grade: The Storm Keeper's Island by Catherine Doyle
Young readers/YA: La Belle Sauvage: The Book of Dust Volume One by Philip Pullman
Beautiful book: Virago Modern Classics 40th anniversary series, designed by Hannah Wood, illustrated by Yehrin Tong (Little, Brown)
Readers' choice: Eleanor Oliphant Is Completely Fine by Gail Honeyman
Outstanding contribution to bookselling: Vivian Archer, Newham Bookshop, East London
Here are a few social media highlights from the evening:
BAMB live-tweeted: "The Outstanding Contribution to Bookselling Award goes to Vivian Archer @NewhamBookshop! Vivian began her Bookselling career in the late 1970s and has been at the helm of @newhambookshop for 31 years of the shops 40 year existence. Congratulations!"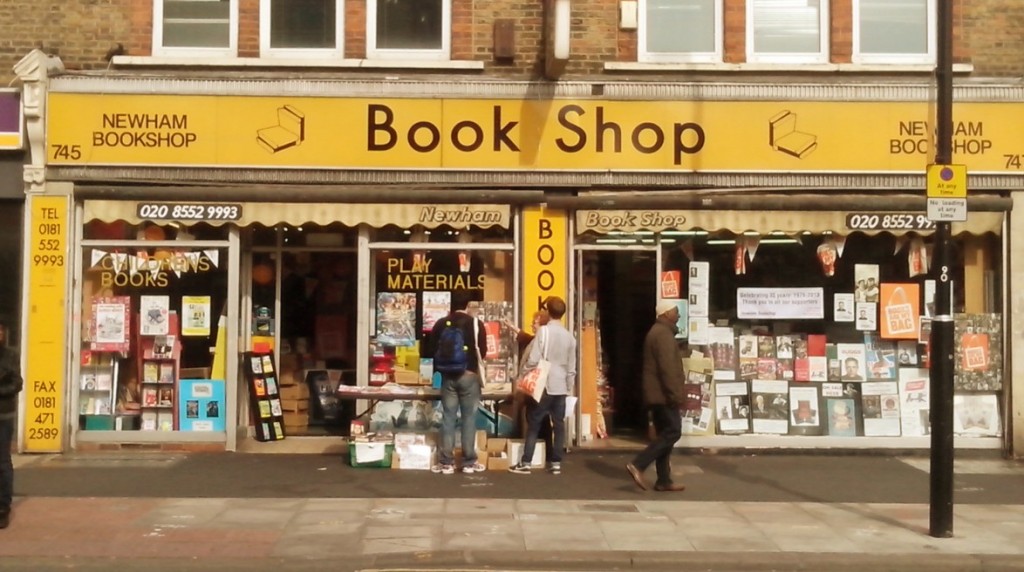 Newham Bookshop noted: "So proud to have won this last night. Thank you all our wonderful staff, our great customers, publishers and authors. Makes it all worthwhile."
The Secret Barrister, anonymous blogger and now award-winning author, tweeted: "This is absolutely crazy. Thank you SO MUCH to everyone who voted. You're all brilliant, magnificent creatures. And a huge thank you too to @booksaremybag and all the wonderful independent booksellers who nominated us."
The Publishers Association captured the "brilliant moment" when "The Secret Barrister" showed up to accept the award, only to confess: "I have to tell you all that I'm not the Secret Barrister."
Erica Jones (@bookshopblogger) praised the "excellent book award presenting tonight by indie bookshops: @NewhamBookshop, @RedLionBooks, @booknookhove, @7OaksBookshop, @gaystheword and @mrbsemporium. I've been to all but one of you and must rectify that soon."
The London Book Fair tweeted: "We're enjoying the fact that all the winners tonight are paying big thanks to all the booksellers who have got their books into the hands of readers."
Bertram Books highlighted BA president Nic Bottomley's mention of another major indie bookseller triumph this week: " 'The best small shop in the country is a bookshop!' Well of course it is! @mainstreethare thanks Nic @mrbsemporium and the #BAMBReadersAwards for a great evening."
"In a reading rut? Want to health-check your reading habits?" #BAMBReadersAwards Novel Award-winning Turton "prescribes five books for any mood or occasion over on @book_tokens' Caboodle." I've never read him, but I liked his take on reading (e.g., "First things first, cheat on your favorite genre."). Maybe I'll read him now. That's how these things happen, as you know so well.
He also seems to be intrigued by the inner workings of book trade, which I count as a plus. "I think there is more of an appetite for high concept murder mysteries than before," he told the Bookseller. "When I was trying to find an agent, there were very few who I could submit to for this, and some rejected it because they wanted it either to be sci-fi and high concept or be a murder mystery. Now I think there are more authors writing books that combine the two.... The industry always seems to be cyclical, and there is a big wellspring at the moment in the gothic and the supernatural. The trick--and what my [U.K.] editor Alison [Hennessey, editorial director of Raven Books] has done--is to see what is coming so as to commission and help create the trend."
Overall, #BAMBReadersAwards 2018 came up a winner for me. As it did for Emma Bradshaw, head of campaigns at the BA, who said: "From first time authors to literary giants, this year's Books Are My Bag Readers Awards winners give an insight into bookseller's and the public's top books of the year. It's hugely exciting to see such a large proportion of new writers on the list, showing just how much brilliant new writing talent readers have to enjoy." Can't argue with that.
--Published by Shelf Awareness, issue #3378
Robert Gray
|
Comments Off
|