Sunday, November 6, 2011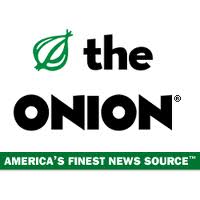 The best satire tweaks reality just enough to make it yell "Ouch!" yet still manages to keep us in uncomfortably familiar territory. Few publications do this better than the Onion when it is on its game, and over the years the book world has come in for its share of well-deserved attention.

Decades from now, when biblio-archaeologists are examining the relics of our reading culture, they could do worse than consider the Onion's take on the turbulent early years of the 21st century. Here are a few highlights: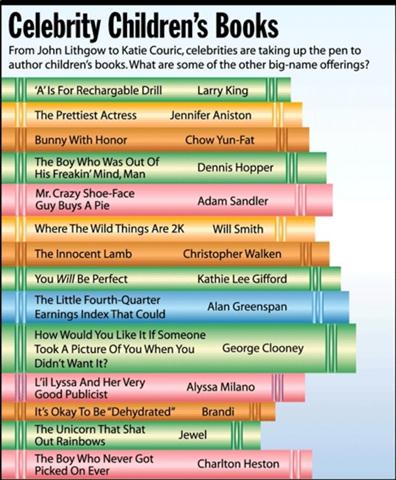 2000
Celebrities writing children's books are all the rage. Offerings this year include Dennis Hopper's The Boy Who Was Out of His Freakin' Mind, Man.

Headline: "Man Reading Pynchon On Bus Takes Pains To Make Cover Visible"
Headline: "Nation's Teens Disappointed By Banned Books"

2001
The film version of Harry Potter and the Sorcerer's Stone "turns children on to the magic of not reading," Hannah Foss of Dayton, Ohio, says. "My daughter Julia never liked to sit passively and stare at a screen, but this new movie has really locked the power of her imagination. She can't put her books away fast enough."

Jessica Kingley, author of Bitter Root, "expressed regret Monday that she had 'pretty much used up all the hardship' from her early life in her recent first novel, leaving her nothing to write about for her follow-up book."

2002
In Minot, N.D., a meeting of the Book Buddies reading group "degenerated into a discussion of the upcoming Academy Awards."

Headline: "Barnes & Noble Staffers Mock Orson Scott Card Crowd From Back Of Room"

2003
Pottermania strikes again. Why are so many people buying Harry Potter and the Order of the Phoenix? Some were "automatically sent book by Amazon after computers showed May 2001 purchase of Dragonriders of Pern," while others "just couldn't get into Atonement-mania."

2004
Self-help for books. "In spite of the odds it faces in the ultra-competitive self-improvement segment of the publishing market, the forthcoming self-help book The Life-Changing Power of Perspective firmly believes that it can be a bestseller, the 179-page nonfiction paperback said Tuesday."

2005
Headline: "Author Dismayed By Amazon Customers' Other Purchases"

2006
Aspiring novelist Sandy Bellman "took the last step in her personal journey as a professional writer" by becoming a Barnes & Noble bookseller. She "is expected to sell her first novel, most likely Khaled Hosseini's The Kite Runner or James Patterson's Judge and Jury, shortly after beginning her training shift next Monday."

2007
American Voices. Most large retailers will be pricing the new Harry Potter book at cost or less. Pam Knackert: "Even more damaging to bookstores is the fact that you can purchase Harry Potter books at most vending machines."

Spoiler alert. Harry Potter and the Deathly Hallows is criticized because it "blatantly answers every looming question in the 10-year-long saga, even going so far as to divulge what happens to key characters 20 years into the future."

2008
Dr. Seuss tells Hollywood to stop making movies based on his books:
When your mom would give Horton a voice extra deep,
And turn the last page as you drifted to sleep.
Instead you'll have boxed sets, shit movies, and... well,
You'll have plenty to watch while you're burning in hell.

2009
American Voices. The Kindle DX is expected to change the way college textbooks are bought and sold. Jennifer Barkley: "If there's one thing I learned as an English major, it's the value of a great book whose pages you can touch and feel and tear out just to spite the next reader."

New features and improvements on the updated Kindle include streaming functionality that "allows user to read latest Nora Roberts novel in real-time as the author writes it."

2010
American Voices. B&N releases Nook Color. Barry Kaplan: "It's only a matter of time before Oliver Twist is peppered with pop-up ads for gruel and waistcoats."

Longtime customer Stephanie Brear is furious about the closure of indie bookshop Shaker House Books: "I put so much time into supporting my quirky local bookshop, with its charming window displays and us-versus-the-world attitude, and for what? Countless hours wasted quietly browsing their shelves when I could have just ordered this shit for way cheaper online."

American Voices. E-books surpass hardcovers in Amazon sales. Mick Aveling: "Well, if you're reading a hardcover book, strangers try to start conversations with you. If you're reading off a Kindle, people just stare at your awesome Kindle."


2011
Francine Massey, author of A Lighthouse Keeper, tells reporters at Word Mentality bookstore that "she does her absolute best for everyone who comes out to see her, whether it's just three people or a much larger crowd of nine people."
Those biblio-archaeologists may ultimately discover the beginning of the end in 1997, when the Onion ran this obituary note: "Béatrice Berceau, the planet's last literate person, died Monday, marking the end of an era. Berceau, widely renowned in her native France and around the world for her remarkable ability to decipher coded inscriptions of symbols printed on paper, was 98 years old."--Published by Shelf Awareness, issue #1597.
Robert Gray
|
Comments Off
|