'Bookshop-Sitter' Wanted
Monday, August 27, 2012
Robert Gray

Is "bookshop-sitting" a real term? Google doesn't seem to think so, but I'll coin it right now anyway because a bookshop-sitter is precisely what Wendy Welch and Jack Beck, co-owners of Tales of the Lonesome Pine Used Books, Big Stone Gap, Va., are looking for.

To be precise, they need someone to take care of their bookstore for a couple of months this fall while they are traveling across the country on an author tour for Welch's upcoming book, The Little Bookstore of Big Stone Gap: A Memoir of Friendship, Community, and the Uncommon Pleasure of a Good Book (St. Martin's, $24.99, 9781250010636, October 2 release).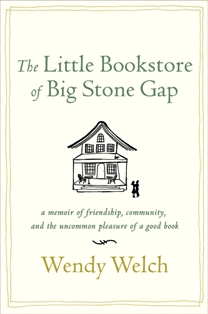 "It's ironic that it's a book about independent bookstores that's got me in this position, but I cannot close our community bookstore to gallivant off and have fun with other bookstores," Welch observed. "Our shop is in a small rural community of 5,400 and it doesn't do enough trade to hire someone in at a living wage. Plus we have two dogs and three cats on staff. So what we're offering is complete room and board for a person or couple (from laundry soap to the occasional pizza delivery) in return for him/her/them watching the shop for October and November, when most of the 'road trip' activities for the book take place."

Who would want to be a bookshop-sitter? Welch suggested that someone "who is thinking about starting a bookstore 'someday' would benefit from two months at no risk; someone who doesn't want to own one but always thought it sounded fun to work there could have the experience for their bucket list."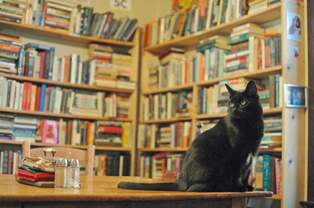 As far as the "practicalities" are concerned, they "are not offering wages, just full living expenses; we can't accommodate anyone's pets, because our dogs are territorial and Val-Kyttie is senile. Children are possible but they would have to sleep in the living room as we have only one guest room."

A prospective bookshop-sitter would be expected to work Tuesdays through Saturdays, 10 a.m. to 6 p.m., "and we'll introduce them to the support team in the community so they can get a pinch-hitter if an emergency arises," she noted. "We will be home a day here or there, but we're headed out October 5 and I suspect that trip would end the week before Thanksgiving. If this person wants to be home for Thanksgiving, that's not a problem. Ideally the person would come the last week of September and spend a week with us learning the ropes, then off we'd go and they'd be in charge." Check out her blog and bookshop videos for a more information on the business.

Where is Big Stone Gap? Welch called it "unique as a geographic location on earth. It's beautiful, in a mountain valley, in a town full of architecture spanning the 19th and 20th centuries. The elegant courthouse is across the street; a 1950s gas station is a block away. We can walk to the grocery, local restaurants, church (about 12 within six blocks), downtown shops, etc. On Sundays/Mondays, when the shop is closed, Asheville is two hours away; Keokee Lake is 30 minutes up the road; fun places to explore are tucked into every valley on the map. I think the beauty and smallness of Big Stone are the only truly unique elements of our shop; other than that, we're the same as others, and that's what I think those interested in this experience will be after: an archetypal rather than unique experience."


While there is plenty of work involved in bookshop-sitting, even for a short stay, she stressed that "what makes our bookshop fun to run is not that different from other bookshops: colorful local characters; predictability and unpredictability married to each other every day [See her blog post headlined "The Really Fun Parts of Bookslinging" for an example]; the thrill of being around so many books, some famous, some not. Would it be too hokey to say a sense of wonder? There's something new to discover every day--in the books, in the people, in the news about books. It's very satisfying, that 'aliveness' of the mind."
Does the prospect of bookshop-sitting this autumn sound appealing to you? If so, and for more details, contact Wendy and Jack at jbeck69087@aol.com.--Published by Shelf Awareness, issue #1813.
Article originally appeared on Fresh Eyes Now (http://www.fresheyesnow.com/).
See website for complete article licensing information.