Friday, May 10, 2019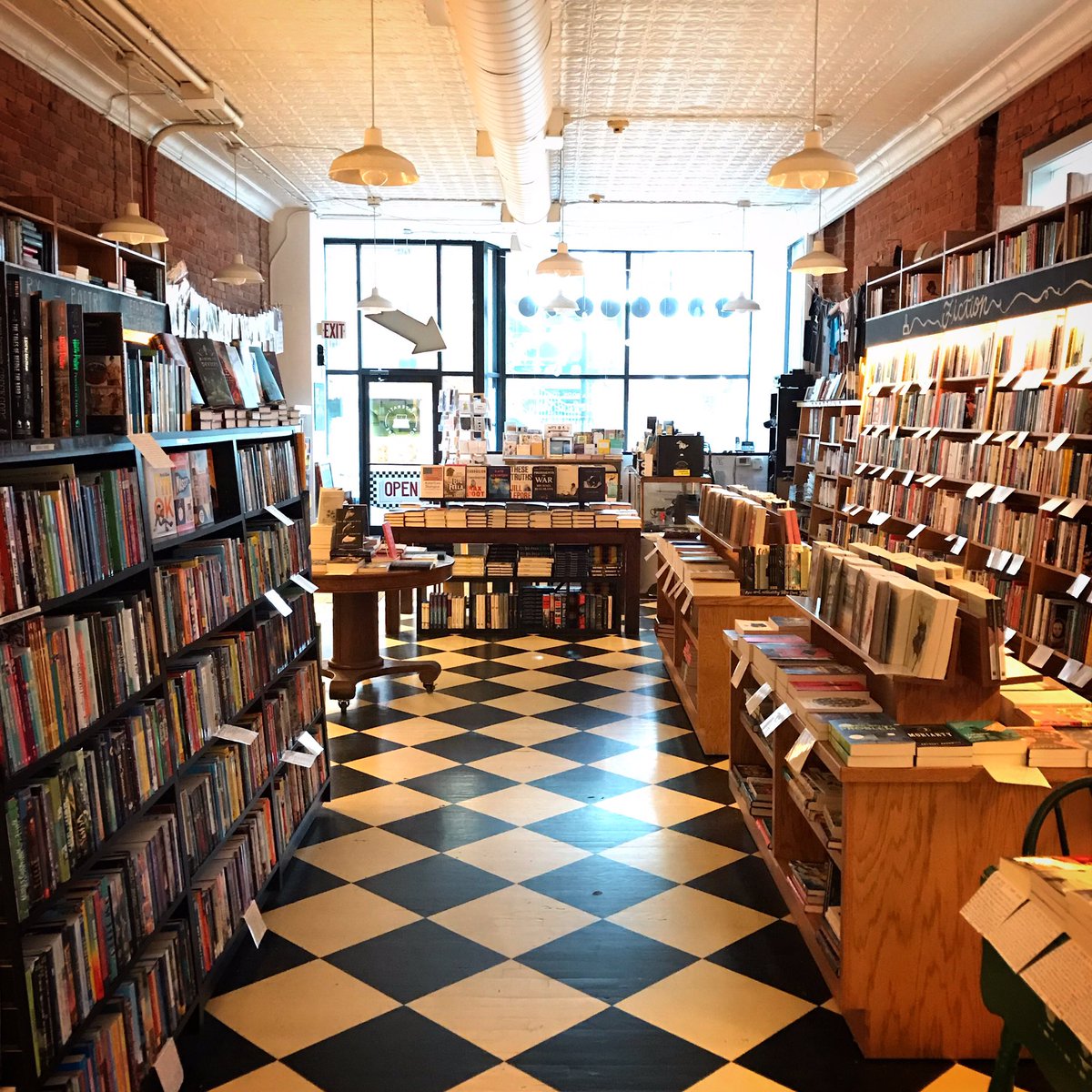 I spend vast swaths of my workday scanning social media for news and notes about bookstores and booksellers. It's undeniably great fun seeing pic after pic of enviably gorgeous aisles with handcrafted bookcases; imaginative table, endcap and storefront window displays; clever sidewalk chalkboard illustrations and captions; crowded, successful author events with long signing lines; energetic booksellers--young, old(er) and in-between--touting their favorite handsells in photos and GIFs, and so much more. Gives one hope for the future of bookselling, to be honest.
The popularity among Shelf Awareness readers of regular features like Image of the Day, Chalkboard of the Day, Cool Idea of the Day and Favorite Bookseller Moment of the Day also speak to need we all have for, and pleasure we take in, sharing good news about the bookselling community online. Why wouldn't we?
Still...
If all those great photos are the bookselling angel on one shoulder, I must confess that the devil sitting on my other shoulder wonders sometimes where the alternative pics are filed away. You know the ones I'm talking about. Bookselling isn't all #JustAnotherFunDayOnTheSalesFloor.
So the mischievous bookselling devil on shoulder #2 has prompted me to imagine some of those pics, along with less cheery responses to the incessant grilling from Twitter ("What's happening?") and Facebook ("What's on your mind?"). I'm sure you have your own, but here are a few of mine:
Pic: Book cart on the sales floor, absolutely packed with multiple copies of newly received stock, including horizontal overflow piles across the top.
Post: Night shift strikes again!!! #Doesn'tAnybodyShelveAfter5pm?
Pic: Small office desk awash in papers surrounding a computer, which displays on the screen mysterious bookkeeping software in operation.
Post: Battle Royale: Sales Figures vs. Unpaid Invoices. #UnfairFight #LiterallyOutnumbered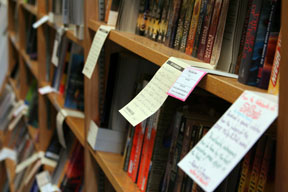 Pic: Stained and wrinkled shelf talker beneath faced-out book.
Post: What's the deal with shelf talkers by former staff who haven't been here for more than three years? #GoneNotForgotten #PaperTrail
Pic: A group of sleepy-eyed booksellers gathering near bookshop's information desk.
Post: tfw morning meeting and nothing new to say? #NoNewsNotGoodNews #NeedMoreCoffee
Pic: View out bookshop's front door across the parking lot.
Post: It's 6:55pm. The talent hasn't arrived yet. Too early to panic? #Where'sOurAuthor?
Pic: Shot taken from behind several rows of sparsely occupied chairs at an author event.
Post: If a tree falls in the forest... #Where'sOurAudience?
Pic: View of bookstore's low ceiling, where two of the recessed lighting bulbs are out, adding a twilight atmosphere to sections they are supposed to illuminate.
Post: Day 6 since the second bulb blew. Anybody know where we keep the spare bulbs? #TooDarkToRead #TooDarkToShelve
Pic: Empty mug with bookshop logo positioned next to cash register.
Post: Is the new policy that customers must bring their own writing utensils?!! #WhoStealsAllThePens?
Pic: Staff member standing at register, staring at cell phone.
Post: Day-to-day grind. Clock watching. #IsItLunchYet?
Pic: View from behind of unidentifiable person walking out of the back office.
Post: Unfortunately, not everyone can be a bookseller. #TerminateWithExtremeJudiciousness
Pic: Bookstore's public bathroom in a state of... disarray.
Post: Whose turn to clean the restroom? #NotInJobDescription #GotToDoItAnyway
Pic: Sink in bookshop's staff break room filled with dirty cups, dishes and flatware.
Post: This is getting REALLY old!!! #CleanYourOwnDishesPeople.
Pic: Hand lifting lid of cardboard coffee cup, which contains the fuzzy/moldy remnants of an ancient latte.
Post: Look what we found while pulling returns. #BookshopScienceProject
Pic: Kids' picture book section, where strange, brownish abstract design obscures the cover of a copy of Goodnight Moon.
Post: Ice cream cone vs. picture book. No contest. #GoodnightChocolateIceCream
Pic: Disgruntled man at cash register, pointing at clipboard.
Post: That moment when dude from another town who's never been in your bookshop aggressively requests charity donation. #Nope!!
Pic: POS gift wrap station, where one of the three dispensers is empty and the other two are low.
Post: One down, two to go. #WorstGiftWrapDesignChoicesEver
Pic: Bookstore cat nestling in corner of back room with unexpected litter of newborn kittens.
Post: #PlotTwist.
Pic: Lovely overstuffed chair in bookshop's reading nook with large tear in cushion. Stuffing pokes through.
Post: Wanted: Full-time bookseller and part-time upholsterer. #JackOfALLTrades
Pic: Shot of bottom side of once-expensive hardcover art book with black magic marker slash.
Post: Customer trying to return birthday present for exchange. Three years since pub date. #RemaindersDon'tMakeGreatGifts
Maybe it's for the best that we keep these images on file. I'd rather see the good ones anyway. Bookselling life may not be perfect, but bookshop posts sure beat most of the alternatives in my social media feed. #You'veGotToReadThis
Next week: Censored first drafts of sidewalk chalkboard signs #JustKidding.
--Published by Shelf Awareness, issue #3492
Robert Gray
|
Comments Off
|