Friday, June 16, 2017
"I want editors when they come in wanting to buy a book to be so excited that their hair is on fire." --Morgan Entrekin, Grove Atlantic president & publisher
During q&a at nearly every bookstore author event, someone in the audience will ask the question: "Where do you get your ideas?" Although publishers and editors are generally less exposed to such public interrogations, if they were the equivalent question might be: "How do you decide which books to publish?" (Second only to: "Will you publish my book?")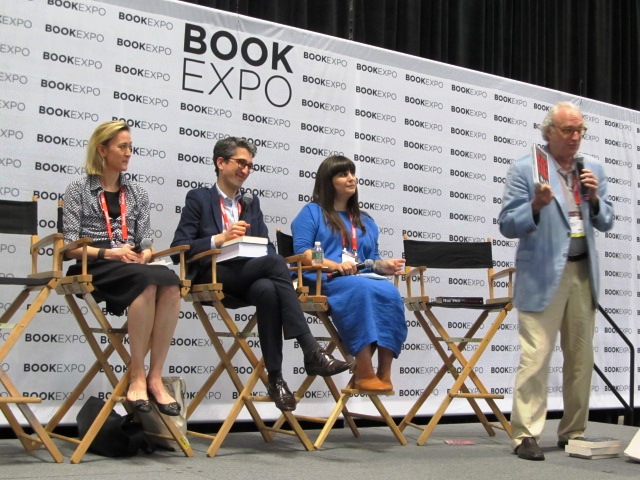 l.-r.: Corinna Barsan, Peter Blackstock, Katie Raissian and Morgan Entrekin
That decision-making process was explored at BookExpo during an Uptown Stage event called "Grove Atlantic: Hear the Editors Tell Stories Behind the Books," featuring Morgan Entrekin along with editors Katie Raissian, Peter Blackstock and Corinna Barsan.
Entrekin recounted the tale of how he acquired Mark Bowden's Black Hawk Down 20 years ago. When an agent called and asked if he'd read the nonfiction proposal she had sent, "I said no, what's it about? She said well, if I tell you what it's about you'll turn it down over the phone. And that intrigued me enough that I went and found the proposal. It was for something called Helicopter 64 Down and the cover letter said it was about the battle of Mogadishu. And I'm going oh my goodness, I can't sell a book about the battle of Mogadishu, but I started reading the pages... and went, wow, this is incredible. So, I picked up the phone and made a deal for the book within about a half-hour."
Black Hawk Down went on to sell four million copies and was adapted into a hit film. "For a book like this, you've just got to make the leap of faith," said Entrekin, who later approached Bowden with the idea for a book that eventually became the newly released Hue 1968: A Turning Point of the American War in Vietnam.
Raissian, who works very closely with Grove v-p and editorial director Elizabeth Schmitz, spoke about the acquisition of Megan Hunter's The End We Start From (November). "This came in and we read it at one sitting," she said. "It's a very short book.... We fell in instant love with it. And quickly preempted it overnight before the London Book Fair last year. We both said this is the female version of The Road by Cormac McCarthy. We moved quickly and were lucky enough to land it."
Although Schmitz couldn't make the panel, Entrekin recalled how they acquired Helen Macdonald's H Is for Hawk: "The way she tells the story is that she brought me a proposal. She said here's this really beautiful proposal from an unknown poet academic at Cambridge, England, writing about how she got over the death of her father by training a goshawk. My response apparently was, 'My, that sounds like a big seller.' But I said how much is it going to cost and she said a number and we bought it. We were the only ones to make an offer on that book. It's funny, after the success of it, another editor at another house said how did you ever get that P&L through your editorial board, and Elizabeth said we don't have an editorial board."
Entrekin noted that "one of the things about being an owner of a company is it's sort of like playing with my own money. It focuses the mind wonderfully, as some of you who are independent booksellers know."
Blackstock discussed Viet Thanh Nguyen's Pulitzer Prize-winning novel The Sympathizer, describing the acquisition process as "a real education for me about how we build a book at Grove, and also how we have the opportunity to publish a book like The Sympathizer. This was a book that was sent out by a very reputable great agent... I thought it was a fantastic book. I got Morgan to read it, Elizabeth to read some, and we were very passionate about it, and we were very lucky because as it turned out we were the only bidder. Sometimes you get lucky in this way.... We wouldn't have had the chance if I'd been stopped by an editorial board and if they'd said this book is really great but it's going to be difficult to sell."
He also highlighted the challenges presented by Matthew McIntosh's upcoming novel theMystery.doc (October), which is 1,700 pages long "but probably shorter than The Sympathizer" because of its creative use of text and pages as well as myriad images. When the huge manuscript arrived, "We started reading it, with some trepidation, as you can imagine. It's just unlike anything you've ever read.... I really think this is a book that is born out of the Internet age. When I talk about it, I say it's about birth, death and the Internet."
"This is definitely one that we didn't do a P&L on," Entrekin joked.
Sarah Schmidt's novel See What I Have Done (August), a reimagining of the 19th-century case involving the murder of Lizzy Borden's parents, was a challenge of a different sort, since so many people think they know the legendary story. "It was amazing in-house to see everybody's reaction to the book," Barsan said, "to see them running to Wikipedia and looking up the Borden case and getting more and more information about what actually happened, which is a testament to how Sarah has made it feel so real on the page."
While acknowledging the good work done by many big publishers, Entrekin observed: "I think that more than ever there's a place for independent publishers and for people to be able to take a chance like we do. I see the work of Akashic and Melville House and Counterpoint and Catapult and Graywolf, incredible over the last couple of years, so I think that there's room for everybody and hope that there continues to be. I'm going to always insist that we buy books from passion."
--Published by Shelf Awareness, issue #3024
Robert Gray
|
Comments Off
|