Friday, June 21, 2019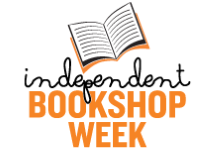 Independent Bookshop Week 2019 is happening now in the U.K. and Ireland. Run by the Booksellers Association as part of the Books Are My Bag campaign, IBW showcases indies with events, celebrations, reading groups, storytelling, author signings, literary lunches and the always popular #BookshopCrawl. More than 400 indies are participating in the festivities. Here's just a few highlights from the bookish revelry afoot:
IBW began with the announcement of this year's Book Award winners: Pat Barker's The Silence of the Girls (adult category), Catherine Doyle's The Storm Keeper's Island (children's), and If All the World Were… by Joseph Coelho, illustrated by Allison Colpoys (picture book). The winners are presented with their awards in independent bookshops.
Richard E. Grant reads Alice's Adventure in Wonderland by Lewis Carroll.
Dominic Cooper, Natalie Dormer, Michael Palin, Charlotte Gainsbourg, Nathalie Emmanuel, Richard E. Grant, Felicity Jones, Hanif Kureishi and James Norton are among the stars supporting grassroots campaign Just a Card, which has partnered with the Funding Circle to support independent bookshops through its Just a Book initiative.
IBW stat: The BA reported that 82% of indie booksellers had a different career prior to owning or working in their bookshop. The survey of 450 bookshops "revealed that before becoming booksellers people worked in a wide variety of fields, including software development, consultancy, radiography, investment banking, teaching, carpentry, HR and call centers with many citing their lifetime interest in books as being behind their career change," the Bookseller wrote.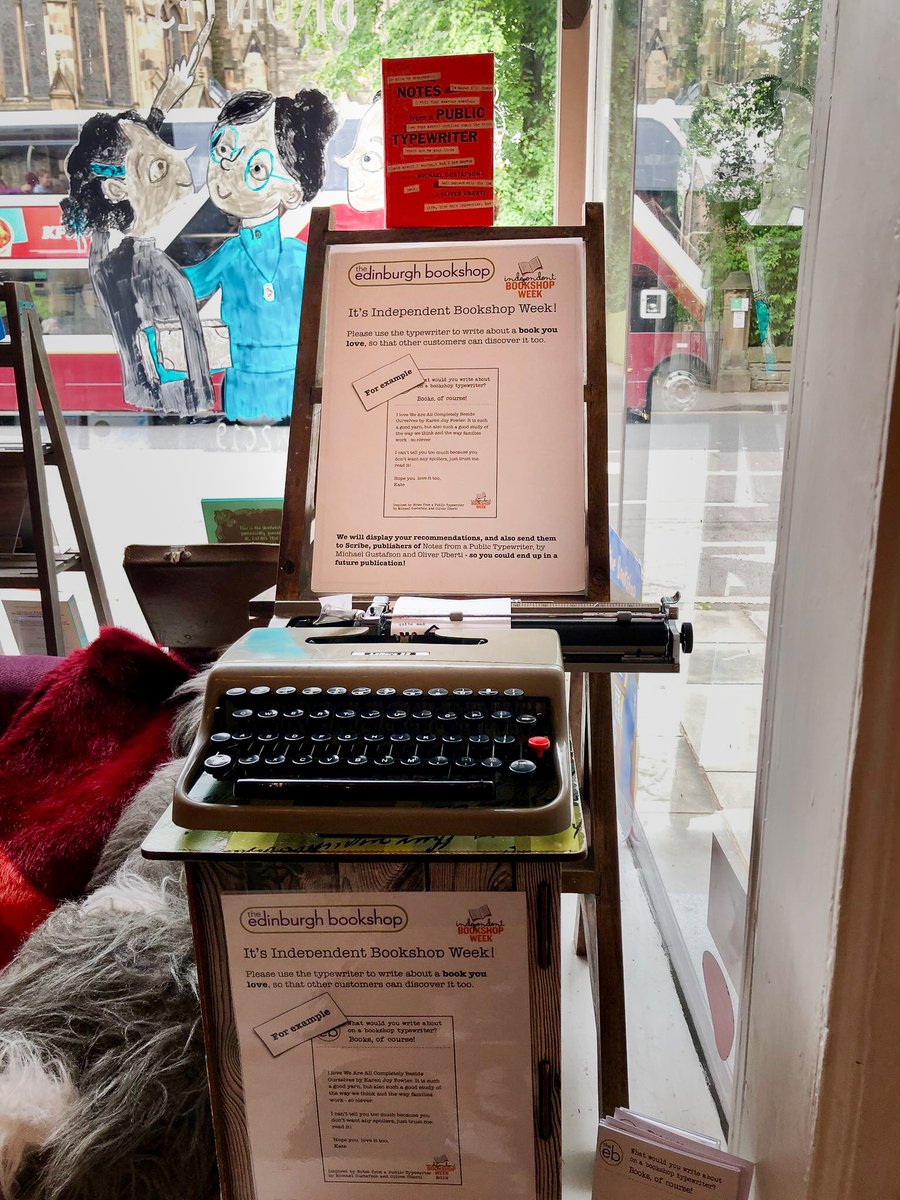 The American Booksellers Association wished a "Happy #IndieBookshopWeek to our friends across the pond!" And Literati Bookstore, Ann Arbor, Mich., tweeted: "In celebration of Indie Bookstore Week in the U.K. and the U.K. publication of Notes from a Public Typewriter, five U.K. bookstores set out public typewriters! Many thanks to @BookaBookshop, @RedLionBooks, @EdinBookshop, @ImaginedThings, and @DrakeBookshop!"
The Bookshop Band, which was a big hit on its U.S. tour, including Wi14 earlier this year, tweeted: "Hey folks, if you didn't know already it's Independent Bookshop Week #IndieBookshopWeek which means they will all have tons of indie-exclusive reading treats inside, so get yourself down to your local and discover a new brilliant story." Blast from the past: the Bookshop Band playing "A Shop With Books In."
IndieThinking (HarperCollins): "In association with @Literacy_Trust, we are so so proud to announce the recipients of the HarperCollins Literacy Project Grants for Independent Booksellers!"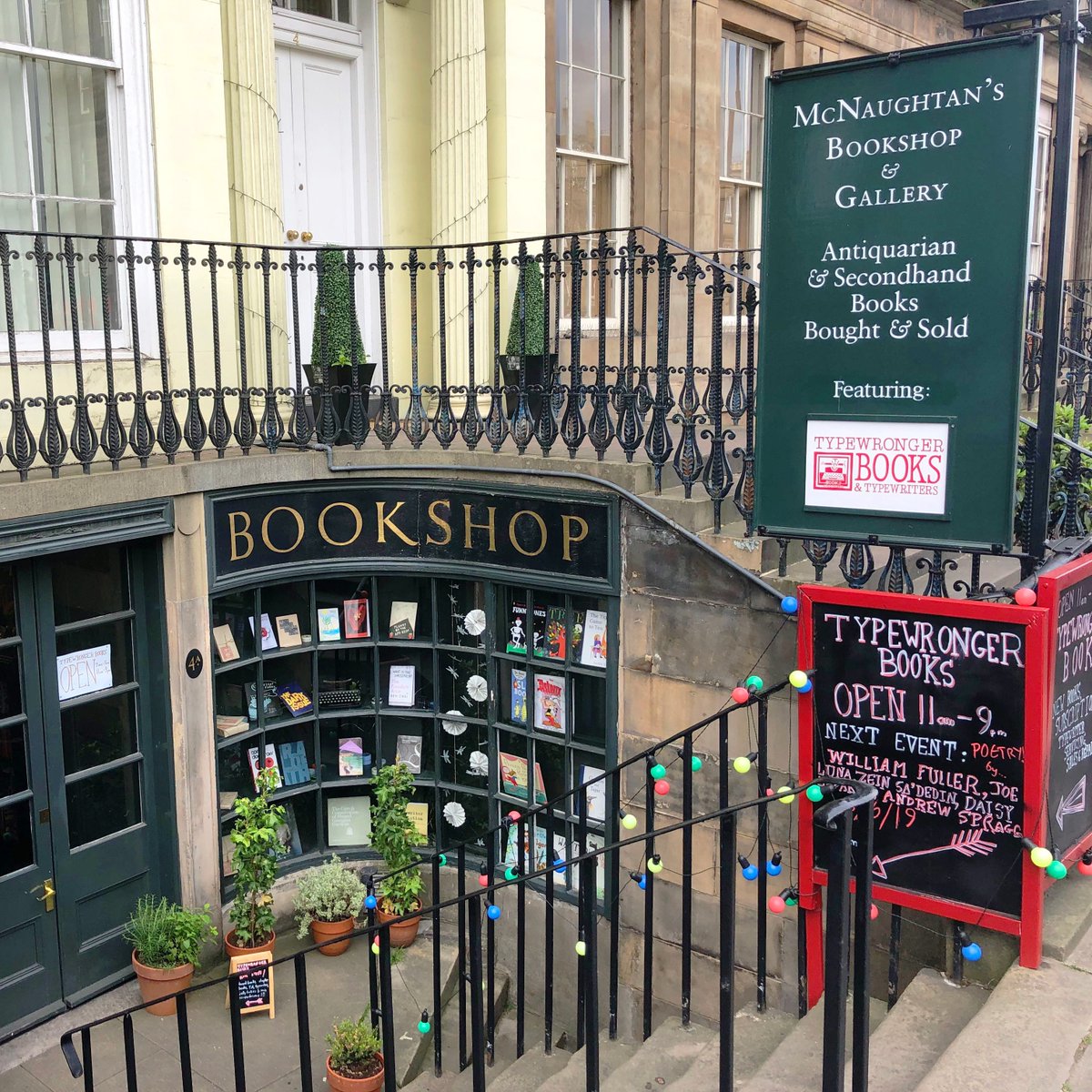 Typewronger Books, Edinburgh
Gutter Bookshop, Dublin, shared a Canongate Twitter thread, noting: "Look at this beautiful bookshop! This is why we need to support & protect indie businesses (not just bookshops)--they make our towns and cities special & interesting & joyful. I wish govt action echoed people's enthusiasm for supporting local."
Poet Brian Bilston marked the beginning of IBW with his poem "A Bookshop Life," and St. Ives Bookseller "loved it so much we put it on our shop door!"
Other IBW highlights:
The Book Nook, Hove: "Happy birthday faces. It's been a beautiful day celebrating #IndieBookshopWeek and our 10th birthday with all our lovely customers. Thank you for all your support and kindness."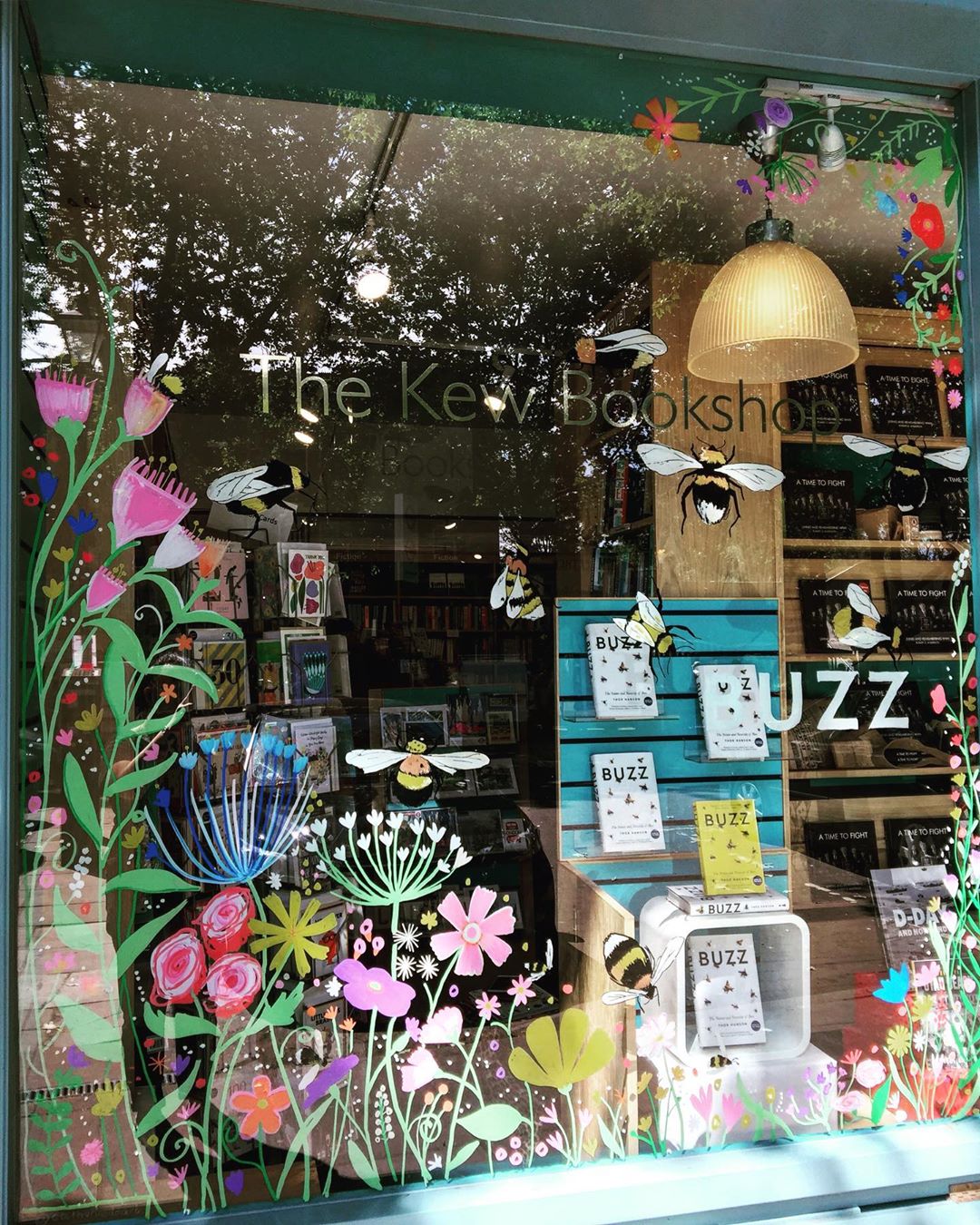 Kew Bookshop, Kew Village: "We are all ABUZZ here during Independent Bookshop Week! We had the lovely @catherinedoart and Lucy from @iconbooks this morning, creating a beautiful painted window to celebrate the paperback publication of #Buzz by Thor Hanson...." And later, at Mr. B's Emporium, Bath: "A visit today from the brilliantly talented @catherinedoart created quite the buzz! How fabulous is this window?!! Thank you so much."
Cogito Books, Hexham, has been showcasing its booksellers by posting interviews on twitter, including "our lovely window artist Mandy to share her bookish thoughts."
Round Table Books, Brixton Village, London: "Make sure to LOOK UP when you visit the shop this week or you might miss the beautiful work that @DapsDraws has done for us. If you're visiting this #IndependentBookShopWeek we also have his and @NathanBryon's book and their beautiful pins in store right now!! Going fast though."
The Snug Bookshop, Bridgwater: "Only 3 days left of #IndieBookshopWeek @NielsenBook @nielsen @booksaremybag which is good because the Tshirt needs a wash."
The Portobello Bookshop, Edinburgh: "We're not open for another month but hope everyone is having a great Independent Bookshop Week! We do have some excellent news however which is that today is the first day of our newest team member @slouisebarnard who we're really happy to have on board!"
The Margate Bookshop, Margate: "It's Independent Bookshop Week! And tomorrow marks three weeks since opening the shop--funny how quickly things start to feel normal! Here's a friendly reminder that Amazon is evil and I'm nice."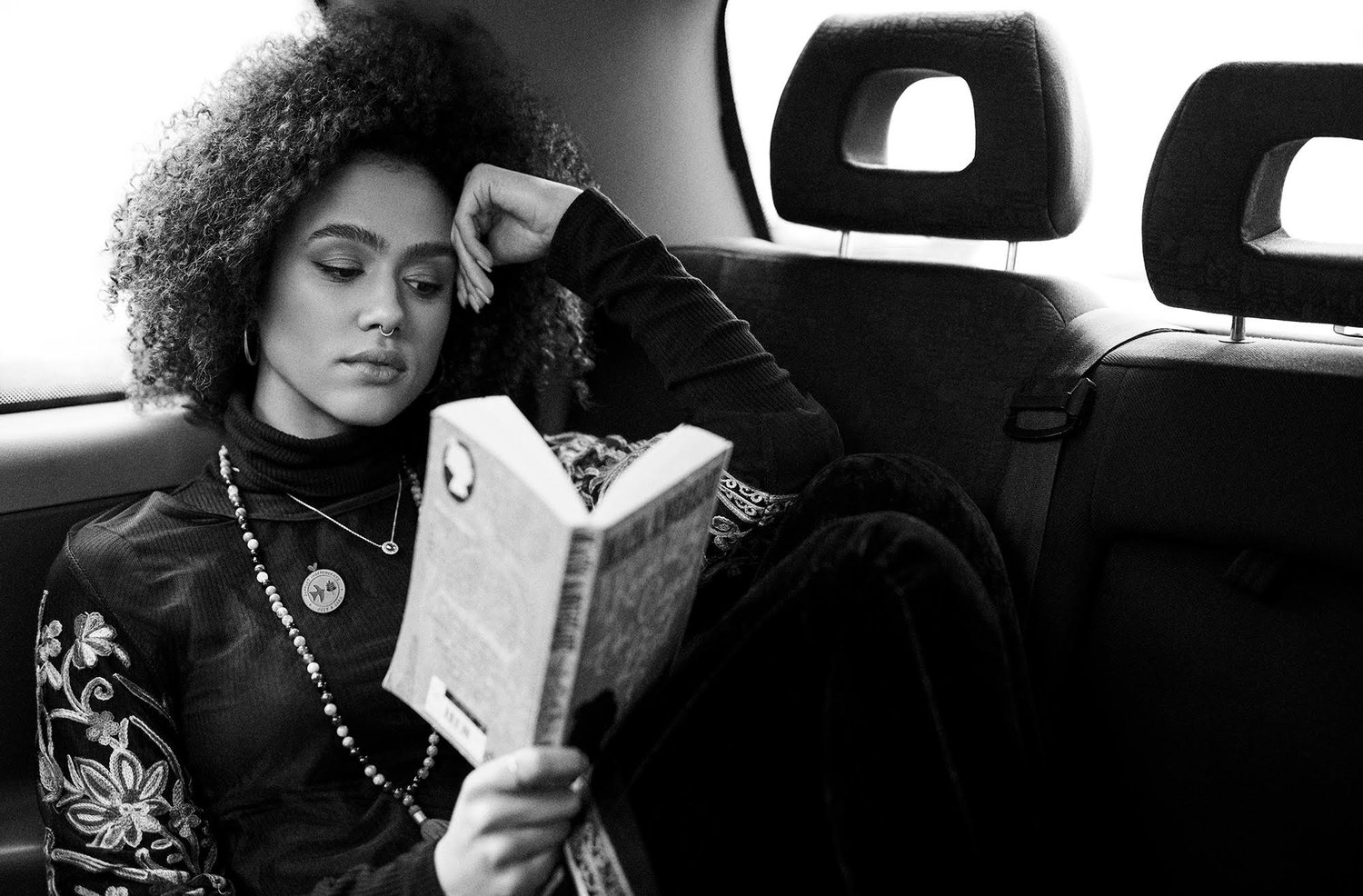 Nathalie Emmanuel reads I Know Why the Caged Bird Sings by Maya Angelou.
In the Guardian, author Damian Barr observed: "To reduce bookshops to selling is to mistake writing for typing or reading as a workout for your eyes. The best indies don't stock everything--every book must fight a sort of intellectual Hunger Games to win a space on the shelves.... If you get to know them, they get to know you and your tastes far better than any algorithm can. Indies that don't just survive but thrive do so because they celebrate and anchor a community....
"Every week is indie bookshop week in my house--I'm like one of those people who keeps their Christmas tree up all year. Books pile up on every surface, the half-finished lost among the much-loved, bath-swollen paperbacks compressed between hefty hardbacks. Layer upon layer of stories which will eventually form a pearl. A very dusty beautiful pearl."
The IBW celebration continues through Saturday.
--Published by Shelf Awareness, issue #3521
Robert Gray
|
Comments Off
|