Sunday, August 19, 2012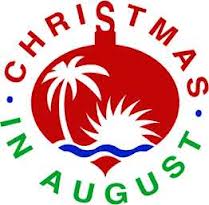 Forget that summer reading list. It's too late. The Christmas Creep has already shown up, as it always does this time of year, "attempting to lure bargain-hunters in with inventory-clearing sales not just on gifts, but on artificial trees, wreaths, lights and decorations." Booksellers are not immune to the Christmas Creep's bite, either.

Contemplating the holiday season while sweating through August dog days may be its own form of air conditioning, one that can send a chill right up your spine. I used to work in a tourist town bookstore, and if the pre-Christmas retail spirit wasn't fully displayed somewhere on the sales floor by now, we heard about it:

Don't you have all your Christmas cards out yet?
Where are the rest of the calendars?
Why don't you have the day-planner I've been buying here for the past 10 years?

These familiar Christmas Creep carols were sung loudly by visitors who said they always made a special trip to the bookshop on their vacations to stock up on cards and very specific calendars. Woe and a thousand curses unto innocent booksellers who didn't know their card/calendar history and current inventory, as well as the proper answer to some variation on my perennial favorite: Did you get more of the cards I bought last year with the yellow puppy and candy cane?

I've written often about the fact that most of us in the book trade tend to live in the future (pub dates, orders, ARCs), but Christmas is one area where our customers often time travel faster than we do. A sidelines buyer may be ordering cards and calendars in the spring, but consider the futuristic ambitions of those hardy if frigid patrons lining up at bookshop front doors nationwide the morning after Christmas to take full advantage of closeout sales on holiday items. They are the optimists; theirs is the true spirit of retail Christmas future.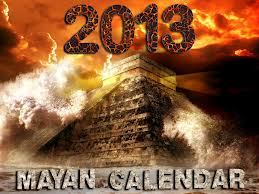 Despite the impending doom forecast by that most publicized calendar of all this year--the Mayan one that says there will no gifts for anybody after December 21--I suspect paper calendars are selling just as they always do, even in our hip new smartphoney calendarized society. In fact, I even spotted a couple of 2013 Mayan calendars for sale online, though their layouts are something less than optimistic.

But if the world is truly ending December 21, then why were all those Santas doing Christmas creepy Zumba workouts with hula hoops at the World Santa Congress in Copenhagen recently?

There is also, of course, Christmas Creep history to consider.

In his 1936 essay "Bookshop Memories," George Orwell bemoaned the "feverish ten days" spent just before Christmas "struggling" with cards and calendars, but expressed particular loathing for the "touts from the Christmas card firms [who] used to come round with their catalogues as early as June. A phrase from one of their invoices sticks in my memory. It was: '2 doz. Infant Jesus with rabbits.' "

Has it always been so? Apparently the answer is yes, even under the clouds of war. A July 31, 1942, edition of the New York Times reported on a pre-seasonal gathering at the Waldorf Astoria Hotel: "As the heat wave abated slightly yesterday sixty guests of the greeting card industry sat down to an old-fashioned Christmas dinner at a 'Christmas in July' party at which a display of new greeting cards was linked with the war bond drive.... Mr. Shannon disclosed that Christmas cards for 1943 were already being designed. 'We work fully assured of the fact that there will be a Christmas in 1943,' he said."

A recent Harris Interactive poll asking consumers when they start their holiday shopping garnered the following responses:
All year round, I continually shop for the holidays: 11%
Eight months to one year in advance: 3%
Three to seven months in advance: 18%
One month to less than three months in advance: 36%
Less than one month in advance: 21%
So more than 30% of them are truly dedicated Christmas Creepers, and they're prowling bookstore aisles across the U.S. right now. Retail gods (and Mr. Scrooge, the patron saint of this most commercial of holiday seasons) bless us, every one.--Published by Shelf Awareness, issue #1807.
Robert Gray
|
Comments Off
|