Sunday, February 26, 2012
"Storybook saga" is just one of many bookish references I've noticed that attempt to describe the meteoric rise of New York Knicks point guard Jeremy Lin since February 4, when he quietly entered a National Basketball Association game against the Nets that few people outside (or even within) the New York metropolitan area cared about.

At that moment, he was just days away from possibly being released by the team, but Lin got his opportunity, was prepared to seize it and has since become arguably the most popular athlete in the world, with a mega-list of new fans that includes President Barack Obama and Taiwan's President Ma ying-jeou.

Perhaps this is just his 15 minutes, though even Andy Warhol might grant Lin an extension under the circumstances.

Many of you reading this are not basketball, or even sports, fans. Those who are already know the story. How could you miss it? So I will only mention that, in addition to his remarkable success on the court--which has revitalized a team that was going nowhere at light speed--Lin is the first American-born player of Chinese or Taiwanese descent to play in the NBA and the first Harvard grad since Ed Smith in 1954.

What does this have to do with books and reading? As I follow the Jeremy Lin phenomenon, I'm paying close attention to discussions in the media about racial identity and prejudice, as well as the role of religion in public life (Lin is a devout Christian). But I also enjoy the word play that has been sparked by his sudden rise to global prominence, along with his unanticipated impact upon the book world.

Let's start with the unique handshake Lin developed with his teammate Landry Fields. It is an elaborate mime: put on glasses, open book, flip through pages, close book, return glasses to pocket. Geeky jock chic.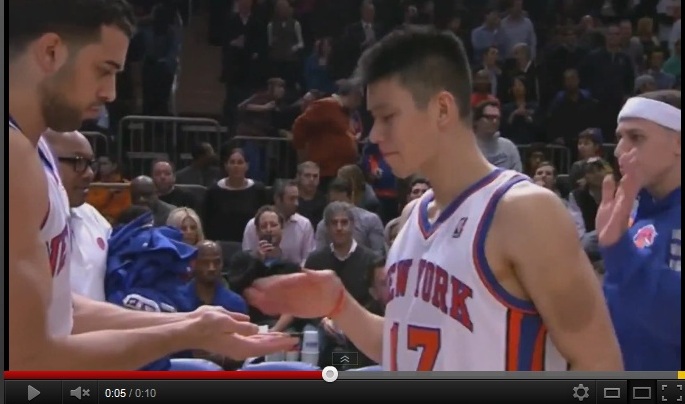 Or consider "Linsanity," a new word that could be in the running for Webster's Word of the Year. Lin is attempting to trademark the term, and the "Lin-" prefix has gotten completely out of control, inspiring an endless stream of pun-based signs, headlines and even a Jeremy Lin word generator. The New Yorker noted that on the Chinese mainland, "Linsanity has been translated to linfengkuang."

Then there are the books. In May, Hachette will publish Jeremy Lin: The Reason for the Linsanity by Timothy Dalrymple.

Richard Abate, Lin's new literary agent, was initially looking to shop a memoir that might net a $500,000-plus advance, but this project has been put on hold so Lin can concentrate on his day--um, night--job. Knopf editor Jonathan Segal expressed a measure of skepticism in Forbes magazine: "Who knows what the world's going to be like a year from now," he said. "If it were an instant book that would be published in a month, things might even change."

Funny he should say that. There are already at least seven e-books on the market, according to GalleyCat. Alan Goldsher, who wrote the 15,000-word manuscript for Linsanity: The Improbable Rise of Jeremy Lin in 72 hours, told Fast Company that "from conception to availability, we're talking just under a week."

Lin-themed articles have popped up in unexpected publications like Entrepreneur ("Finding the Jeremy Lin on Your Team"), Wired ("What Jeremy Lin Teaches Us About Talent") and Psychology Today ("LINsanity! Observations on the Worship of a New Sports Hero").

Earlier I asked what all this has to do with books and reading. A better question might be: What do we want from this young man? In Robert Harris's new novel The Fear Index, a character observes that "the rise in market volatility, in our opinion, is a function of digitalization, which is exaggerating human mood swings by the unprecedented dissemination of information via the Internet."

Lin was an economics major. He'd get that, and he may even survive it. I hope he does. I like what I've seen of his apparent humility, work ethic, focus and sense of teamwork. My college lacrosse coach was obsessed with the motto: "Success happens when preparation meets opportunity." It made us chuckle then, but I don't laugh so much at it anymore.

In fact, when I saw Ann Patchett going toe-to-toe with Stephen Colbert earlier this week, I recalled that old saying, and thought about all the great indie booksellers--new as well as old--for whom, at this moment, preparation and opportunity are beginning to show some tangible results. Perhaps we're on the cusp of a new age for Lindependent bookstores, too.--Published by Shelf Awareness, issue #1673.
Robert Gray
|
Comments Off
|