Sunday, September 21, 2014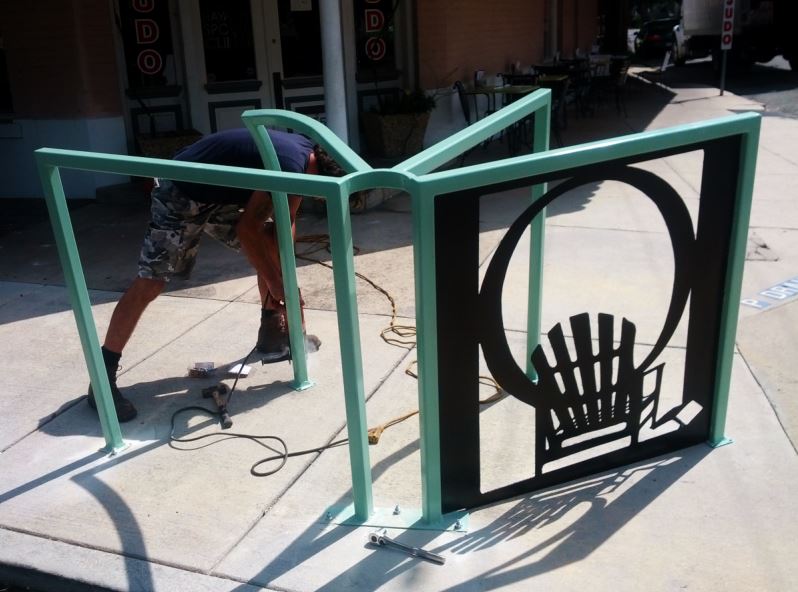 "We just installed a new bike rack," Tom Lowenburg, co-owner of Octavia Books, New Orleans, La., e-mailed me recently. Reading his words and opening the attached photo offered brief and welcome respite from the latest update on Hachette vs. Amazon or a book banning somewhere or yet another article on declining book readership planet-wide.

Lowenburg also told me that New Orleans geographer Richard Campanella, who "has always ridden his bike to the book launches we've hosted for him at Octavia Books," had posted an early positive review for the bike rack on Twitter: "I love it. For the first time, the mundane act of locking up a bike will become playful and engaging--very, very well done."

So I asked the question I always ask when something in the book business intrigues me: What's the backstory?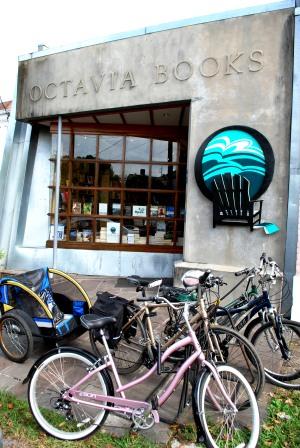 "When we opened Octavia Books almost exactly 14 years ago, my mother--a passionate bike rider into her 70s--gave us a bike rack as a housewarming present," he replied. "It lasted in good shape a few years until a customer backed her car into it one day. And then it held on in not so good shape until we finally had to take it down."

The inspiration for creating a new "fun bike rack" had occurred to Lowenburg and his wife/co-owner Judith Lafitte "as far back as when we stayed at 'Hotel ABA' in Brooklyn, where we saw a couple of examples right in front of the hotel in the form of brightly colored mounted bikers with long-flowing hair. I started researching bike racks and collecting images, but none were exactly right. Online, I found a commercially available rack in the shape of a book--but it was very two-dimensional and not interesting. So, I called on my local ironworks guy."

The original plan was to craft a 3-D book icon with words on the cover, but Lowenburg said "my iron guy had a backlog of jobs and months became years. Finally he turned me over to Scot Evert, who enjoys the challenge of building unique projects. I settled on the idea of angling the book and adding pages to accommodate more bikes. We decided that the cover should be our logo, and Scot said he could cut it out of a sheet of steel by hand."

On Facebook, Evert noted: "I don't normally do this kind of stuff, but sometimes I do...because I actually ride my bike to this book store!"

Lowenburg added: "Working in his back yard, he did a great job of sculpting the frame out of square tubing; and added special touches such as the curved page. The finished rack, painted our store colors, now proudly sits on the corner of Octavia and Laurel Streets in front of our building, which has housed independent businesses for well over a century."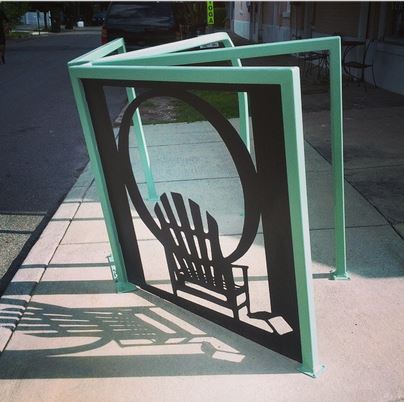 photo: James Wilson
James Wilson, a bookseller at Octavia for the past six years, is also president of the board of directors for bicycle advocacy group Bike Easy. "With our brand new unique and very stylish bicycle rack, I'm very excited to be able to provide bike parking for our customers," he observed. "Bicycling magazine just came out with their ranking of the most bicycle friendly cities in America, and New Orleans is now ranked 22 (in 2012 we were ranked 43). Lots more people are biking, and there is a huge demand for bicycle parking all over the city. I'd say we have several customers a day who ride their bike to the store."

A handseller at heart, Wilson noted that Octavia features "the best selection of books on bicycling in New Orleans. Tom always asks my advice and I'm constantly scouring catalogues and the Internet for the newest and best titles, whether it be Grant Petersen's Just Ride (a personal favorite), Velominati's The Rules or the excellent Life Is a Wheel by Bruce Weber. Or even a classic bicycle maintenance book like Chainbreaker Bike Book, written by local bike mechanics Shelly Jackson and Ethan Clark. I'm happy to talk to anyone about bikes and books."

Octavia also offers New Orleans Bicycling Maps created by Bike Easy, as well as "information about great weekly rides hosted by NOLA Social Ride," he said. "And yes, I ride my bike to work every day, rain or shine--but it's easy, I only live two miles from the store. I'd like to think Octavia Books is helping New Orleans become even a more bicycle friendly city."

Lowenburg agreed: "A bike rack is an essential feature for an urban, neighborhood-based bookstore like Octavia Books and it is a welcoming beacon to all who come our way."
--Published by Shelf Awareness, issue #2346.
Robert Gray
|
Comments Off
|