Friday, February 15, 2019
At a time when dialogue seems to be in danger of becoming a synonym for strident monologue, the Open Discussion Project, which provides "community-based spaces for discussion among people of opposing views--discussions that are intentionally political and not intended to convert," is seeking an alternative.
Sponsored by the National Coalition Against Censorship in partnership with ABA, the project was explored at Wi14 during a panel discussion featuring NCAC executive director Chris Finan and three booksellers who are currently participating in the pilot program: Sarah Goddin of Quail Ridge Books, Raleigh, N.C.; Bradley Graham of Politics and Prose Bookstore, Washington, D.C.; and Alana Haley of Schuler Books, Grand Rapids, Mich.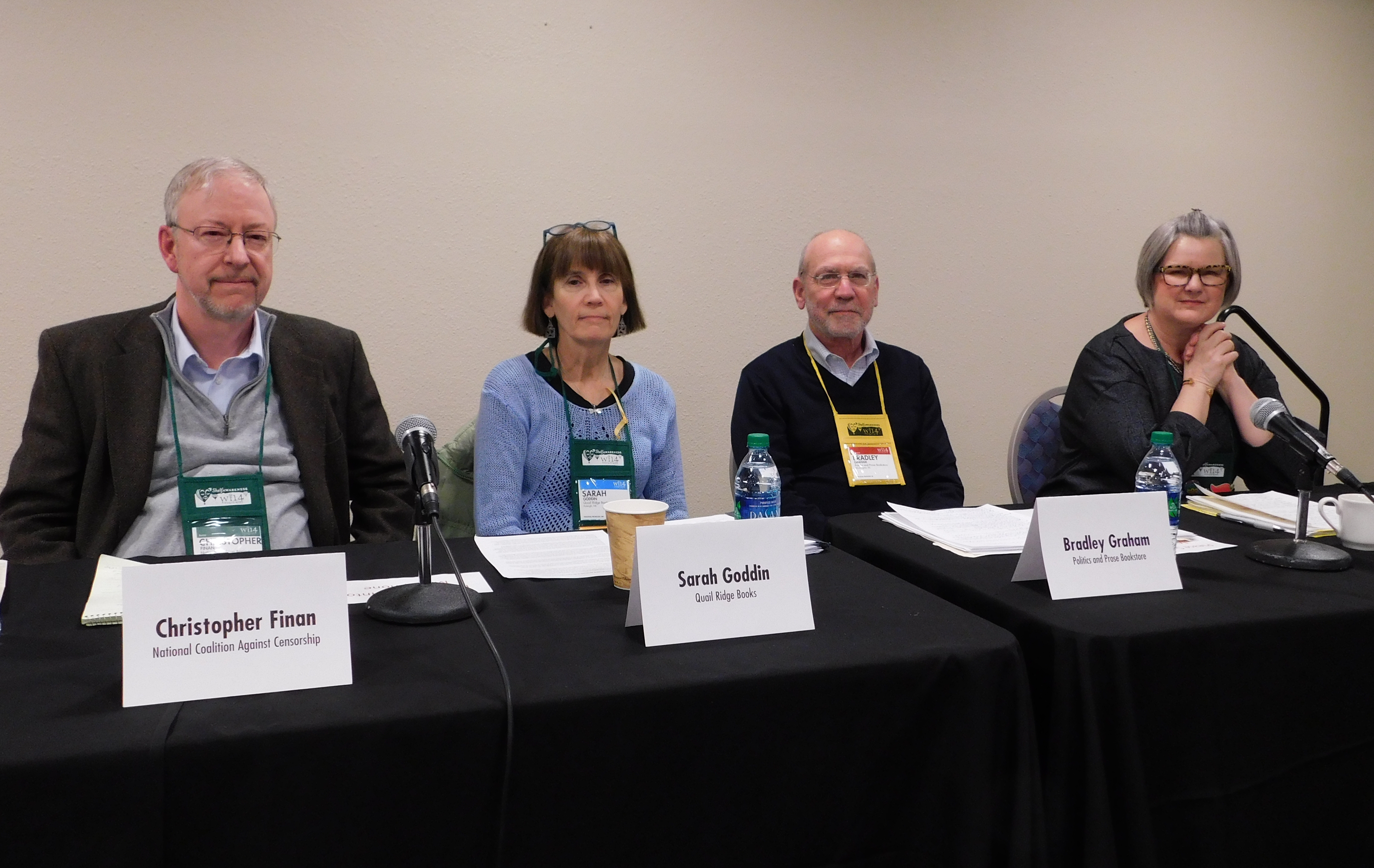 L.-r.: Chris Finan, Sarah Goddin, Bradley Graham, Alana Haley
"Democracy is built on conversation between people who disagree," Finan said. "It's what the image of the marketplace of ideas is all about. It's how ideas get weighed, pro and con. And it's just not taking place in the way that it used to."
ODP grew out of a conversation Finan and Goddin had at the 2017 Winter Institute about the potential for bookstore discussion groups to bring liberals and conservatives together. Three months later, Goddin surprised him with news that Quail Ridge had launched Bridging the Divide, which Finan said has since become "our lodestar, encouraging us to believe that this idea can work."
Pilot ODP reading groups have been launched in six locations across the U.S., assisted by the National Institute for Civil Discourse, which is providing discussion groups with professional mediators as facilitators. The other pilot stores are Anderson's Bookshop, Naperville, Ill.; Gibson's Bookstore, Concord, N.H.; and Vroman's Bookstore, Pasadena, Calif.
Noting that there was "definitely a lot of hunger for people to talk to each other" when Quail Ridge launched Bridging the Divide, Goddin recalled that "our greatest challenge was actually getting conservative and libertarian people with those ideologies to participate. I think there was a lot of sort of built-in mistrust that an independent bookstore would provide a space that they felt that their voices would be heard equally. And we continue to have that challenge, although we're doing much better now."
With the change to the ODP format, she has been able to find additional contacts to diversify the group. For the first meeting, "we had 55 people show up and we had a really good representation from all sides.... I'm very excited to be part of the new group because I think having the two trained facilitators will be something that'll make a big difference to us. It was very difficult for people who weren't trained in doing that to handle that kind of discussion. It's not easy. Sometimes things do get heated, sometimes people are too polite and you have to really draw them out. So I think it does take some effort to do that but it's been one of the most rewarding things we have done in the store since I've been there so I've been very happy to participate."
For Politics and Prose, Graham said the goal had been to shape a group "in a way that would have some kind of balance of liberals and conservatives." A survey helped them to "put together a group of about 33 people, 9 or 10 of whom we thought were conservative or leaning right." The first meeting, however, was marred by a snowstorm and only 19 showed up.
"It turned out to be a very interesting mix and a good group actually to start with to begin to sort of break the ice," Graham observed. "They met their facilitators and introduced themselves. We hadn't really figured out how we might have people identify themselves--or not--in terms of their political leanings. But they just went ahead when they introduced themselves around the room, saying which way they leaned.... I told everybody the goal of this whole process is not really debate. It's not so much to argue, but it is to learn to dialogue with one another. And the aim of the Open Discussion Project is not really to try to convert people in the group who have opposing views but to learn to converse with them. And that seemed to resonate with everybody."
Weather was also a factor at the first Schuler Books event, where freezing rain created uncertainty, but Haley said, "We decided we want to be here should these people show up because there was just an explosion of interest once we announced we were doing this project."
Although only eight people braved the storm, she is "confident we will have a much larger group going forward" and "those eight people who were there, they wanted to be there. They were thrilled to be there. They understood it. They were invested in it. They were so excited to choose the books that we were going to be doing going forward. And all of them were talking about who they were going to bring with them next time--somebody whom they loved, or liked, but didn't know how to talk with about these differing political views and it was hurting them. They wanted to learn those skills, which is what this project is all about; to learn how to find that common ground and build on it."
Finan said the ODP pilot stores "are going to be bringing their own resources to it, their own ideas. They're going to be experimenting so that by the end of the six months we're going to have a really good grasp of how this can be done and be able to offer a lot of ideas for everybody to consider what's appropriate for their particular community. We're really lucky with the people who agreed to do this. We have large stores we have small stores in all kinds of communities. So we've got a great experiment going on here."
--Published by Shelf Awareness, issue #3433
Robert Gray
|
Comments Off
|