Sunday, July 29, 2012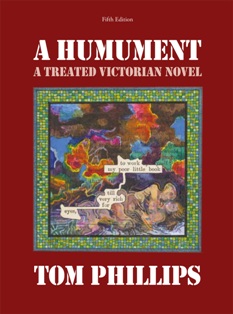 "Imagine an artist's book that is also a reader's book," I wrote in Tin House magazine eight years ago. "A Humument lures its readers into an intoxicating world of color and form, wit and intellect, love and lust. The art delights. The words intrigue. The combination astonishes."

After considering the art of the unfinished read last week, I kept thinking about that multifaceted word "finish" as it applies to books and, specifically, British artist Tom Phillips, who has been finishing--as well as unfinishing--his Humument project since 1966. What appealed to me about Phillips when his art first came to my attention was the way his love for words and literature infused his work ("After Henry James," "Iris Murdoch," "Curriculum Vitae," "Samuel Beckett," "A TV Dante").

"I love the smell of a library and the feel of books," he once observed. "Most of all I love the serendipity and the aleatory quirks of browsing. The only time I decided to sell off seemingly unwanted volumes I was cured immediately of such rash behavior by a happy accident. Having made a tottering pile I slipped and knocked it over. All the books tumbled down the stairs. One alone reached the bottom and lay there, open at a page which solved a problem in my work that had long troubled me and which I had despaired of solving. Much labor was saved, except for the chastened replacing of all the books back on the shelves. Every book, however unpromising, will turn out to have its day."

One book that has had nearly "its half-century" in the artist's life is A Human Document, W.H. Mallock's turgid romance novel, published in 1892. For the past 45 years, Phillips has been acquiring used copies and "treating" the pages with his art, while leaving selected words from the original text exposed. In the process, he has become Mallock's consummate and all-consuming reader, creating an illustrated narrative in verse that merges the contemporary with the Victorian. Even his title, A Humument, is a treatment of A Human Document.

I bought this year's fifth revised edition of A Humument: A Treated Victorian Novel (Thames and Hudson), though I already possessed copies of the second and fourth editions. All are essentially stand-alone volumes because selected pages have been replaced each time. There are more than 80 new pages in the latest edition.

"I have so far extracted from this book well over a thousand segments of poetry and prose and have yet to find a situation, a sentiment or thought which his words cannot be adapted to cover," Phillips wrote in his revised introduction. "That Mallock and I were destined to collaborate across a century became quite clear when I tested other fictions and discovered nothing to equal him in the provocation of fresh conflations and conjunctions of word and phrase."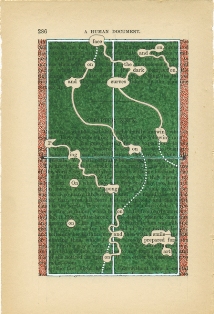 This weekend, Phillips will be attending an Olympic table tennis competition in London, and even this bit of recreation inspired a new treatment when he realized that it "seemed about time A Humument serviced both ping and pong. The latter is hard to find in the prose of W. H. Mallock yet I did discover it lurking in the middle of 'sponge' (on page 286) which may be the only word in English in which it is secreted."

The evolution of words intrigues Phillips, who noted that Mallock could not have imagined the future use of "plane" or how "a simple word like 'net' would grow immeasurably in significance." And last year he suddenly found on page 9 the core letters for "app" and "facebook."

This curious and organic bond between the artist and a long-dead novelist is also evolving technologically. There is a Humument.com website and a recently introduced iPad/iPhone app, which can be employed as "an oracle with appropriately random access and suitably cryptic advice." The I Ching meets Apple by way of Mallock/Phillips.

As irresistible as A Humument is to read, the original pages are also stunning to view in person. In 2005, I saw a selection of them at Flowers, a small gallery in New York City, but that was just an appetizer for next year's exhibition of the work in its entirety at MASS MoCA.
Like some vast, unfinishable book, A Humument continues to expand within the borders of its 367 pages, though Phillips conceded that some of his original treatments "have evaded changes, especially the ones whose original solutions have stood up for almost fifty passing years. I retain the option of leaving them as they are, thereby forestalling the absolute end of my venture, even if hanging on to the book in such a way may be thought a suspect strategy synonymous with hanging on to life itself."--Published by Shelf Awareness, issue #1792.
Robert Gray
|
Comments Off
|