Sunday, September 9, 2012
"The story of Avid Bookshop is still being written and we'll get to watch the creation of an indie bookshop through the window of social networking. Our book community is always telling new stories," I wrote in Shelf Awareness almost three years ago. I'd just returned from the Southern Independent Booksellers Alliance trade show in Greenville, S.C. That was where I first met Janet Geddis, now the proud owner of Avid Bookshop, Athens, Ga., which opened last fall.

At the 2009 SIBA show, I participated in an ABA panel about indie booksellers using social media and we happened to display Geddis's blog I'm an Avid Reader on the big screen as an example of how even a prospective bookseller was building her community online in anticipation of a bricks-and-mortar future.

What I didn't know, however, was that she happened to be sitting in the front row. Still in the early planning stages of her bookseller dream then, Geddis was envisioning a time when she could host events and handsell, but was also keenly aware--as she told me--that "for now I have to bide my time and wait for the stars (and dollars) to align. Though I'm usually rather impatient, this process of planning a bookstore has taught me to take my time and lay the proper groundwork before jumping in."

The years have passed by and this weekend I'm in Naples, Fla., for SIBA's 2012 trade show. Coincidentally, the first bookseller I saw yesterday in the hotel lobby was Geddis, though we'd actually communicated by e-mail last week after I found myself wondering what she recalled about that first encounter in Greenville. Seems like yesterday. Seems like forever.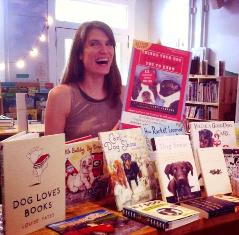 "I had such a nostalgic little moment reading that Shelf Awareness article from 2009," she replied. "In some ways, I feel very much like that completely green, naive, and hopeful prospective bookseller; in other ways, I can't believe how far I've come and how much I've learned. Remember being in high school and being told, 'You think this is hard? Wait 'til you start college!' And then you were in college and felt as if things were easier than you'd expected based on everyone's warnings. 'Well, maybe college is going smoothly. But wait 'til you do grad school or get your first real job!'

"Every step of my life, I've come to learn to heed others' scary warnings less and less. So you can imagine that by the time I was embarking on my plan to open a bookstore and was told over and over how difficult it was, I was getting a little cocky. I've encountered each phase of my life with a chorus of cautionary voices in the background. So when I pronounced that I would be opening a bookshop, I dismissed many--not all!--of the experienced folks who told me I'd have to say goodbye to life as I knew it, at least for a while."

With perspective gained from hard-won experience, she admitted that she now feels "pretty foolish for not believing everyone, because--oh my gosh!--this is so much work and so difficult and so overwhelming. I work way more than I'd expected to, and my to-do list grows exponentially as I barely get a chance to check one thing off a week. My feet hurt at the end of the day, and my old schedule (working when and where I wanted) is long gone."

That might sound like disillusionment to someone who has not been called to the bookselling life, but we know better. Geddis quickly clarified: "I have never come close to being so fulfilled and happy with my job. I look forward to going into work each day, and I love talking about books with my energetic, loveable staff and my energetic, loveable customers. It's hard to pull myself away from the shop in the evenings because there are more conversations I want to have, more books I want to alphabetize, more kids I want to read to. All my friends and family know how much I adore my adopted hometown of Athens, and recently I've begun looking at Avid Bookshop as a sort of love letter to this amazing place."

The rewards of an indie bookseller's life may often be tempered by unpredictable complications and hard work, but bookselling is still one of those rare vocations that can be absolutely irresistible.

"All in all, I have barely hit the tip of the iceberg when it comes to my business," she concluded. "I've learned so much in the last five years and would not trade a moment of the journey. Now it's time to get down to the beach to soak up the last rays of summer and take in all that delightful, inspiring energy of my fellow booksellers." Sounds like another great new story.--Published by Shelf Awareness, issue #1822.
Robert Gray
|
Comments Off
|