Friday, August 25, 2017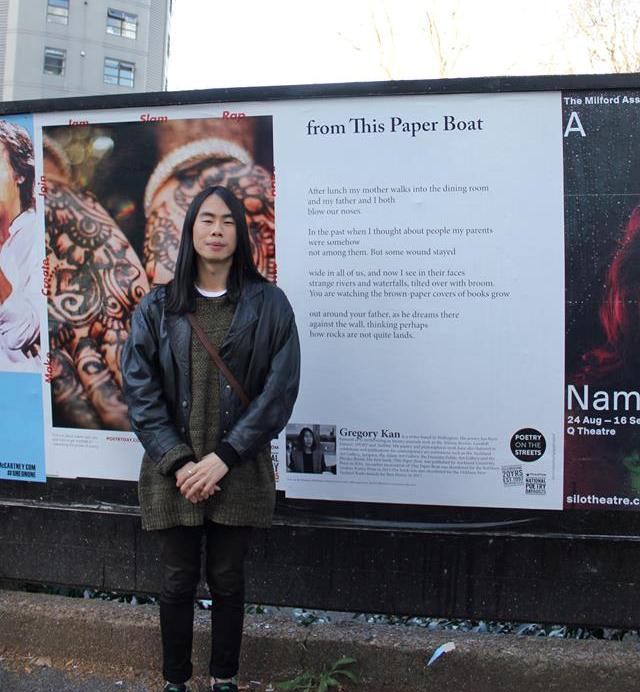 Gregory Kan with "This Paper Boat" poetry poster
Here's New Zealand poet Gregory Kan, standing on Symonds Street, Tāmaki Makaurau, with a Max poster of his poem "This Paper Boat," which includes the lines:
You are watching the brown-paper covers of books grow/ out around your father, as he dreams there/ against the wall, thinking perhaps/ how rocks are not quite lands.
"Let us now praise Phantom Billstickers for sticking up really f**king big posters of New Zealand poetry." That was the Spinoff Review of Books' apt headline for a piece this week about street poster company Phantom Billstickers, which has been putting poems on posters since 2005. For the past two years, the company has also sponsored National Poetry Day, which is/was (depending on your time zone) being celebrated Friday across New Zealand.
Governed by the New Zealand Book Awards Trust, Phantom Billstickers National Poetry Dayis an annual "poetry event extravaganza" that is marking its 20th anniversary this year. The more than 100 events (a record) being held nationwide are organized by "poetry-loving volunteers" and involve thousands of people in more than 30 towns and cities all over the country. There are also numerous competitions both nationally and regionally.
In addition, the Trust is highlighting the current range and diversity of the country's poetry and poets with a 20/20 Collection. Twenty acclaimed poets were invited to select a poem they felt particularly spoke to New Zealanders, and to highlight an emerging poet or writer they considered to be essential reading. Trust member Paula Morris told Stuff: "This list speaks to a 'new' New Zealand literature, and reflects how much our culture is changing and growing."
These are a few of my favorite PBNPD 2017 things:
Auckland's Time Out Bookstore is featuring "All Tomorrow's Poets," showcasing cutting-edge New Zealand poetry and "situating it in the context of Aotearoa New Zealand's literary history."
The Nelson Poetry Map, created by Volume bookstore, "records and shares connections between poetry and places. Contribute poems to our open-access map, tagged to the locations you associate with those poems.... Visit the locations and read the poems on your mobile device (or to take a virtual tour without leaving home).... It is anticipated that wandering poetry readers on National Poetry Day... will encounter fellow poetry readers at various locations."
National rugby team poet: The N.Z. Herald reported that "two of the driving forces behind PBNPD, award-winning novelist Paula Morris and Phantom Billstickers' Jamey Holloway, have laid down a challenge" to the country's legendary All Blacks rugby team to "take a poet on tour with you." They contend that "an official All Blacks poet could continue poetry's momentum and promote another side of our culture at home and away."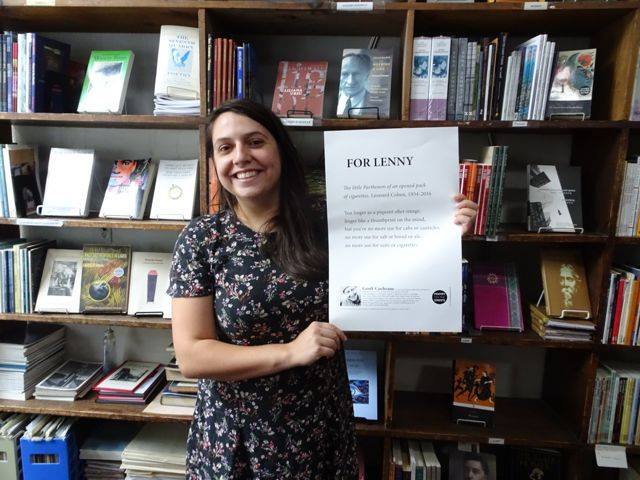 Celia Muto of Grolier Poetry Book Shop
Poetry and donuts. Bam!
At the National Library in Wellington, a "giant paper origami boat--waiting to be filled with words from the public--will anchor in the library's foyer as part of National Poetry Day."
Just so we don't have to feel left out, Phantom Billstickers co-owners Jim and Kelly Wilson are "currently chugging around the U.S.," working their magic: "Here's Celia Muto posing with Geoff Cochrane's poem poster, 'For Lenny' at the Grolier Poetry Book Shop in Cambridge, Massachusetts today. The Grolier is a small bookshop dedicated entirely to poetry and it is directly opposite Harvard University. It is a Little Beauty of a shop. Celia put in the front window two Phantom Billstickers poem posters by Kiwis: 'For Lenny' and also David Merritt's 'Sad rocks...' She loved both. The Grolier also stocks the Phantom Billstickers Cafe Reader."
Meanwhile, across the street from the Northshire Bookstore, scene of my bookseller days gone by: "Phantom Billstickers poem poster, 'Ground Zero' by Geoff Cochrane on a pole just made for it on the main street of Manchester in beautiful Vermont, USA today."
And: "We've sometimes noted that the Phantom Billstickers Cafe Reader gets into some far flung and interesting places. Here's James Conrad of The Golden Notebook (a fine bookstore) in Woodstock, New York State, USA, devouring a copy today. The store has extra copies. Step on in and get your dose of New Zealand Arts & Culture if you are in this neck of the woods."
Poet and children's author Paula Green, who was this year's recipient of the Prime Minister's Literary Award for Poetry, summed up the spirit of National Poetry Day nicely in sharing a great story about her cab ride in Wellington on the day she was to receive her award:
"The taxi driver asked me what I did. I am a poet, I said. Well you must tell me a poem, he said. I loved hearing poems when I was a little boy, and I haven't heard one since then. I can't, I can't, I kept insisting. You must, you must, he said, and it must be a lovely poem. I want to hear lovely poetry. So I pulled out my brand new children's poems and my copy of New York Pocket Book, and read to him until we got to the hotel. He parked the car, lifted both hands from the steering wheel and clapped. It was my once-in-a-lifetime private poetry reading in a taxi. I didn't tell him I was getting an award that night, and I didn't have time to ask him his story, to take me back to the little boy listening with such devotion to poetry somewhere else in the world. I felt sad about that. I feel like ringing Combined Taxis, so on my next ride in Wellington, it is his turn to talk."
--Published by Shelf Awareness, issue #3073
Robert Gray
|
Comments Off
|