Friday, April 12, 2019
Golf is not a subject that comes up much in my column, but this weekend's Masters Tournament in Augusta, Ga., marks the golden anniversary of a notable winner whose complicated life had a deep, heartbreaking and ultimately inspiring connection to a world I take for granted--the land of books and reading.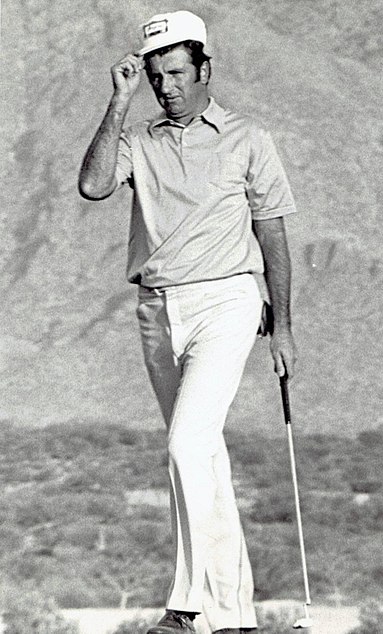 George Archer in 1972
George Archer captured professional golf's holy grail by winning the Masters in 1969, when he was 29 years old. But at the pinnacle of his career, Archer "made less of a mark on the popular mind than he might have," Curt Sampson wrote in the April issue of Golf Digest, adding that "from shyness and disdain for agents, few endorsement deals came his way."
Archer's "shyness" was much more complicated than it seemed. As his wife, Donna, recalled, "the undercurrent was that if he spread his tentacles too far, he'd get busted. He never came out. None of our friends knew. Only our daughters and a few others knew about his illiteracy."
Despite a lifetime of trying, Archer had never been able to learn to read or write. It was only in 2005, when he was dying from lymphatic cancer at the age of 65, that he gave Donna permission to reveal his secret.
After his death, she founded the George Archer Memorial Foundation for Literacy, which "raises funds to support tutoring programs for people afflicted with learning disabilities that interfere with their ability to process written communications."
Long before that, however Archer's "failure to master this most basic means of communication caused him immeasurable pain and humiliation, and, when he was a kid, thoughts of suicide. There was no help from his parents, no praise, never any reading aloud. 'This is my son George,' his father would say. 'He's so dumb he can't even write his own name,' " Sampson wrote.
Donna recalled: "Everything was against him: his size, his upbringing, fragile health, the illiteracy. He was constantly overcoming, always bouncing back, like one of those toy punching bags."
When he first discovered golf as a young caddie, Archer "developed an unshakeable resolve to succeed in this new game, and prodigious compensating skills. First among these was an amazing ability to putt. Archer couldn't read a book, but he could read a green as if he were listening to a song no one else could hear," Sampson observed.
Donna returned to Augusta National this week, "grateful for the kindness shown to her by the club, but also inevitably drawn towards reflection," Ewan Murray noted in the Guardian.
"I didn't want any child to experience the pain that George experienced," she said of the foundation's mission. "George had to overcome more than was imaginable. You think of someone carrying a cement block on his back and on his head. He just kept moving. He won 46 tournaments in his career, he won over five decades. It's extraordinary. You see people overcome things; you don't see them overcome them for the length of time that George struggled."
Daughter Elizabeth Klein Archer, who became the first woman caddie at the Masters in 1983 when she carried her father's bag, told the Telegraph: "I was about four when I realized he could not read stories to me. We never said anything to anyone because it was a huge shame for him and we wanted to protect him. Even my parents' close friends didn't know. That is how it was those days.
"He was never diagnosed correctly and therefore was not taught properly. We are now almost certain he had severe dyslexia with some other complications and it was particularly mitigated by anxiety, because the nuns would use shame and physical punishment when the kids couldn't succeed. He had some horrific experiences."
She added that modern research of the dyslexic brain has shown there is "this huge ability side. Dad had spatial intelligence unlike anyone I've ever met... but it was his special ability and his tenacity that made him succeed. And frankly my mother's drive really made them a phenomenal team. Theirs is such an uplifting story, marrying when mom was 18. Think about all that they overcame and how golf was this amazing vehicle for them to change their lives in their little part of the world."
Golf is stupid, I've heard non-golfers predictably say whenever the topic comes up. But if you play the game, as I have for more than half a century, you find out quickly that golf is actually an odd sort of meritocracy. No matter how much money you might pay for the best equipment, lessons and courses, you either can hit a ball well or you can't.
Like Archer, I learned the game as a caddie, though the courses I went on to play were decidedly less posh. What he accomplished is almost beyond my imagination. That's why I described his story, which I only learned about recently, as both heartbreaking and inspiring. This weekend I'll be thinking about George's struggles and triumphs, and how damn lucky I am to be a reader.
--Published by Shelf Awareness, issue #3472
Robert Gray
|
Comments Off
|