Friday, March 22, 2019
She always used the uniting we and us to bring the TV viewer or the book reader into an engagement with the artwork at hand. For Sister Wendy--who apparently wrote all of her books within daily two-hour prayer breaks--contemplation and time are paramount, lessons well remembered in today's hyperactive art world. --Carmen Hermo, associate curator at the Elizabeth A. Sackler Center for Feminist Art at the Brooklyn Museum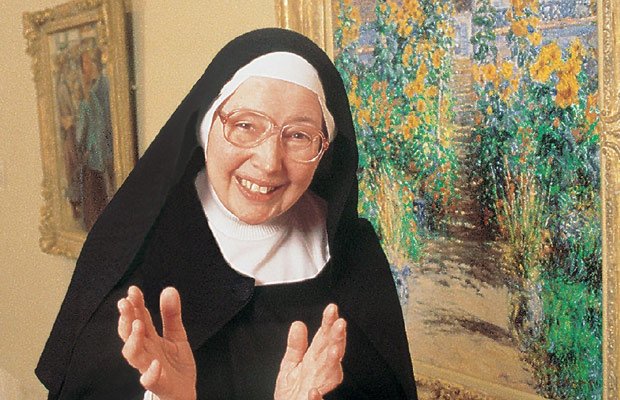 When Sister Wendy Beckett died last December 26 at the age of 88, it felt like a personal loss to me. Over the past two decades, I've immersed myself in the world of art through reading and museum visits, but before Sister Wendy magically appeared on the scene in the late 1990s I knew little, bordering on nothing, about art. I doubt I even knew what I liked.
Through her irresistible TV documentaries and books, she became one of my best teachers. Her passion for art, borne out of a life of solitude, was, well, inspiring in so many ways. In her obituary, the Guardian wrote that "those who made series such as Sister Wendy's Odyssey (1992) and Sister Wendy's Story of Painting (1996) recall that, at the time, she seemed to be enjoying herself on and off camera. There was always something contradictory about a nun, who had devoted her life to solitude and contemplation (since 1970 in a caravan in the grounds of the enclosed Carmelite monastery at Quidenham in Norfolk), but who also managed to slip away from the cloister to make large-scale TV series on (in the eyes of the world, if not Sister Wendy herself) non-religious subjects."
I did not see the contradiction. Her life made perfect sense to me.
Many of Sister Wendy's books are still in print, her TV programs a mere Google click away from viewing, but what brought her to mind recently was a headline I encountered on Artnet News last week: "The Bookseller Who Supplied Sister Wendy a Copy of Mapplethorpe's X Portfolio Is Selling Her Library at TEFAF."
It turns out that she left behind "a massive library of art books," most of which had been acquired from Thomas Heneage Art Books in London, with Sister Wendy "rarely if ever paying for a publication. As a nun, Beckett didn't have a regular income, so she relied on the generosity of others to build up her collection, which is now on sale on Heneage's stand at TEFAF Maastricht," Artnet News wrote.
Next door to Sister Wendy's modest caravan hermitage was a separate library, which Heneage purchased in its entirety--about 300 boxes of books--and arranged donations of the titles that had no resale value.
"She was such fun," he recalled. "She had a very broad knowledge of the arts and had something interesting to say about almost everything... She'd look at a book and say 'Oh this is a really beautiful book isn't it? Oh gosh I'd very much love to have this. Is it very expensive?' " Usually she got what she wanted. Heneage noted that Sister Wendy would say " 'I wonder if anyone would be really generous and buy it for me?' She'd leave, and about a half an hour later a BBC executive would call up and say 'Okay, what does Wendy want now?' "
"Wendy was full of surprises," he added. "She had lots of books on Islamic art, Greek and Roman art and mythology, and everyone from Giotto to contemporary artists like Dale Chihuly and Sean Scully."
When Sister Wendy died, Shelf Awareness was in its annual holiday season hiatus, so I did not have the opportunity to write an obituary note honoring her contribution to the world of art as well as books. I guess I'm doing that now. Is it sacrilegious to pay tribute by portraying her as my gateway drug to art? She'd probably just smile and say of course not.
Open Culture extracted these 10 rules for appreciating art from Sister Wendy's essay "The Art of Looking at Art":
Visit museums
Prioritize quality time over quantity of works viewed
Fly solo
Buy a postcard
Pull up a chair, whenever possible
Don't hate on yourself for being a philistine.
Take responsibility for educating yourself...
...but don't be a prisoner to facts and expert opinions
Celebrate our common humanity
Listen to others but see with your own eyes
In the Guardian's obituary, Peter Stanford wrote: "Years after she had given up on television, I took her on a trip round some London exhibitions and we were constantly stopped by people wanting to know when she would be back on the small screen. 'No one else does it quite like you,' one woman told her. 'It's because of you that I'm here today.' "
I know the feeling.
--Published by Shelf Awareness, issue #3457
Robert Gray
|
Comments Off
|