Tuesday, September 4, 2012

Consider this "book family" portrait: Kathy Patrick, owner of Beauty and the Book, Jefferson Tex., and founder of the Pulpwood Queens book club, is bookended by her daughters Madeleine (l.) and Helaina (r.), along with authors Michael Morris (l.) and William Torgerson (r.).

On the final day of BookExpo America this spring, I met the incomparable Patrick in person for the first time after years of e-mail and phone conversations. As you must for any impromptu meeting at BEA, we fine-tuned our rendezvous point coordinates by cell in the midst of the organized chaos, and eventually gathered near the main entrance.

I've been thinking about that moment as I prepare for the fall regional bookseller shows; imagining a kind of human web being gradually woven--in person and electronically--to connect so many of us in the book trade. Even if there are problem relatives here and there, we still all have impressive book family trees. I've always considered myself inept at the mysterious art of "networking," but damned if it doesn't happen anyway.

My conversations with Morris and Torgerson, whom I met for the first time during that BEA photo op, have continued. It just works that way, a phenomenon Patrick summed up nicely when she mentioned her "book family" to me earlier this week, adding "that's what books do; they connect us in ways we never dreamed to benefit our lives."

Since meeting Morris, I've read his fine new novel, Man in the Blue Moon (Tyndale). Would I have read it if we hadn't met? I suspect not. You know how that goes. The same holds true for Torgerson's book Love on the Big Screen (Cherokee McGhee), which I'm reading now. Paying attention is just what a book family does.

So how are these book families formed? Morris recalled that his initial contact with Patrick occurred years ago, when his first novel was released by a small press. "My mom saw Kathy and the Pulpwood Queens on Good Morning America. She called me up and said 'these women seem like your kind of readers.' So I looked Kathy up and probably like hundreds of others at the time, sent her my book."

Patrick has been championing his work ever since, and made Man in the Blue Moon the Pulpwood Queens' October Book Club Selection this year. She also invited Morris to co-host the next Girlfriend Weekend in January and is taking the extreme, if not unprecedented, step of "making my hair blue if I can sell 1,000 copies as I believe in this book so much!" He and his wife, Melanie, "have become my book family and I consider them like my younger brother and sister," she added.

Torgerson became part of Patrick's book family more recently. "I use a metaphor gifted to me by a former professor that goes, 'Writing floats on a sea of conversation,' " he observed. "I was out on the Web looking for people talking about books. I came across Kathy's Beauty and the Book page. It connected to Facebook. I wrote Kathy a message. You probably won't be surprised that she wrote me back almost immediately."

Timing is often, if not always, everything, and the subject of his first novel, Love on the Big Screen, was "the story of a college freshman whose understanding of love has been shaped by late-'80s romantic comedies," which ultimately inspired the theme for the 2012 Girlfriend Weekend.

"I enjoyed my time in Jefferson," Torgerson recalled. "I ended up caring about Kathy because she's sweet and she's looking for ways to help people. The Queens use literacy as a vehicle to help people. Reading is almost an excuse to come together and look for ways to help people in need."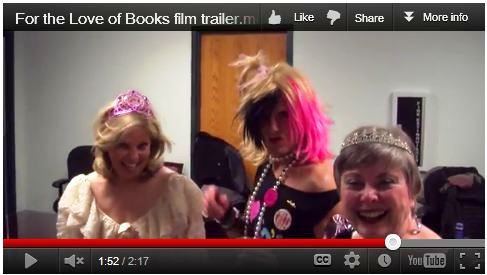 "Then Bill took it one step further," Patrick said. "As he was interested in film, he filmed our weekend and made a documentary, For the Love of Books, on our Pulpwood Queen mission to promote authors, books, literacy and reading." The movie will be screened September 8 at the Phenom Film Festival in Shreveport, La.
"He's now like family, too," she observed. "I have been blessed by these two authors and have hundreds of others who are right alongside these fantastic writers. I have created a 'book world,' a world where we are building lifelong friendships, relationships and community that is truly making our lives for the better." Maybe we could just call it book family values.--Published by Shelf Awareness, issue #1818.
Robert Gray
|
Comments Off
|