Monday, June 27, 2011
Admit it. You have a test, too. Many of us who visit an independent bookstore for the first time have a checklist to consult--consciously or subconsciously--while browsing the stacks. The word "curator" is used a lot now to describe indie booksellers, and this test is a way to get a sense of curation in a particular shop. One of my favorite tests is to explore the poetry section and see if its inventory ventures beyond the usual suspects. What do these shelves (or even shelf) tell me about the poetry curator in this store?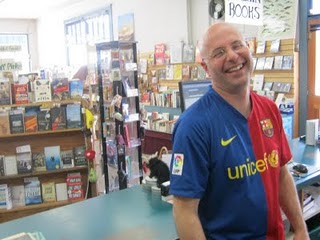 During Poetry Month, I wrote about being a casual reader of poems year round. Last week, Shawn Wathen, owner of Chapter One Book Store, Hamilton, Mont., reminded me of a great conversation we had in May at BEA, during which we agreed it's important not to relegate poetry awareness to a single month annually. He also noted that June 30 will be the 100th anniversary of Polish poet Czeslaw Milosz's birth, which he plans to celebrate appropriately: "I have a friend who in college developed a crush on a guy due to his love of Milosz--I will be getting together with her on the 30th to drink vodka and read Milosz (might be better if we read then drink)."

In a recent Chapter One-ders blog post, Shawn wrote, "To say that he was influential in my life is to understate things to an astonishing degree. In the field of world literature, 1911 was an auspicious year. Elizabeth Bishop, Max Frisch, William Golding and Naguib Mahfouz were all born in that year, but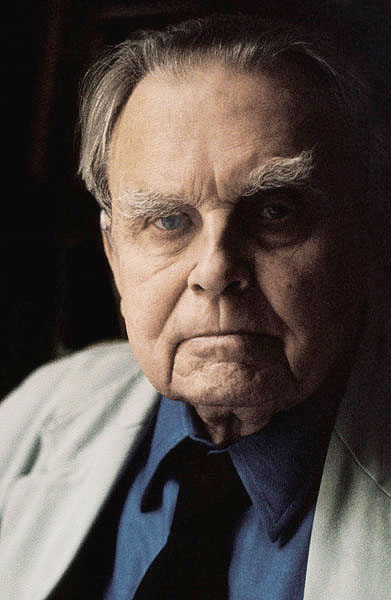 Milosz was the brightest star. Outstanding in a variety of forms--belles lettres, essays, autobiography--it was as a poet that he defined himself, and as I first came to read his words."

Since I won't be in Montana any time soon, I asked Shawn to apply my curated poetry section test to Chapter One. He offered a guided tour: "On the store's poetry shelves (two very short ones), I have Milosz's New and Collected Poems, 1931-2001 (this is the best compilation to experience 70 years of his verse); Road-side Dog (I give this to every graduate I know; a great collection of thoughtful prose poems); Second Space (this small volume appeared after New and Collected, but is remarkable for seeing the poet at the end of his life--the poem 'Orpheus and Eurydice' is one of his best). Milosz also edited a collection of international verse--A Book of Luminous Things--which is the single best anthology of world poets of which I am aware (Milosz did not include any of his poems in this anthology)."

The poetry section has been Shawn's responsibility for 15 years, "and without question, it reflects my penchant for Polish poets. In addition to Milosz, I have Herbert, Rozewicz, Szymborska and Zagajewski. I also stock those poets popular in the U.S. such as Oliver, Bukowski, Neruda and Collins. Dante is a must, as is Whitman."

To round out the inventory, there are titles he orders "to keep the section from looking anemic." These often include poets in translation--Kabir, Modern Poetry of Pakistan, Darwish and Verlaine, Classical Chinese Poetry and The Stray Dog Cabaret. "When one sells, I replace it with another poet known, or perhaps not. I like the section to show variety, so just tend to stock one copy of each title. I do not even contemplate 'turns' on this section--it remains for me a labor of love and passion."

Shawn also features at least two works of poetry--with shelf-talkers--on the staff picks display. These "are the default titles my colleagues can handsell. My business partner Mara is the only other one in the shop who reads poetry, and she has her favorites to handsell as well. We enjoy sharing."

Handselling poetry has its rewards, but can be challenging. "Steering someone looking for a good read towards poetry is a notable rarity, but it has happened," Shawn observed. "On the few occasions when it does, it often begins at the staff picks shelf, where, if the feeling is right, and a point of discussion sparks a memory of a poem or verse, I nonchalantly pick up a volume of poetry on the shelf, turn to an appropriate poem and say 'read this.' William Stafford wrote a marvelous poem titled 'You Reading This, Be Ready,' and I look to see if the customer in question is ready. Sometimes, yes, more often no. Those looking for a special gift are more often amenable to branching out."

The rarity of such encounters makes them memorable. "Not long after I started at the bookstore, a 70-plus-year-old woman came into the store and noted a volume of poetry among the staff picks, something new and startling," Shawn said. "It sparked a conversation that blossomed into a friendship founded on poetry that lasted until her death last year. I shared my favorite Polish poets, she handed me hers. When Parkinson's disease confined her to her home the last years of her life, on good days she would call me at the shop. My colleagues would know instantly that I was talking with Lorraine. At least once every call she would recite poetry to me; her memory for verse a testament to its fundamental role in life--the Chinese, Homer, Shakespeare, Pushkin and of course Milosz. Life would be so much poorer without the wisdom of the great poets."

Want to know how to pass my curated poetry section test? Chapter One Book Store just did.--Published in Shelf Awareness, issue #1493.
Robert Gray
|
Comments Off
|