Sunday, October 30, 2011
Stay, if you dare, in the bookshop on Halloween... after closing, perhaps. The store is dark, the moonlit stacks "haunted by the ghosts of the books I haven't read. Poor uneasy spirits they walk and walk around me," as Roger Mifflin, proprietor of Christopher Morley's The Haunted Bookshop, so aptly put it.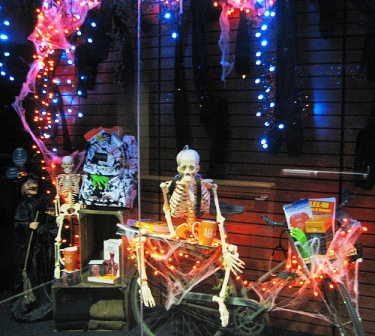 These are not the ghosts that frighten you on this most frightful of nights, however. Even the window and table displays near the front of the shop are no longer shocking: the unsettlingly cheery ghosts and monsters on the covers of children's books; the "hot" vampires and werewolves lurking in YA fiction; the inescapable horror cascade of Stephen King titles.

Your potentially terrifying, unsold Halloween-themed sidelines inventory--all those greeting cards, Edgar Allan Poe masks, black cat earrings, jack-o'-lantern mugs--is also something you can withstand, comforted perhaps by the knowledge there are other retailers in more harrowing situations than yours, like those haunted bookstores (Dare we invoke the name of the dead--Borders?) that have been transmuted into Halloween costume shops this year.

No, you are not scared yet. You're a bookseller. You've been through hell before, or at least read about it.

But as you move deeper into the store, a chill runs down your spine. Lurking in the corners, everywhere you turn, are mysterious objects as white as ghosts and as red as blood. You get closer, and the shapes of these talismans become familiar--Christmas cards, Christmas books, Christmas ornaments, Christmas wrap, ribbons and bows. There are even stacks of calendars boldly predicting an as yet unforeseeable future--2012.

You're frightened now, aren't you? We understand. What you see is not normal, not the way it once was, the way it's supposed to be in a rational world. Something evil this way came, and over time it has altered the fabric of the holiday universe.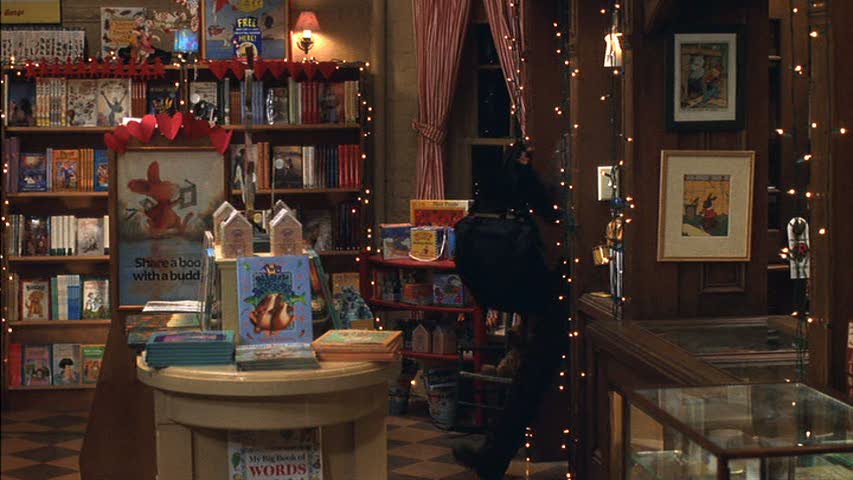 Your fictional bookselling ancestor, Mr. Mifflin, once said, "Now that Thanksgiving is past, my mind always turns to Christmas, and Christmas means Charles Dickens." But those times are long forgotten. Black Friday as the beginning of the holiday season is as much an illusion as Marley's ghost.

The Xmas Creep, as evil a shapeshifter as ever dwelt in these lands, manifests himself earlier each year. For him, all other holidays after July 4 are simply inconveniences, brief stops along the red-&-white brick road to Christmas. He will outlive that day, too, in the form of post-holiday sales that extend his reign into the following year.

What does the Xmas Creep look like? One of his arch-enemies is the Consumerist, which has been tracking the Xmas Creep's movements "since the days when it wasn't yet common to see wreaths, trees, and tinsel on sale in September," and has now "combined our love of DIY crafts with our not-love for Christmas in July" to create an icon that can be used as protection against this evil force. The Consumerist advises loyal followers to "go out there and spread the Christmas Creep cheer."

ABC News has taken notice of the Consumerist's battle against the Xmas Creep, saying that "those who think the commercialization of the holidays has gone too far, including seeing Christmas trees in shopping malls before Halloween, have taken action. Consumers fed up with Christmas decorations and products creeping into retail outlets earlier every year are trying to shame retailers into patience."

Chris Morran, senior editor at the Consumerist, is not afraid to speak evil's name. He told ABC News that "seeing Christmas decorations in July or August not only cheapened and watered down the actual holiday shopping experience but also tended to override the holidays that should be getting 'the proper attention.' " The Consumerist has "received numerous complaints from readers who hunted in the past week for Halloween decorations or costumes, only to find they had been replaced by tinsel and Christmas lights."

What should you do? What can you do? The Xmas Creep has already infected our culture and infested your inventory, so there's no point in resisting. Nordstrom's fired a warning shot at him, but I hear that even Dr. Seuss's Grinch is now under his spell, working as a barista in Whoville's B&N, where he sells Starbucks Christmas Blend coffee by the pound.--Published in Shelf Awareness, issue #1592.
Robert Gray
|
Comments Off
|