Sunday, September 25, 2011
With all the chatter about personalized algorithmic book recommendations wafting through the digital air, I'm here to offer an organic alternative. Caution: you will have to pay attention, do your own sorting and use your mind. You will have to... read.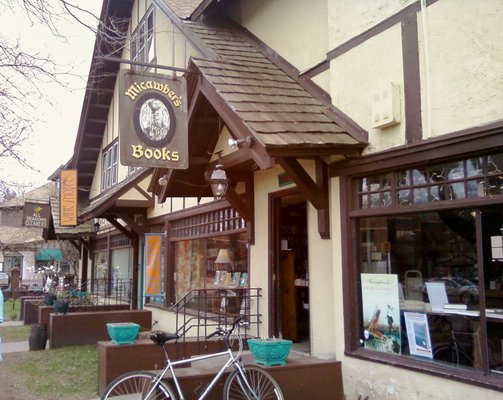 Since early August, Hans Weyandt, co-owner of Micawber's Books, St. Paul, Minn., has been on an epic biblio-quest to assemble a kind of reader's holy grail by collecting Top 50 recommendations and/or handselling favorites from some of America's best indie booksellers (Shelf Awareness, September 2, 2011).

From the moment he called this summer and let me know what he was up to, I've been excited about the prospect, and thus far the results are spectacular. Weyandt posted his own list August 31 at Mr. Micawber Enters The Internets and has added 14 others since then. There are more to come.

The range of selections has been impressive. Consider just the first five titles mentioned by Paul Yamazaki of City Lights Books, San Francisco, Calif.:
100 Years of Solitude by Gabriel García Márquez
A Secret Location on the Lower East Side by Steve Clay
Aime Cesaire: The Collected Poetry
Arcades Project by Walter Benjamin
Ark of Bones by Henry Dumas

Across the continent, Toby Cox of Three Lives & Company in New York City started with these:
Wilderness Tips: Stories by Margaret Atwood
Another Country by James Baldwin
The Feast of Love by Charles Baxter
2666 by Roberto Bolano
Mystery Ride by Robert Boswell

Somewhere in the geographic middle, Kelly von Plonski of Subterranean Books, St. Louis, Mo., began with:
Firmin by Sam Savage
Raw Shark Texts by Steven Hall
Interpreter of Maladies by Jhumpa Lahiri
Shadow of the Wind by Carlos Ruiz Zafon
The Lonely Polygamist by Brady Udall

If I were still a bookseller, I'd be thrilled to share this wealth with my customers. As a reader, I'm deeply intrigued by the range of selections. Not only have I already added far too many new titles to my infinite library of must-reads, but I've also spent a lot of time conjuring up--or should I say narrowing down--my own Top 50 list.

In an introductory post last month, Weyandt explained the backstory to his project: "I had a customer ask me for 10 of my Top 100 books. Initially I thought she meant Micawber's all-time bestsellers. When I started plucking books off the shelves she straightened me out, 'No, I mean your personal favorites.' Well then--now we had a crazy fun task at hand. So it got me to thinking how cool it would be to compile similar lists from other indie booksellers."

Weyandt took a little time from this week's Midwest Independent Booksellers Association trade show to share some thoughts on his work-in-progress, which he said "continues to be fun, informative and unpredictable."

When asked what his "big picture" reactions, both personally and professionally, have been, he replied that "the surprises are too many to name. The biggest, for me, is that although the lists are odd and unique in wonderful ways, there is almost always a very common or normal book on each list and it is that that reminds me that all of us (booksellers) are normal readers in the beginning and in the end. General trends are very few. Big picture, both professionally and personally, is the idea that indie booksellers do bring a depth and breadth of knowledge that is important and valuable to communities. These lists, taken individually and collectively, are a strong indication of that."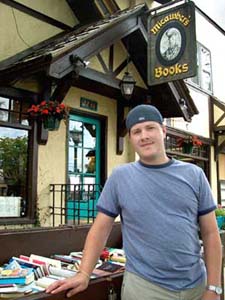 The lists have already garnered positive reactions both locally and nationally: "Our customers are loving it," Weyandt observed. "We sell books off the lists. People are reminded of things 'they meant to read.' Book trade people have also been very kind in giving encouragement and asking when I'll be starting lists for the reps and editors and publishing people."

Quite naturally, it is not just Hans Weyandt the bookseller who is being influenced by the project, but Hans Weyandt the reader as well. "I've already read two books I never knew about and liked them both very much," he noted. "I have mental and hand-written to-be-read lists and let's just say that they've increased by dozens. I gave some thought to reading one book from each list. And I still may do that for the original 20. But I have a lot of other piles of 'should' read and want to read."

I'm not giving away any house secrets to reveal that consistently some of the most clicked-through news links at Shelf Awareness are book recommendation lists. We all wonder what we should be aware of... and what we've missed. For readers, book guilt is good.

"A number of people have mentioned this," Weyandt said. "We do seem to love lists--maybe due to the messiness of life or how chaotic it currently is with technology buzzing every which way. A list is nice and neat and makes sense--or if not sense, it points us toward new things in a concrete way. Plus, especially with these book lists, most people can get a sense of whether a given list is their kind of thing. People react to all of them with enthusiasm, but for certain readers a particular list is pure magic."

Do yourself a favor. Add Micawber's Top 50 project to your must-read list.--Published in Shelf Awareness, issue #1564.
Robert Gray
|
Comments Off
|