Friday, September 5, 2014
We are currently in the planning stages of an ambitious bookcase-building project in the house we had rented since 2010 and purchased last year. That means four years have passed during which our substantial book collection, while readily accessible on temporary shelving in the finished basement, has lived in relative exile. This will change soon and our home will at last be fluent in the language of books.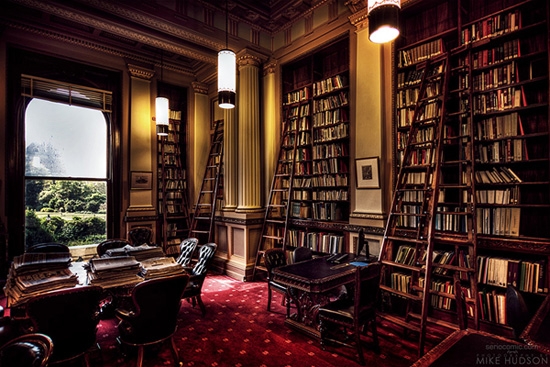 Sadly, not my library
Whenever I think of the power of bookshelves, I recall a passage from Frederick Buechner's The Eyes of the Heart: A Memoir of the Lost and Found: "The Magic Kingdom is my haven and sanctuary, the place where I do my work, the place of my dreams and of my dreaming.... It consists of the small room you enter through, where the family archives are, the office, where my desk and writing paraphernalia are, and the library, which is by far the largest room of the three. Its walls are lined with ceiling-high shelves except where the windows are, and it is divided roughly in half by shoulder-high shelves that jut out at right angles from the others but with an eight-foot space between them so that it is still one long room despite the dividers. There are such wonderful books in it that I expect people to tremble with excitement, as I would, on entering it for the first time, but few of them do so because they don't know or care enough about books to have any idea what they are seeing."

It was not until early adolescence that I began to understand the influence bookshelves could have upon living space. Although my family did not collect books, my father built me a small bookcase. This modest addition altered my room, and life, forever. I've been surrounded by books since then.

"Any home, especially one that has been lived in for quite a while, is a three-dimensional text," Alison Lurie writes in The Language of Houses, adding: "For many people, the home is a kind of sacred site, one that is chosen carefully and honored in memory; sometimes it may be revisited long after they have moved away."

I think about the amazing book conversations Kathy Murphy--founder of the Pulpwood Queens Book Club (now with more than 550 chapters)--must have had in the Jefferson, Tex., house she is currently selling. Murphy recently told me that in 2000, she opened Beauty and the Book "on the bottom level of my house, out in the woods. Pulpwood Queens Book Club meetings were held in my home as we outgrew my tiny shop downstairs. I ran my shop and my book club there for years until I moved into an old house in town, which sold, then moved into the restored gas station." She has since relocated her business and book club to nearby Hawkins and will host the 15th annual Girlfriend Weekend in Nacogdoches this January.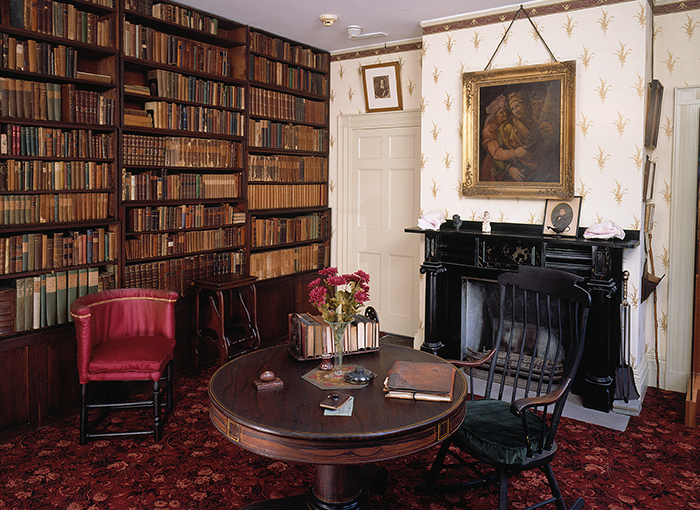 Ralph Waldo Emerson's study in Concord
Or consider legendary authors' homes. When we visit these "sacred sites," I suspect that even those of us who profess not to believe in ghosts may make an exception for the houses, and perhaps more so the personal libraries, of writers who matter to us. I know a discernible chill ran up my spine when I first visited Ralph Waldo Emerson's study, even though it is housed at the Concord Museum.

Real estate probably complicates matters a bit. In recent months, the former residences of John Cheever and J.D. Salinger have hit the market, along with Judy Blume's Martha's Vineyard waterfront retreat and even the "house that inspired The Adventures of Pinocchio's author." But I'm much more intrigued by the volumes that were shelved along the walls of these sacred sites than the people who lived there. It is the books that haunt.

"A building is an inanimate object, but it is not an inarticulate one," Lurie observes.

Maybe that is why I also love bookshops located in old houses, where the current inventory forms a kind of biblio-palimpsest over decades of bookshelves owned by former residents. Wendy and Jack Welch founded Tales of the Lonesome Pine Bookshop, Big Stone Gap, Va., a few years ago in a century-old house. In The Little Bookstore of Big Stone Gap, her book chronicling their adventures and misadventures, Welch coined the term "B-space" to describe bookstores where "book-lined walls buffer against the world's bustling while browsing calms the soul and satisfies the mind."

I think that will soon describe our house, too, now that the books are coming home once again. --Published by Shelf Awareness, issue #2335.
Robert Gray
|
Comments Off
|