Friday, February 2, 2018
"Camaraderie and staff development are integral to our success at Avid." That's what Janet Geddis, owner of Avid Bookshop in Athens, Ga., posted Monday on Instagram, sharing a behind-the scenes peek into one of her stores, while noting: "We also relish the rare opportunities we have to get the entire team together for monthly staff meetings."
Last week, Janet and I had a brief conversation during the opening reception (aka epic international bookseller staff meeting) for the 2018 ABA Winter Institute in Memphis, Tenn.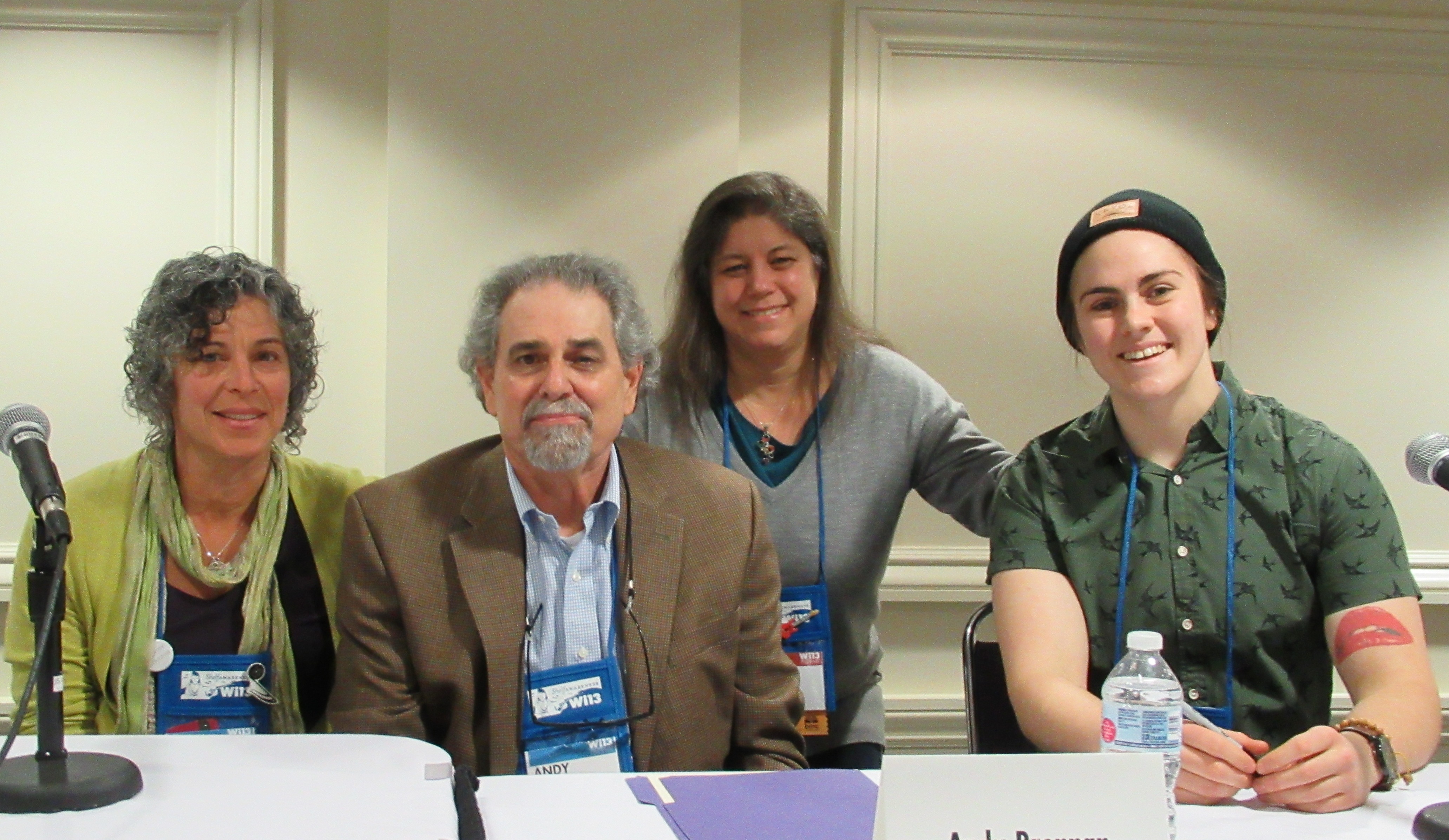 (l. to r.) Andrea Avantaggio, Andy Brennan, Jamie Fiocco & Kelsy April
In a way, those two moments nicely bookend a Wi13 education session I attended called "Best Practices for Conducting Staff Meetings." Moderated by Jamie Fiocco of Flyleaf Books in Chapel Hill, N.C., the panel featured Kelsy April of Savoy Bookshop (Westerly, R.I.) and Bank Square Books (Mystic, Conn.); Andrea Avantaggio of Maria's Bookshop, Durango, Colo.; and Andy Brennan of Parnassus Books, Nashville, Tenn.
"Communication is key among our staff," said April, who noted that the bookstores have four different types of staff meetings:
Store meeting before opening four or five times per year ("They're basically used as a way to get everyone together in one place. We can look at each other's faces and talk about some big-ticket items.")
Ongoing digital meetings using Slack ("Your staff can talk among themselves. They use channels in the same way that Twitter uses hashtags--#Savoy, #BankSquare, #events, #receiving.... It's a fun way to keep up.")
One-on-one meetings. "I got this idea from owner Annie Philbrick. She takes the time to sit down with every staff member and says, 'How do you like your job?', 'How's it going?', 'What can we improve on?', 'What do you like?' And that struck me as a very efficient way to talk to booksellers."
The "Mini Winnie" ("Essentially Winter Institute in short for our staff.... Now when we send our booksellers to Winter Institute, we say you are responsible for the content of Mini Winnie when you get back, because we're actually going to be doing it again this year."
The need for regular gatherings evolved at Parnassus Books as the store went through its early growing pains. "We knew we needed to have some meetings," said Brennan. "Maybe you've noticed that booksellers aren't fans of meetings. It's not their favorite way to spend their time. So, I think there's some things that you need to keep in mind to make sure that your meetings are effective." He listed three primary rules for staff meetings: deliver information that the booksellers need to do their job properly; provide an opportunity for them to give feedback; and make the meeting concise. For Parnassus, this has evolved into three formats:
Annual "informational and motivational" meeting on the Sunday before Thanksgiving.
Rep breakfasts twice a year, to which the store also invites members of the Nashville literary community (people it partners with on events, public library representatives, etc.). "This is a great opportunity for our staff to interact with that community and build up some relationships with those folks. We think it's really important they have those connections and know who those people are."
Twice-daily staff meetings, which "are really essential to get the information to the booksellers that they really need."
Being a smaller bookstore presents its own set of challenges. After experimenting with options at Maria's Bookshop, Avantaggio found the best solution was monthly staff meetings, from 5:15-6:45 p.m., with a relatively loose agenda.
"That's been much more productive," she said. Discovering the most effective solution took some time and adaptation. "I hated meetings when I first started the shop. I would get so nervous. I would write out whatever I had to say. I was so worried that something was going to come up that I wasn't ready for or didn't know how to answer. But what I've realized is that it is such a great place for things to come up and it helps eliminate that kind of snarky sarcasm that can build when somebody does something one way and somebody else does it another way, and nobody's sure what the right way is. It's the perfect forum for that to come out. However you structure it, I think it's important to have an agenda and to give booksellers a chance to talk. It's like smudging your staff, kind of."
I'm thinking about the Avid Books staff, gathering together regularly in the particular quiet that emanates from a bookshop after hours. I'm thinking about the noisy, productive camaraderie of Wi13 in Memphis. And, finally, I'm thinking about something Parnassus' Brennan said:
"When we're competing against discounters and online sources and all the other places that people have where they can go to buy books, we've got to provide something that those people can't. And that's smart, well-informed booksellers who know their stuff, and the only way they can do that is if we're sharing information. Effective staff meetings can provide booksellers with the tools they need to provide the customers the service they need." Let's keep talking.
--Published by Shelf Awareness, issue #3177
Robert Gray
|
Comments Off
|