Friday, February 8, 2019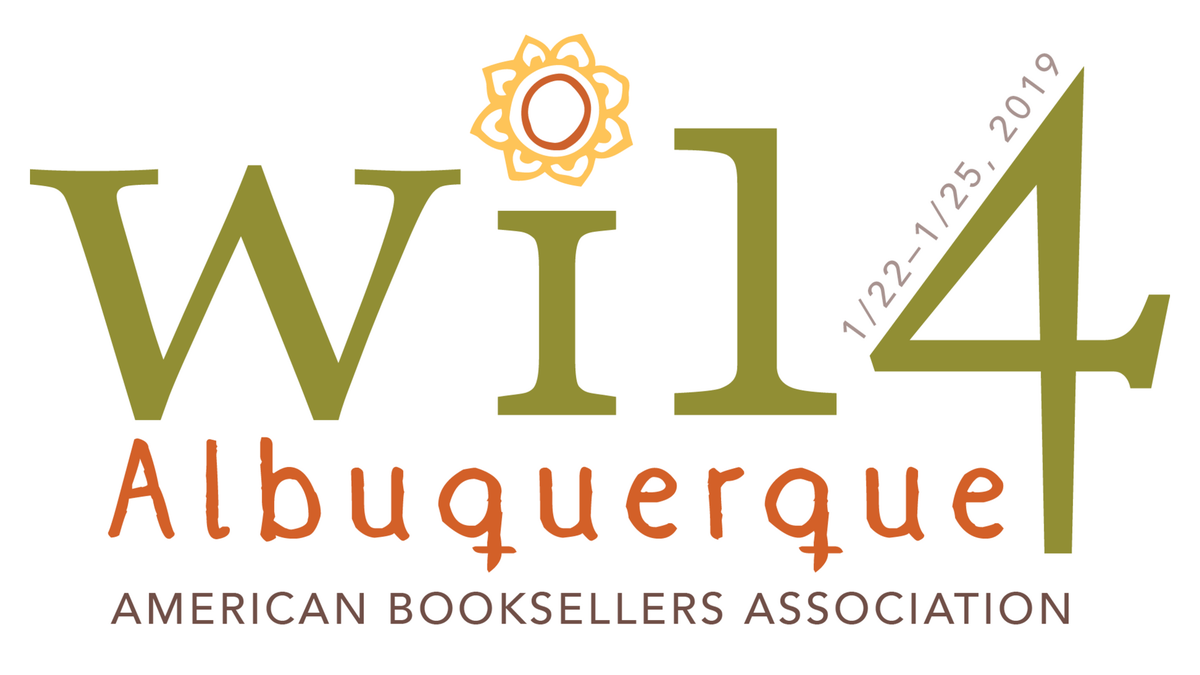 Two panels that bookended the final day of Wi14's education programming explored bookstore ownership from different perspectives: "Managing a Multi-Location Business" and "Thriving as a New Bookstore Owner." I was particularly fascinated by the origin stories. Here's just a sampling from the discussion:
"We have three bookstores in the Netherlands and are currently working on getting up a fourth store," said Fabian Paagman of Paagman bookstores. "We're a family business, started by my grandfather in 1951. And today I operate the business with my sister, the third generation. Most of that time we only had one store. Our second store we only opened five years ago or so. Embarking on a journey of multiple stores has been quite a recent experience for us, but it's good. We're working on the fourth. It is a proven success so far."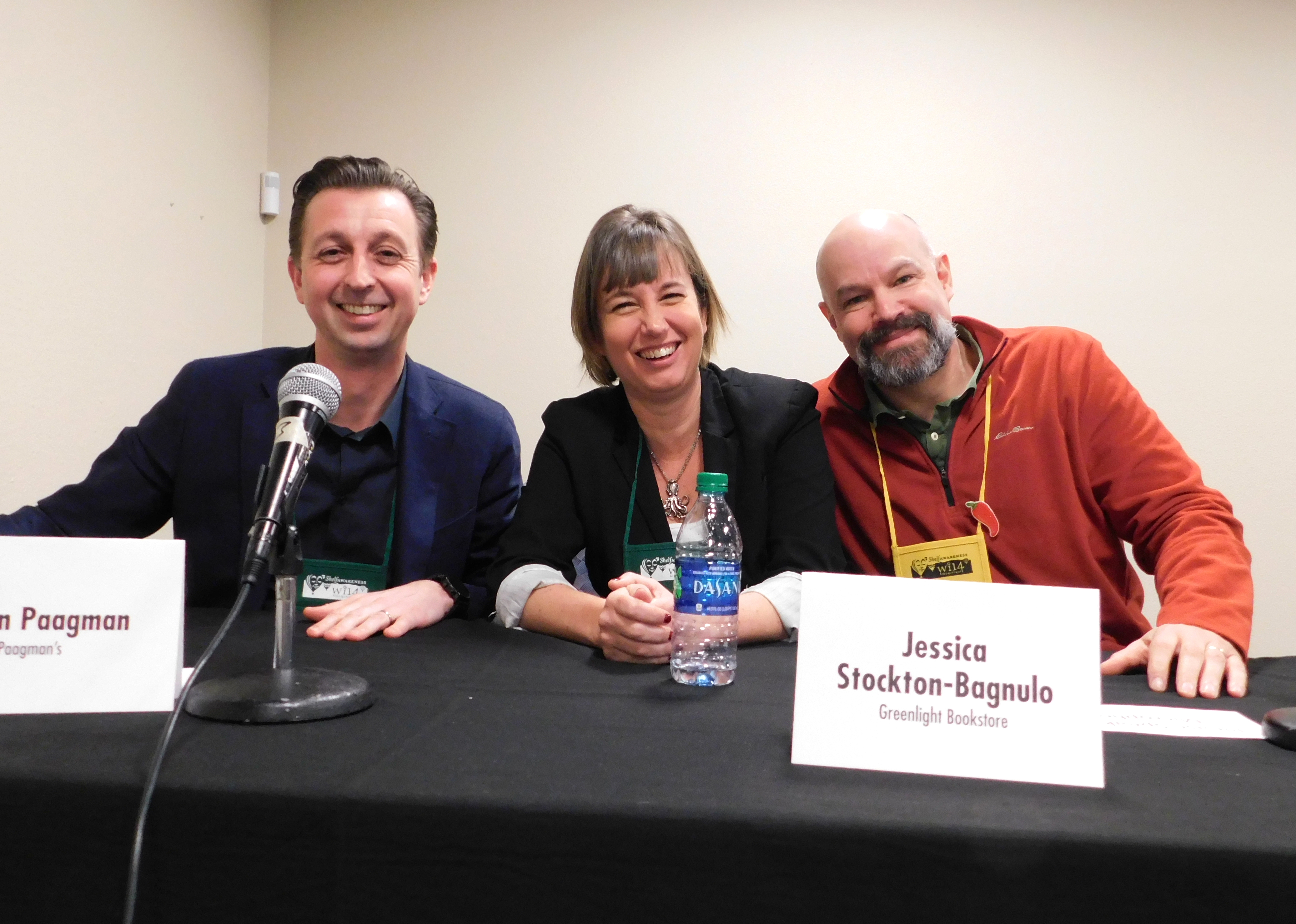 (l. to r.) Fabian Paagman, Jessica Stockton-Bagnulo, Chris Morrow
Jessica Stockton-Bagnulo, co-founder with Rebecca Fitting of Brooklyn's Greenlight Bookstore in 2009, said that when a second store was under consideration, "Fort Greene is the neighborhood where I live; Prospect Lefferts Gardens is the neighborhood where Rebecca lives. We felt like we had enough of a connection to that neighborhood and there really were no bookstores nearby. So we thought maybe it was worth pursuing. We were able to find a space and get funding. We opened our second location in 2016, and then apparently we weren't done because we opened a stationery store, again in the Fort Greene neighborhood, in 2018."
In 2013, Chris Morrow of the Northshire Bookstore, Manchester Center, Vt., opened a second location in Saratoga Springs, N.Y., where a downtown Borders store had been "very popular and I think was one of their profitable stores until they went bankrupt in 2011. Saratoga and Manchester were close enough that we shared customers. People would come to Manchester for shopping and whatnot. The city started recruiting us to come to Saratoga and, really, I ignored it for a little while. Then they really were quite aggressive in an endearing way, so I started to check it out and it just kind of snowballed from there."
To open the panel "Thriving as a New Bookstore Owner," Tom Nissley of Seattle's Phinney Books and Madison Books joked that the session title seemed "pretty cocky on the part of the ABA. Five years ago, this might have been called 'surviving as a new bookstore owner.' "
While attending the University of Kansas, Danny Caine of the Raven Book Store in Lawrence worked part-time at the shop and "just fell in love with bookselling and the industry and tried to get as involved as I could in every aspect of the store.... Then one night, during a particularly difficult and tedious in-store event, the owner said maybe I'll just sell the store to you. I laughed, but as we were leaving that night I was like, but seriously if you ever want to sell, talk to me first.... So the seed was planted and there was a long process, but eventually she offered a price. I did a ton of research... and then after another basically six months of soul searching, I decided to pull the trigger."
Angela Maria Spring of Duende District Bookstore in Washington, D.C., and Albuquerque began her career as a bookseller while she was a student at the University in New Mexico. After moving to New York City, she worked at McNally Jackson, "which was I think the most pivotal part of my bookselling career, where I really felt like I wanted to do this." From 2010 to 2016, she was at Politics and Prose Bookstore in D.C. "I always thought I wanted a store, but I never really wanted a store that was like a normal store," she said. After the 2016 election, "I really had to come to terms with a lot of things about my own identity and also the fact that I am very community rooted.... And so I started Duende District, which is intentionally experimental."
Brad Johnson, owner of East Bay Booksellers (formerly DIESEL, a Bookstore) in Oakland, Calif., said, "DIESEL thrived for a very long time.... So I was managing the store and the owners just sprung it on me one day if I would be interested in buying the bookstore.... We wanted to make it as positive a transition as possible. It wasn't a matter of one of the owners being sick; it wasn't a matter of the store being under financial duress. We wanted to do it at a time and in a circumstance when it would feel positive... Because of the success of the store, my job was basically not to f**k it up, but also make it something different."
Nissley recalled that "it was almost exactly five years ago, the day after Winter Institute when it was in Seattle. I got an e-mail that my neighborhood bookstore was for sale. And I had worked for Amazon for 10 years. I'd already left. I'd written a book. I thought I was going to be writing more books.... It was not my plan even then to take over the store, but the more I looked into it the more it seemed feasible, like something I might actually want to do. Four and a half years later, I have a store and I'm about to open a second store, which means that I must be bored or stupid."
A common thread can be found in something Spring said about her time at McNally Jackson, where she had been a colleague of Stockton-Bagnulo's: "We worked together when she was the events coordinator, and she was the first person who ever said the words, 'I'm a professional bookseller, aren't you?' And I was like, 'Oh! Maybe I am.' "
--Published by Shelf Awareness, issue #3428
Robert Gray
|
Comments Off
|