Sunday, July 8, 2012
The relationship between poetry and the Olympics "goes back to the very origins of the Games" in Ancient Greece, Tony Perrottet observed recently in the New York Times. He also noted that for much of the 20th century, poetry was an official, medal-winning Olympic competition until it was dropped in 1952 after organizers "began to doubt the quality of the offerings, as the gulf between the sports-related entries and contemporary poetry grew ever wider."

But a variation on the theme of Olympian verse has been rekindled this year with the debut of Poetry Parnassus, which was held from June 26 to July 1 as part of an ambitious "Cultural Olympiad" organized by the Southbank Centre in London.

"Are there any ways in which poetry is like a sport?" the Observer asked Simon Armitage, whose "idea on the back of an envelope" became the inspiration for Poetry Parnassus.

"You are working at an extreme of intensity with language, a pitch you can't manage all the time," he replied. Sounds like the Olympic poetic spirit to me.

More than 200 poets, rappers, spoken word artists, singers and storytellers--representing the competing Olympic nations--gathered for the six days and 100-plus events, activities and workshops. Podcasts from Poetry Parnassus continue to be released on the website.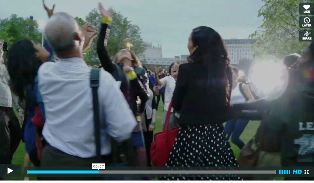 Chilean collective Casagrande's "Rain of Poems over London" helped launch the celebration, dropping 100,000 poems printed on bookmarks from a helicopter over Jubilee Gardens.

The World Record: International Voices from Poetry Parnassus, edited by Neil Astley and Anna Selby, was published by Bloodaxe Books and the Southbank Centre. There is also an interactive map featuring poems from the anthology. Click Ireland, for example, and you find Seamus Heaney's "The Underground," which starts:

There we were in the vaulted tunnel running,
You in your going-away coat speeding ahead
And me, me then like a fleet god gaining
Upon you before you turned to a reed

Click Laos, and there is Bryan Thao Worra's poem "No Regrets," beginning:

Maybe one day,
A page will be found,
A song will be heard,
A stroke will be drawn
Filled with explanations.

Poems about love and poems about political struggle; there was room for both, and more, at Poetry Parnassus.

"This Olympic framework excites the opportunity to speak out," said Armitage beforehand. "We should expect as many protest songs as songs of praise. This is not an anti-Olympic event but when I watch the Olympics, it sickens me that people are gagged and labeled and everybody has to stand up, drape themselves in a flag and stamp to their national anthem in front of the official fizzy drink. That is not the way most people feel about their country. This is an opportunity to address some of those issues."

PEN International hosted a series of discussions "surrounding the literary themes of exile and conflict," the International Herald Tribune reported, noting that after one of the talks, Nicaraguan poet Gioconda Belli, "whose political activism and writing has attracted the attention of such writers as Harold Pinter and Salman Rushdie, said that an event like Poetry Parnassus 'widens your understanding of life and of humanity,' enabling poets to 'relativize what is happening' in their own lives and country and 'to feel part of this global chorus.'"

In an interview, spoken word poet T.J. Dema of Botswana considered the possibilities inherent in a project like Poetry Parnassus: "I don't think poetry is ever going to singlehandedly save the world but it can introduce ideas into individuals' lives. I think at some point on the event's ambition gradient we would need to acknowledge that gatherings like this also function on a personal level--a large group of people agreeing that something, whatever it is, is important enough to gather over is heady symbolism and if this gets a little girl who hasn't had a poem read to her to experience that or someone who hasn't picked up a book in a long time to do so then I think that's prize enough and to start with we should take what we can get and trust the words to do their magic."

"People aren't satisfied by language they don't understand," wrote Abdullahi Botan Hassan--who was born in Somalia but has lived in London since 1998--in his poem "Central London." He also counseled: "The key to what you are ignorant of is to learn."

To learn, to discuss, to hear, to read, to gather. For excellence in the "working at an extreme of intensity with language" marathon, Poetry Parnassus earned Olympic gold.--Published by Shelf Awareness, issue #1777.
Robert Gray
|
Comments Off
|