Sunday, October 7, 2012

Where have you been spending your time during Banned Books Week? Maybe the best response is between the pages of a controversial book you've never read before. But I found another tempting alternative in the world I've inhabited for the past couple of days. Surrounded by indie booksellers, authors of new books and publishers, I'm in Minneapolis, Minn., where the Heartland Fall Forum, the first joint fall trade show hosted by the Midwest Independent Booksellers Association and the Great Lakes Independent Booksellers Association, ends later today.

I'll be writing more about the show next week, but I just wanted to share a little of the bookish magic that's in the air here, especially during a week in which we also contemplate the actions of people whose stated goal is denying access to certain titles. Any self-disrespecting, book-banning troll who dared to show up at HFF would immediately be banished into eternal, wordless exile. Forthwith, as they like to say in the best troll stories.

No, that's not quite right. More likely, the troll would be loaded down with generous stacks of great new books and sentenced to spend some quiet time in the nearest available reading space: "You think that book you wanted banned was unsettling? Read these!"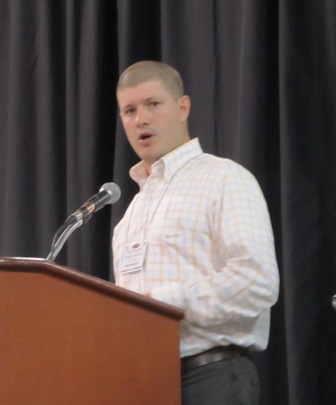 "It is an honor and a joy to work in a world where ideas are still valued," said Hans Weyandt, co-owner of Micawber's bookstore, St. Paul, Minn., during HFF's opening reception Wednesday night. He is also the editor of Read This!: Handpicked Favorites from America's Indie Bookstores (Coffee House Press). Although Weyandt is now often introduced at events as an editor or author, he said (with a generous measure of bookish intensity): "First and foremost, forever and always, I will be a bookseller."

At breakfast yesterday morning, Emma Straub, a bookseller at BookCourt, Brooklyn, N.Y., whose debut novel Laura Lamont's Life in Pictures (Riverhead) was released earlier this month, echoed Weyandt's philosophy. Although she has taken a leave of absence while touring for her book, she lamented that "what I'll miss most is saying, 'Here, read this; read this!'.... I think every writer should work in a bookshop. I think publishers should require it."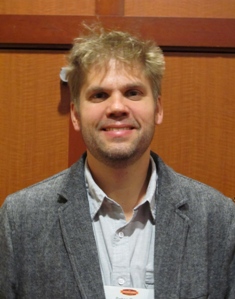 Peter Geye, author of The Lighthouse Road (Unbridled Books), eloquently expressed his deep gratitude to booksellers during yesterday's breakfast event: "I look out across the room and see nothing but a room full of bookish saints.... Without you, I wouldn't exist as an author. How do you thank people for making a dream come true?"

He also talked about his own learning process in the world of books, noting that while being a "writer" is what he does in private to create his novels, "there's another part of the job description and that's being an 'author.' I think it's you all who have taught me how to be an author.... If I never wrote another word, I'd still have the gift of your friendship."

As is often the case when book people gather at these events, one speaker after another underlined the importance of indie bookstores. Justin Cronin, whose latest is The Twelve (Ballantine), praised booksellers for being "the opposite of hedge fund managers," while Christina Schwarz, author of The Edge of the Earth (Atria, April 2013), noted: "If every English teacher wants to be a writer, every writer dreams of being a bookseller." And Jami Attenberg, author of The Middlesteins (Grand Central), said that her part-time job at WORD bookstore, Brooklyn, "has changed my life," adding: "I thank you for what you do, and I also get what you do."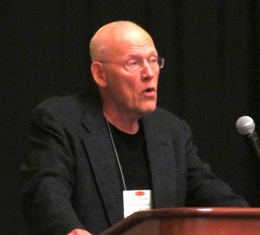 Jim Heynen, author of The Fall of Alice K. (Milkweed), said, "I haven't been mixing with people who love the same thing I do so much in a long time. I'm just amazingly grateful to those of you who have the boots on the ground and say, 'Hey, check this out.' "
There is, of course, more to write about all the book business that was conducted here, but it's also important to acknowledge the beautiful, if short-lived, theme park for book people that a regional booksellers trade show inevitably becomes. The concept of banned books is even more surreal when you're fully engaged in all this fine conversation about writing and publishing and bookselling and reading. Here a book is an absolute necessity, a way of life. Or, as Emma Straub put it, a book is "love pretending to be a subway companion." Take that, book-banning trolls.--Published in Shelf Awareness, issue #1843.
Robert Gray
|
Comments Off
|