Sunday, October 14, 2012

You have to love a regional trade show where one of the country's best-known bookstore owners, Garrison Keillor (Common Good Books), leans forward and confidentially (albeit in front of an audience of more than 350 people during the Heartland Fall Forum's opening reception at the Depot in Minneapolis) asks another celebrated author/bookseller, Louise Erdrich (Birchbark Books), the following question:

"Your business is okay?"

This was something of a signature moment for me during the inaugural HFF, a combined regional show for members of the Midwest independent Booksellers Association and Great Lakes Independent Booksellers Association. Business was indeed okay among most of the booksellers I spoke with, and their reaction to the show was enthusiastic without reservation.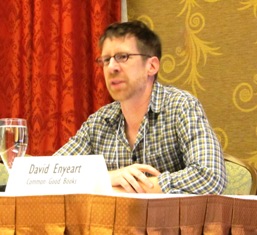 David Enyeart, assistant manager and event coordinator at Common Good Books (and the newest member of MIBA's board), "had a blast and everyone I talked to there did, too. The optimism and enthusiasm were palpable. Meeting a wider array of booksellers at the expanded show helped us all remember that we're part of a huge, vibrant and successful community. We were able to share more experiences, hear more ideas, and fall in love with our jobs all over again. I was awed by all that our region's bookstores have accomplished and inspired to do even more in the year ahead."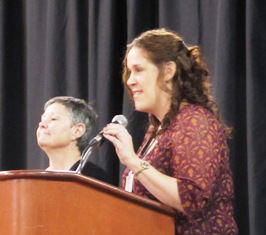 Carrie Obry (right in photo), executive director of MIBA, said she was "thrilled with my experience working with GLIBA on developing and hosting the combined show. Most everything came together according to our most optimistic calculations, and then some. With two separate associations at work (and all three employees in separate locations), there was a lot of administrative/office set-up that had to be done. That was the biggest challenge of the show, but I think we're stronger because of it. Seeing how GLIBA is run gave me another perspective and is helping me better run MIBA."

Nearly 800 people attended HFF, 358 of whom were booksellers--including 81 GLIBA members. Obry considered this "a successful number," adding that the 2013 show in Chicago "should be even better for mixed MIBA/GLIBA attendance because it's more central to both regions."

GLIBA executive director Deb Leonard (left in photo above) also thought next year's show would attract more members, but said, "I think that it worked out wonderfully for both regions. The show was well-attended, and there was definitely a positive, high-energy vibe throughout. It was a nice combination of things from both regions. The attendees seemed to work and play well together, and I think the combined show solidifies the Midwestern identity of the Heartland, especially for those publishers in New York."

Matt Norcross, co-owner of McLean and Eakin Booksellers, Petoskey, Mich., said he and his wife, Jessilyn, "always look forward to the fall GLIBA show as we know we'll spend several days with colleagues who understand the unique challenges of selling books in the Midwest. We hoped that the Heartland Forum would have that same sense of camaraderie, but we weren't sure what to expect. What we encountered surpassed all of our hopes. The education sessions were terrific and covered a wide range of important topics. There were terrific author signings and talks, but most of all, the show floor was fantastic."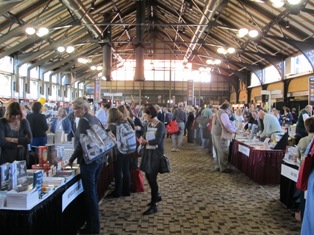 At one point, he looked around the exhibit hall "and felt as if I'd traveled back to a show from 10 years ago. The floor was full and bustling, not only were there terrific publishers but also fantastic sidelines. The publisher support for the show was overwhelming and I saw many publishing friends that I rarely see outside of BEA. I couldn't have hoped for a better first joint show and my hat is off to all of the board members, EDs and of course Joan Jandernoa for the amazing amount of coordination. All of their efforts truly paid off and I believe it has created a solid foundation for many more joint shows."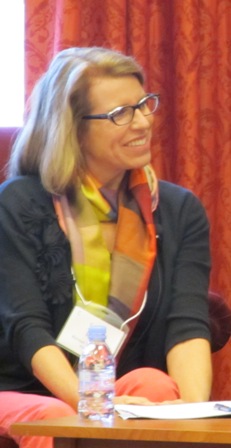 Sarah Bagby of Watermark Books & Cafe, Wichita, Kan., said she and co-owner Beth Golay "were invigorated from day one" and called the Depot "the best venue for any regional show I have ever attended." She noted that ABA's Events Specialty Institute on Wednesday "set the tone for a great week," a momentum that was sustained by the HFF day of education, book buzz presentations, ABA's session on the new partnership with Kobo, roundtable discussions and book awards, "all filled with enthusiastic booksellers from both the GLIBA and the MIBA regions. And I do mean full--the rooms were buzzing."

Like Norcross, Bagby observed that once the exhibit hall opened on Friday morning, "the trade show floor was energetic--everybody gathering to talk about fall books, publisher specials and regional catalogues. A bonus was authors autographing books in the booths and a contingent of upper management from the publishing side of the industry. I plan to have booksellers at next year's HFF in Chicago and hope the two regions continue to partner beyond 2013."
Anticipation of future HFFs was on Enyeart's mind as well: "Regional shows--like bookselling itself--are all about building community, so the collaboration with GLIBA made this year's Heartland Fall Forum doubly good. They were excellent partners, and I can't wait for next year's show."--Published by Shelf Awareness, issue #1847.
Robert Gray
|
Comments Off
|